Mary Sue Coleman
Science Talent Search – 1961
International Science and Engineering Fair – 1959, 1960
About Mary Sue Coleman
Mary Sue Coleman is an acclaimed university administrator and champion of higher education. She is the former president of the University of Michigan and University of Iowa and, more recently, served as president of the Association of American Universities. She has been recognized by Time magazine as one of the "10 best college presidents" in the United States and was selected by President Barack Obama to help launch the 2010 Advanced Manufacturing Partnership. Coleman also co-chaired the National Advisory Council on Innovation and Entrepreneurship and is a member of the National Academy of Medicine. Coleman obtained her doctoral degree in biochemistry and credits her confidence in pursuing a career in science to competing in ISEF from 1959–1960 and STS in 1961. Coleman is Chair of the Society's Board of Trustees.
Coleman with President Obama before he spoke at a University of Michigan commencement ceremony.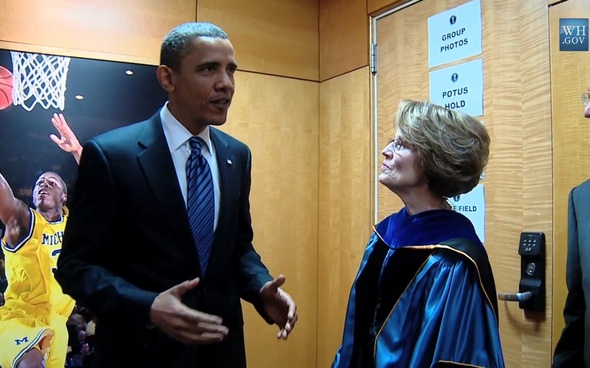 Coleman with STS finalists in 2011. Coleman has continued to be involved with the Society as an alumna, speaking at events and sitting on the Board of Trustees. In support of the Society's mission, she said at an alumni event, "We need to shift to opening science up to underrepresented minorities." Read more about Coleman's life and work in this Conversations with Maya interview.