Science News Learning Program Resources
Explore this page to discover the educator resources the Science News Learning program has to offer. Watch the video to take a tour of the lesson plan library and find a resource that you could use in your classroom tomorrow!
Lesson Plans
Search our digital library to find ready-to-use lesson plans to help you integrate Science News and/or Science News Explores articles into your classroom: www.sciencenews.org/learning/. Each lesson plan is paired to a Science News article (HS reading level), and many are also paired to a Science News Explores article (MS reading level)
Lesson Plans Grouped By Article
Educator Guides are groups of lesson plans all focused on the same article. They always include a set of comprehension questions and discussion prompts, and some also include an activity.
View Educator Guides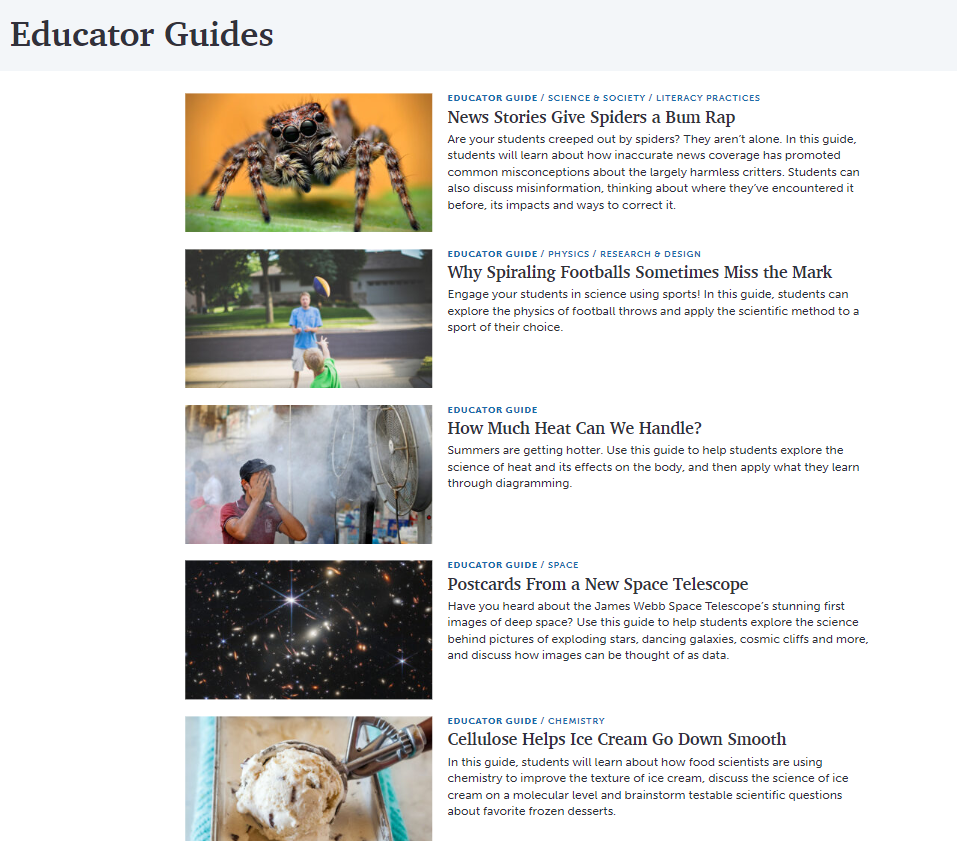 View Educator Guides
Journalism
Articles are fun to read, easy to understand and great literacy-based learning tools. Post an article's URL to your Learning Management Platform, or send students directly to either website below. If prompted, they should enter their teacher's email address.
Teaching Themes
Educators across the country use our resources to teach skills that go beyond core concepts and subject areas. You can find exercises organized by the themes highlighted below.
Professional Development Opportunities
Don't miss out on these opportunities for program educators!
Programmatic Forms
Digital Resources Sign-Up
Share the digital resources with colleagues at your school.
Share the Resources
Update Your Contact Information
Changing schools or personal information changed? Update your account so we can keep in touch with you.
Update Your Info
Thank Your Program Sponsor
Tell your sponsor how the resources are impacting you and your students.
Give Thanks