'You'll be fine if you don't know what you want to do'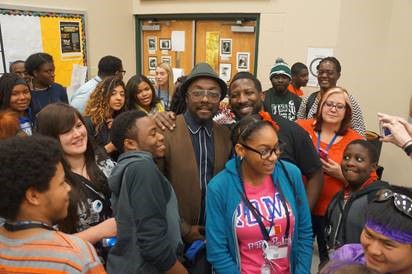 "When you were in middle school did you think you would be doing what you are doing now?"
This was the question posed by Maya Ajmera, President & CEO of the Society for Science & the Public, and an alumna of the 1985 Science Talent Search, to six program alumni who are thriving in their careers during a panel discussion at Broadcom MASTERS 2017.
The real failure is when you tell yourself that you're a failure.
Maya asked the panelists about their aspirations when they were similar in age to the finalists. Following the discussion, the finalists and panelists gathered into smaller groups, giving them an opportunity for dialogue that focused on the panelists' career paths.
Despite the age gap between the two groups, the passion for innovation and science pervaded the room.
"Thought I'd have the Nobel Prize by now," Dr. Kevin Heller (Westinghouse STS 1989), joked in response to the question. Kevin, Vice President and Head of Antibody Clinical Development at Incyte, a biotech firm, said he always knew he wanted to answer questions about the mechanism of malignant cells. Through his work at Incyte, he is doing just that by testing drugs that could one day find a cure for cancer.
Thought I'd have the Nobel Prize by now.
"I thought I was going to be an astronaut," said Nikita Dodbele (Intel ISEF 2008). She has a B.S. and M.S. degrees in Aerospace Engineering from the University of Virginia and George Washington University respectively. However, as she later emphasized in the small group discussions, there is not always a linear path in one's education or career. "You really shouldn't limit yourself to only one thing," Nikita said. As a Systems Engineer at LS Technologies, a company that offers consulting services for the Federal Aviation Administration, Nikita's work keeps navigation facilities and airports of the United States robust and safe for daily operation.
Like Nikita, Anthony Hennig (DCYSC 2007), a Ph.D. student in the Systems Engineering Department at George Washington University School of Engineering and Applied Science, has continued pursuing his childhood passion for STEM. As a kid, Anthony said he enjoyed building things and loved anything to do with the outer space, which led him to work at the Space Mission Analysis Branch at the NASA Langley Research Center. In his free time, he volunteers at the National Air and Space Museum here in Washington, DC. During the breakout sessions, Anthony expressed that there can be more than five different ways to solve a problem."
Katherine Cordwell (Intel STS 2013, Intel ISEF 2011 and 2013) reported that she has continued to pursue her childhood passion of mathematics by seeking her Ph.D. in computer science at Carnegie Mellon University and spending her days determining how algebraic geometry can help make planes fly more safely. She offered these words of encouragement about pursuing one's dreams: "The real failure is when you tell yourself that you're a failure."
Suddenly here was this whole field where there was no answer, and I was bad at it, and I loved that.
While Kevin, Nikita, Anthony and Katherine remained in STEM fields, others like Jessica Stahl (Intel STS 2002) and Param Jaggi (Intel ISEF 2010 and 2011) used their STEM skills in interdisciplinary careers.
Jessica Stahl is executive producer for audio and deputy editor for news audience at The Washington Post, overseeing some of the top podcasts in the country, including "Can He Do That?" and "Constitutional." She explained that she uses her analytical STEM skills every day in her journalism career, but enjoys her work because writing and journalism have broadened her horizons. Jessica noted that math was easy for her, but when she was introduced to writing and journalism, "Suddenly here was this whole field where there was no answer, and I was bad at it, and I loved that."
Panelist Param Jaggi forged his own unconventional path that didn't include graduating from college. As the CEO of Hatch, Param uses his STEM skills to lead a company developing a technology that enables its customers to build software without knowing how to code. "Sitting in the classroom was just not my thing," Param said. "I realized my passion was creating and inventing."