Volunteer Viewpoints: Heather Hankamer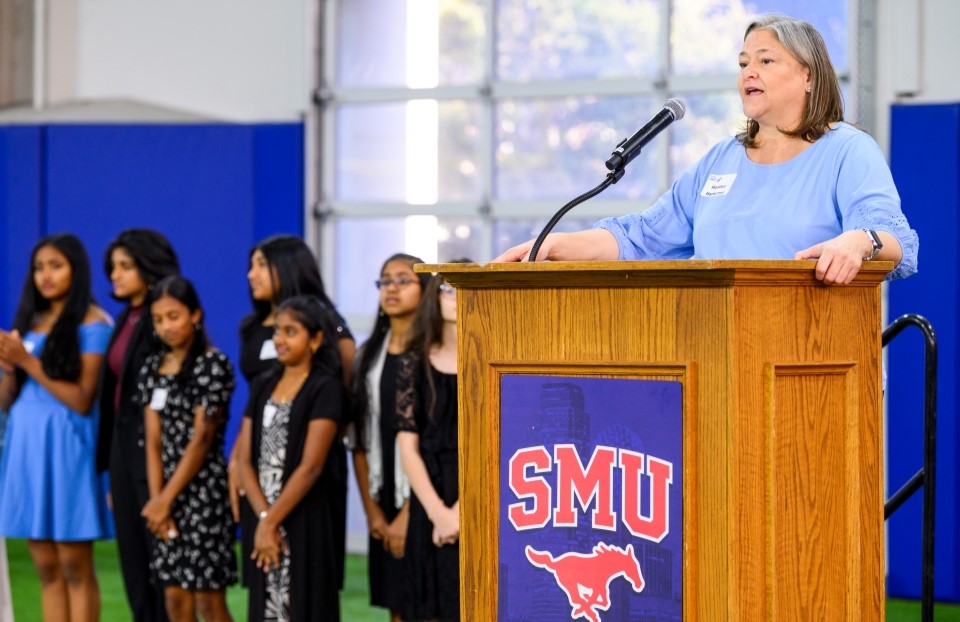 The Regeneron International Science and Engineering Fair is the world's largest global science competition for high school students. As you might imagine, ISEF would not be possible without the hard work of thousands of dedicated volunteers and judges. As we approach ISEF 2023 in Dallas this May, we will post a series of interviews introducing you to some of these talented and dedicated individuals—and hopefully offer a glimpse into many different volunteer experiences.
For this installment, meet Heather Hankamer of Dallas. Heather is an executive coach and nonprofit consultant as well as President of the Dallas Regional Science and Engineering Fair. Before she started her consulting company, she served as the K-12 Education Outreach contact for the Lyle School of Engineering at Southern Methodist University for over a decade. Heather is currently the Chair of ISEF's Dallas Local Arrangements Committee.
How long have you been involved with ISEF? How did you first get started?
My involvement with ISEF started in 2017 when my team at SMU joined the Dallas Regional Science and Engineering Fair organizing committee. Our regional fair is part of the Society's Affiliated Fair Network, and we have nine projects we can advance. Each year since then I have worked with our finalists to help them prepare for ISEF. My first opportunity to attend ISEF in person was in 2022 in Atlanta.
Why do you volunteer and what has been the most fulfilling aspect of being a volunteer?
I volunteer because of what science fair teaches students: to ask their own questions and find their own answers. Science fair sparks a curiosity that is not normally taught in the classroom. The most fulfilling aspect of volunteering is watching students' experiences. They put so much work into their projects and their excitement on interview day is contagious. The second-best part is hearing from the judges about their experiences with the students. When the judging is over, they can't stop talking about how impressed they are by what they heard from the students.
Do you have any favorite ISEF memories?
My favorite ISEF memory will always be the ways the students support and cheer each other on during the week and at the awards ceremony. Not everyone can win, but when we come together after the final awards there are cheers, high-fives and celebrations for everyone.
Why would you encourage others to get involved with ISEF and what one piece of advice would you give them?
I would encourage others to get involved with ISEF because it is a high-quality event that inspires our next generation of world changers. I especially love that this opportunity is about encouraging students—the whole process is about hearing their ideas and research, and there is no right or wrong. Students leave feeling heard and inspired. My advice would be to remember that one smile or word of encouragement to a finalist during the week can make a huge difference!
What do you feel is your most important contribution to the community?
As a regional director, my most important contribution is to the student finalists. I help them navigate the paperwork, help them prepare their materials, book their travel and ensure they don't miss important deadlines. For ISEF 2023, I am serving as a community connector. North Texas is rich in STEM resources, and I am working to make sure my community shows up big for my new friends at Society for Science.
Is there a book that has made an impact on your life? What is the name of the book and what impact did it make?
I love to read and learn, so this is a tough one! One book I have read more than once is The Hidden Brain by Shankar Vedantam. I am fascinated by people's behavior and decision-making processes and this book and his work are deep dives into our brain.
We are in the process of recruiting volunteers for this year's competition! If you're interested in joining us in Dallas, learn more about opportunities to get involved on our volunteer page.