Top winners of Intel STS 2016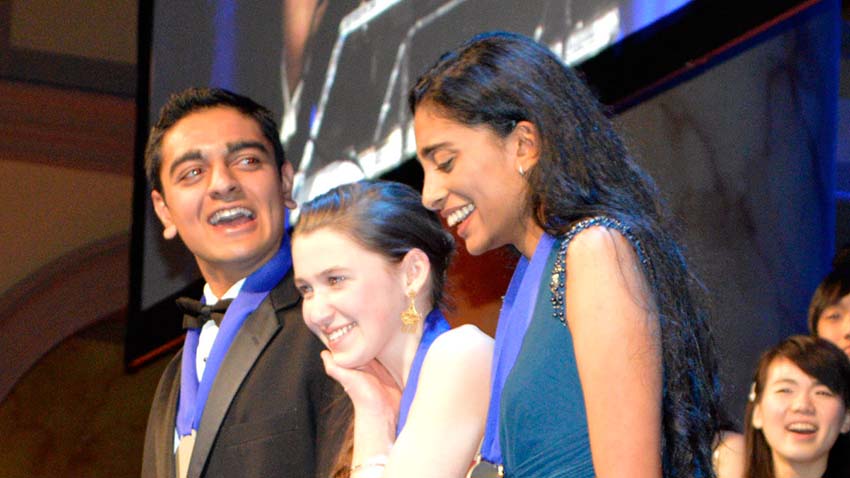 America's future scientists, engineers and inventors were celebrated on March 15 in the nation's capital, receiving more than $1 million in awards from Intel Corporation. These promising high school students are the winners of the Intel Science Talent Search, a program of Society for Science & the Public (the Society), and the nation's most prestigious pre-college science and math competition, which celebrates its 75th anniversary this month.
Three first-place Medal of Distinction awards of $150,000 were presented to students who showed exceptional scientific potential in three categories: basic research, global good and innovation.
Amol Punjabi, 17, of Marlborough, Massachusetts, won the First Place Medal of Distinction for Basic Research, which recognizes finalists who demonstrate exceptional scientific potential through depth of research and analysis. Amol developed software that could help drug makers develop new therapies for cancer and heart disease. Amol is the lead author of a paper on nanoparticles published in ACS Nano and co-author of a paper on a related topic in Nanoscale. He is also the lead pianist for his high school's jazz workshop and captains the Science Olympiad team.
Paige Brown, 17, of Bangor, Maine,won the First Place Medal of Distinction for Global Good, which rewards finalists who demonstrate great scientific potential through their passion to make a difference. Paige studied the water quality of six environmentally impaired local streams with high E. coli and phosphate contamination levels. She is currently developing a cost-effective filter largely made of calcium alginate strands to remove the phosphate from stormwater systems. Paige is co-captain of the math team and secretary of the Key Club at her high school, and helps organize fundraisers for her school and community.
Maya Varma, 17, of Cupertino, California, won the First Place Medal of Distinction for Innovation, which celebrates finalists who demonstrate the problem-solving aptitude of an engineer through innovative design and creativity. Maya used $35 worth of hobbyist electronics and free computer-aided design tools to create a low-cost, smartphone-based lung function analyzer that diagnoses lung disease as accurately as expensive devices currently used in medical laboratories. Maya is proficient in five programming languages, holds leadership roles in multiple honor societies and science and math clubs, and has won grand prizes in several prestigious science competitions.