This startup wants to help inventors around the world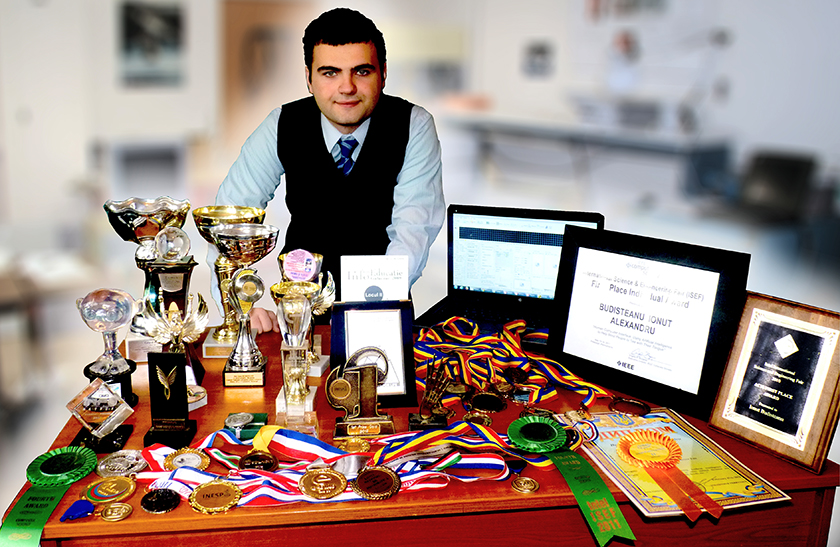 Alexandru Ionut Budisteanu grew up in Ramnicu Valcea, which is also known as Hackerville or the cybercrime capital of the world. He got his first computer at 3-years-old, when he started to learn code and English by taking apart and making his own video games.
Alexandru created VisionBot, a startup that he hopes will help other inventors like himself around the world. It lowers the cost of entry to turn prototypes into industrial products by trying to eliminate expensive factory links.
He was one of five Society alumni named to the recent Forbes 30 Under 30 list. Forbes recognized Alexandru for VisionBot, which makes affordable prototypes and is a cost-effective way for engineers, investors, programmers, and students to enter the tech market.
Alexandru, an Intel ISEF finalist from 2010-2013 and 2013 Grand Award winner, competed in several Intel International Science and Engineering Fair (Intel ISEF) competitions, which he said change people's lives. "Their projects will definitely shape the world. It's just a matter of time," he said.
Read our interview with Alexandru below to learn more about VisionBot, his startup, and how science fairs change lives.
---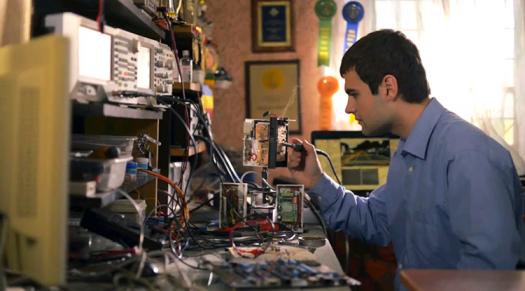 CHALLENGES OF CREATING A STARTUP: With VisionBot, engineers no longer have to use Chinese and Korean factories to manufacture their own electronic products. Many breakthrough electronic devices can be created and assembled in the European Union.
The biggest challenge for inventors like me is to turn their electronic prototypes into industrial products. They either have to externalize the production by contacting an electronic factory or buy an expensive machine that is able to place surface-mount-devices on printed circuit boards, which can cost more than a hundred thousand dollars.
---
Help other young scientists achieve their science fair dreams. Join the Society today!
---
The new industrial revolution can start right now by allowing unemployed young inventors and small and medium-sized enterprises to manufacture their own products in-house and dramatically change the lives of millions of Europeans.
Many great inventions and electronic devices remain at the prototype stage and disappear because the creators couldn't afford to buy expensive factory machines or got refused by factories.
At first, I tried to work with three Chinese electronic factories in Shenzhen to manufacture 50 advanced 3D Lidars, and all of them refused because they weren't interested in manufacturing small amounts of units. After I was refused, I tried to buy machines used in these factories to assemble electronics. Most of them were very expensive.
So I figured I could use the technology from 3D printers to build an affordable surface mount technology (SMT) pick and place machine. We recently shipped one VisionBot machine to Rockna Audio, a Romanian audio system manufacturer.
WHY CREATE A STARTUP TO HELP OTHERS CREATE ELECTRONIC DEVICES: I saw that Romanian students are lacking motivation and passion. In the last five years, I've been trying to motivate youth to do something in their lives, especially programming and computer science.
Who knows how many undiscovered August Horches and Steve Jobs are in the world?
From a laptop, anyone can start the next Facebook or tech company. I started my hardware startup in my parent's garage, and we're now planning to move to Bucharest in a few months.
WHAT ARE YOU CURRENTLY WORKING ON: At an Intel CUP Embedded System Design Contest in Shanghai in 2014, I saw another Intel ISEF alum — Lai Xue. He challenged me to start a company.
So I started my first startup. I used my own capital and built a manufacture-affordable assembly machines for electronics. If 3D printers started a revolution in prototyping design, I believe VisionBot can start the next technological revolution for medium electronic production.
3D printers started a revolution in prototyping design. VisionBot can start the next technological revolution for medium electronic production.
VisionBot reduces market entry barriers for millions of makers who were struggling to bring their ideas to the world. It enables millions of makers, electrical engineers, startups, and students to start electronic production of their ideas and bring prototypes to reality in their own garages.
Earlier this year, I presented my startup at CISCO Live Academy in Berlin, Germany. Last year, I attended the Global Innovation Summit held in San Jose.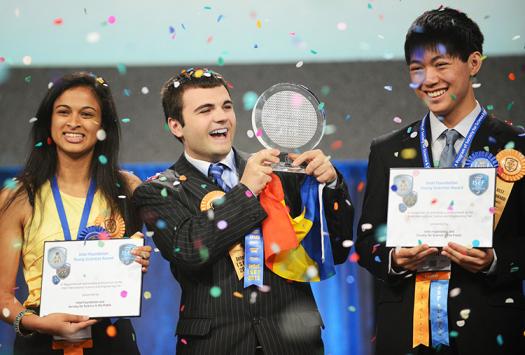 HOW INTEL ISEF CHANGES LIVES: I remember before going to the 2010 Intel ISEF, I was looking to be the next Romanian programmer at Intel, Google, or Microsoft. Now I'm interested in building something from zero and promoting computer science and STEM to others.
Intel ISEF competitions have changed my life forever. I believe this Forbes nomination wouldn't exist without the knowledge, unique experiences, and motivation for STEM I got from Intel ISEF. I'm still amazed that a guy from a small Romanian city got so much recognition from Intel ISEF and the American people for a computer science project. I will remember that moment my entire life.
Intel ISEF is a life changer for students. I hope in a few years I will help Intel ISEF and Society for Science & the Public. Intel ISEF shaped me into the man I am now.
Intel ISEF competitions have changed my life forever.
It was my first international experience outside of Romania, and it's interesting that I landed in Silicon Valley on my first trip to the U.S. I saw so many cultures and people with awesome projects that shared the same passion for STEM. All these people love to do science and their projects will definitely shape the world, it is just a matter of time
DESCRIBE YOUR COMPUTER SCIENCE PROJECTS: All of my Intel ISEF projects dealt with artificial intelligence (AI). Some generated a dynamic link library that could be used by other scientists and developers to build more complex products, similar to MatLab Neural Network Toolbox.
In 2010, I presented NeurosLab, a toolbox that allows scientists and programmers to test and export AI into other software applications. In 2011, I presented AILab Scripting Language for Artificial Intelligence, an interpreted language that allows scientists and software developers to write code and use built-in AI classes to develop fast applications. In 2012, I presented the Human Computer Interface to help blind people see with their tongues. A device takes pictures from a webcam and generates electric pokes on the sensory matrix placed on the tongue. And in 2013, I used AI to create a low cost self-driving car. I developed a complex software that used AI to recognize traffic signs, traffic lanes, curbs, sidewalks, and moving vehicles.
A HACKER'S BEGINNING: I got my first computer at the age of 3. From then until primary school, I played more than 1,000 video games and learned how to operate in total commander (back then MS-DOS) to install and uninstall games. I also learned a little bit of English from games.
I grew up in Ramnicu Valcea, also known as Hackerville — the cybercrime capital of the world.
In primary school, I was amazed with Hollywood's special effects in sci-fi movies. So I decided to install and learn Autodesk 3D Studio Max 7 to create my own 3D movies. I was disappointed when my movies didn't look like Hollywood. Later on, I understood that I wasn't a Hollywood production team but just an 11-year-old kid.
That's when I moved to programming. In a Romanian PC game magazine, I saw an article that said I could code my own games using Visual Basic. So in 4th grade, I installed MS Visual Basic and started to learn to code. In middle school, my 5th grade computer science teacher "tricked" me into learning algorithms and data structures. She told me if I learned algorithms I would have full knowledge to make my own games.
I got my first computer at the age of 3.
Then I started to go to national competitive programming contests and olympiads with my school. My greatest passion was to go to software development contests. I developed more than 30 software applications and participated in more than 50 national contests. From 5th-12th grade, I participated in more than 130 national contests and 18 international contests. I grew up in Ramnicu Valcea, also known as Hackerville — the cybercrime capital of the world.
In 2009, I participated in the National Salon of Inventions for Youth in Bucharest, where I presented "X-Theft," a project that uses artificial intelligence to fight burglars by detecting the burglars' masks from images and automatically pulling the alarm. Then, I qualified to attend Intel ISEF in 2010.
ADVICE TO OTHERS INTERESTED IN STEM: Now it is your time to start doing STEM. Computers allow you to have a big chance to change the world, and it doesn't matter if you are from Africa, America, Europe, Asia, or Australia.