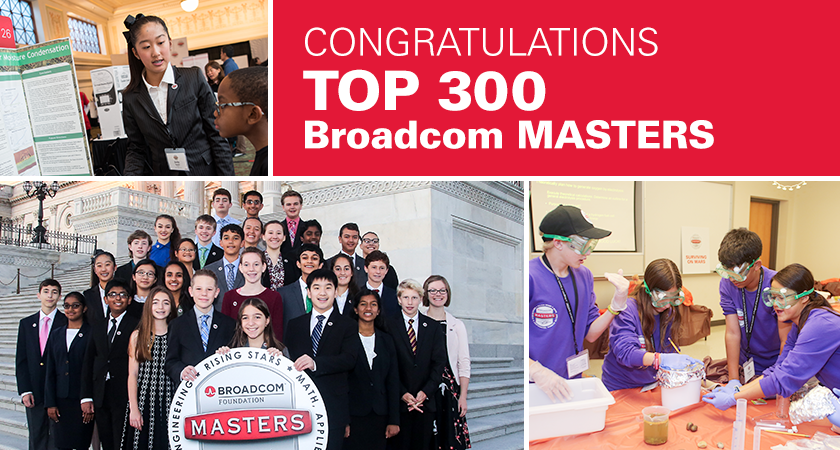 The Society for Science & the Public today announced the top 300 competitors in the 8th annual Broadcom MASTERS® — the nation's premier Science, Technology, Engineering and Math (STEM) competition for middle school students. Thirty of the 300 Broadcom MASTERS will be selected as finalists by a nationally ranked panel of scientists, engineers and educators on September 18, after which they will travel to Washington, DC to compete in a four-day STEM competition for more than $100,000 in awards and prizes.
---
---
The finalists will participate in team challenges aimed at demonstrating their mastery of 21st Century skills in each of the STEM areas, meet with government officials and showcase their projects for the public on October 20.
"Middle school is a critical time for all students. It is a time when they are beginning to explore all possibilities in front of them as they grow into adulthood. The Broadcom MASTERS is so important because we are engaging these young people and helping to cultivate their interest in science, technology, engineering and math," said Maya Ajmera, President & CEO of the Society for Science & the Public.  "The Society congratulates all our Top 300 Broadcom MASTERS."
The Top 300 Broadcom MASTERS include:
More females than males, with 152 girls (51 percent) and 145 boys (48 percent) selected from a record 2,537 applicants
Students from 35 states
Most populous states: 78 from California, 33 from Florida and 21 from Texas
Competitors come from a myriad of schools: 59.7 percent from public schools, 30.3 percent from private schools, 6.3 percent from charter schools, 3.3 percent from home schools and 0.3 percent (one student) from an online school.
The students' names and a state-by-state breakdown of the Top 300 Broadcom MASTERS can be found at https://student.societyforscience.org/2018-top-300-masters.
"Broadcom MASTERS competition is the culmination of the national science fair season when hundreds of thousands of young people showcase their prowess and passion for STEM projects to educators and professionals who volunteer to judge their projects," said Paula Golden, President of the Broadcom Foundation. "The Top 300 are the best-of-the-best and represent all science fair participants throughout the country. It is especially exciting to see more young women making it to the Top 300 in this rigorous national STEM competition that boasts a record number of applicants this year."
The Top 300 Broadcom MASTERS were selected from a pool of 2,537 applicants from 48 states, two US territories and one Department of Defense school. These competitors were evaluated by a panel of distinguished scientists, engineers and educators and judged on creativity and originality of their science fair project, their ability to engage in analysis of data and understanding of STEM principles as they relate to the real world.