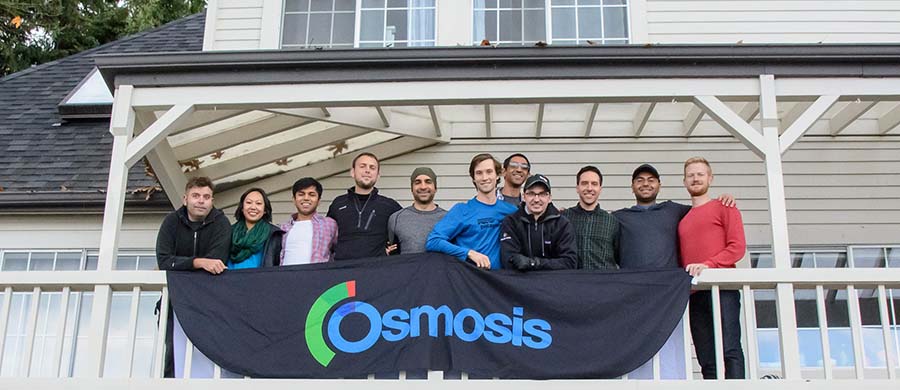 Smartphone technology and apps have revolutionized how we work, study, and even date. It's not surprising, therefore, that Society alumni are on the forefront of this revolutionary technology, developing new cutting-edge apps that can help in every aspect of daily life.
Read on to learn about four alumni (including the Father of Google Apps) who have created mobile apps for efficient studying, easy coding, and more.
---
Shiv Gaglani (Intel ISEF 2004-2006) and M. Ryan Haynes (Intel ISEF 2002) are the cofounders of Osmosis Knowledge Diffusion, a health sciences education tech company. They met in medical school and created Osmosis after struggling to retain material they'd mastered weeks before. Osmosis revolutionizes the way clinicians learn and retain information, through free educational resources available worldwide.
Ultimately the companies that succeed do so because they do one thing really well.
"We started Osmosis as a platform to help students manage their studying with techniques that had supporting scientific evidence," Shiv said. The most common methods of studying include re-reading text, note taking, and highlighting, but Shiv and his colleagues say these are not the most efficient methods for retaining information. His team believes that spaced repetition — a technique where a student increases intervals of time between subsequent review of learned material, and memory palaces — a visual filing system using mnemonics, are far more effective.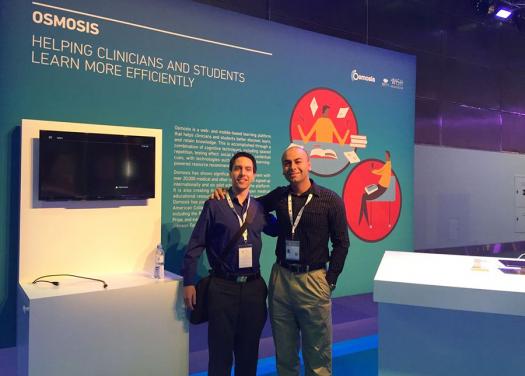 According to Shiv, the biggest challenge in starting an app is focus. It's best to stay within your area of expertise, instead of branching off in the beginning. "Ultimately the companies that succeed do so because they do one thing really well," said Shiv, who also wrote "Success with Science," a guide for how to hone high school research, with several Society alumni, including Scott Kominers and Carol Suh.
The practice Shiv obtained with written and oral presentations at Intel ISEF now helps him present to clients and investors. He also met long-time Society advocate and Nobel Laureate in Chemistry Professor Dudley Herschbach at Intel ISEF 2004. He became Shiv's mentor and wrote the foreword of his book.
Both Shiv and Ryan were inspired to enter STEM fields through childhood exposure in astronomy and medicine. Growing up in Cape Canaveral, Florida, Shiv witnessed many shuttle and rocket launches. At home, he was regularly exposed to biological sciences — his father, a physician, and his mother, a physical therapist. Similarly, when Ryan's parents took him to see the space shuttle Atlantis on his 6th birthday, he was hooked. And with the advent of the Internet, Ryan started coding at 11 years old.
Shiv's advice to young people interested in STEM is to focus on developing skills instead of receiving awards. Ryan suggests interning or working at a startup to learn about career possibilities. "In college, you mostly see academia as the main path to creative work in the sciences," he explained. "I wish I had been more aware of all the possible career paths in science and technology."
With your support, we can nurture the next generation of tech inventors.
Param Jaggi (Intel ISEF 2010-2011) is the CEO of Hatch Technologies, an automated app creation platform. Driven by his motivation to give everyone, regardless of technical ability, the opportunity to create and launch an app, Param started Hatch. "Many organizations and entrepreneurs have good ideas, they just lack the resources to deploy high-quality software," Param said. "That's where Hatch comes in."
Twice listed in the Forbes' 30 Under 30, Param's always had a knack for inventing. In high school, he became interested in STEM through science fair competitions. At Intel ISEF, "my judges were scientists from NASA, founders of large companies, and inventors of common household items," he said. "It really inspired me when I realized the same people I look up to see value in the projects I was working on as a teenager."
You have the opportunity to become the next Elon Musk, Mark Zuckerberg, or Steve Jobs.
Param encourages other young people by telling them that they have the potential and opportunity to become the next Elon Musk, Mark Zuckerberg, or Steve Jobs. "They all started off just like you," he said.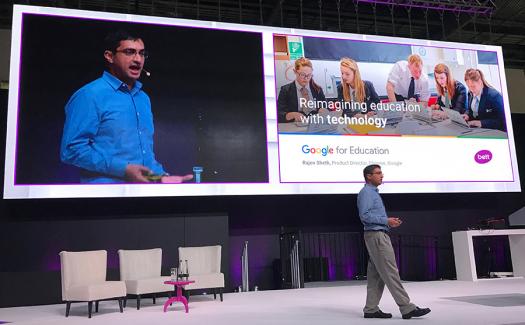 Rajen Sheth (Intel ISEF 1992-1994, Intel STS 1994) is known as the Father of Google Apps and is responsible for the development of Google Chrome. A 14-year Google veteran, Rajen is the company's Director of Product Management. He cofounded and led the Google Apps product line and the company's efforts to bring cloud computing to universities and businesses. He currently works on AI and machine learning technologies.
"We have managed to change how schools, especially K-12, operate and use technology," Rajen said. "A vast majority of schools in the U.S. are now using Google Apps and Chromebooks. It's possible to get tech into the hands of kids and change curriculum."
With Chromebooks and other Google technology in schools, Rajen explained that kids can go at their own pace. "I think that's really how education should be done," he said.
It's possible to get tech into the hands of kids and change curriculum.
It was challenging at first to get people into a new mindset, Rajen explained. "It sounded pretty outlandish to a lot of folks, the concept of the cloud," he said. "We were pitching this idea that businesses and schools should bring their data to Google's data centers, and it would help them manage their systems and servers. Many businesses actually kicked us out of the room after five minutes of hearing what we were asking."
Rajen's innovative spirit comes from his parents, who were both computer scientists. When he was five, his dad had a computer he plugged into the TV so Rajen could play games and learn to program, inspiring an early interest. Also, his school had Apple computers, which is where he learned to code.
Rajen also got involved in science research and fairs at school. According to Rajen, the skills he learned in STS and ISEF still help him today. "Science fairs give people a way to get fascinated by science at an early age. If I hadn't done science fairs, I probably wouldn't be doing what I'm doing today," Rajen said.