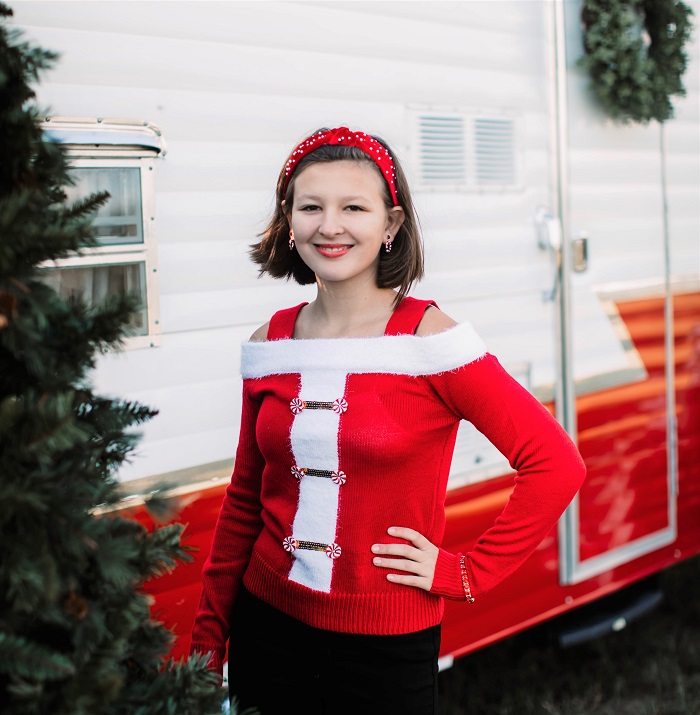 Last year, The Lemelson Foundation gave $100 awards to outstanding young inventors in Society Affiliate Fairs with middle school participants around the country. This is the second year of a three-year grant where young innovators will be recognized. The prize was especially created to reward young inventors whose projects exemplify the ideals of inventive thinking by identifying challenges in their communities and creating solutions that will improve lives.
After 13-year-old Adrianna Ashley witnessed how stressful it was for her grandmother and family to manage all her prescribed medications, she knew it was time to put her science and engineering skills to good use.
The Graniteville, South Carolina student explains, "My granny was in the hospital for over a hundred days with pneumonia. Now, she checks her blood frequently and requires breathing treatments daily. She is required to take multiple medications at different times throughout the day. This can be difficult to keep track of."
Subsequently, the 7th grader invented the Med-O-Matic — a simple appliance to help the elderly, like her grandmother (or anyone really) with measuring and adhering to accurate dosages of liquid medications at the right times of day. Research has shown that solid medications such as pills are widespread, but that liquid pharmaceuticals are often prescribed to patients with swallowing disorders.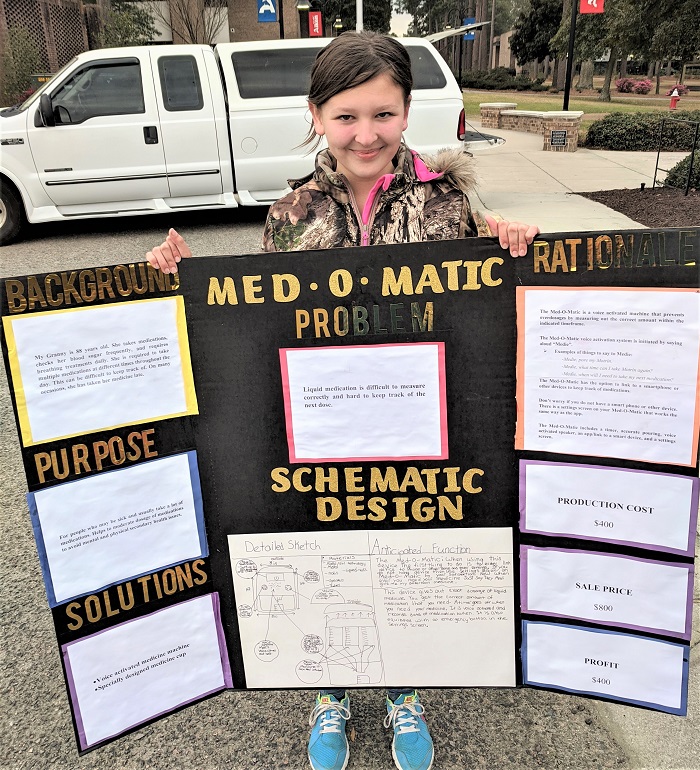 The Med-O-Matic's voice activation device, called the Medie, can be programmed to alert users when it's time to take a medication and the amount of medication to pour. Then the Medie will dispense the right amount of medication into a cup for the user. As a result of her research, Adrianna found that some older people can have a hard time with liquid medications because the accompanying cups are harder to read with poor eyesight. With her technology, the elderly will not have to face that problem anymore, also preventing potential overdosages. Alternatively, the machine can be activated using a touch screen, which includes a timer, accurate pouring technology and an app for smart devices.
The Med-O-Matic can hold up to three liquid medications at a given time. The user opens the top of the machine and sees three chambers with tubes. Medications can be easily poured into each tube. Adrianna explains, "When activated, the Med-O-Matic stores data in its system so that it will provide the correct amount of medicine. The device pours the medication from the correct chamber into a specially designed medicine cup."
The invention process came with a few bumps. After researching her idea, Adrianna built a clay model of the invention. The first time she tried to bake the model in the oven, it completely melted because she says she didn't use the right clay. But she tried again and successfully rebuilt the model with the appropriate clay.
Showing promise as a future inventor and researcher, Adrianna was awarded the Lemelson Early Inventor Prize at the Central Savannah River Science and Engineering Fair. "The week I was notified that I received this prize was right before my school moved to virtual learning. My vision for my future hasn't changed, but I think education and how I learn will be different now." She was honored to receive the prize and plans to continue inventing, saying, "It was gratifying to see my invention become something more than an idea on paper and getting this award means the world to me."