Student's nanotechnology project wins him trip to LIYSF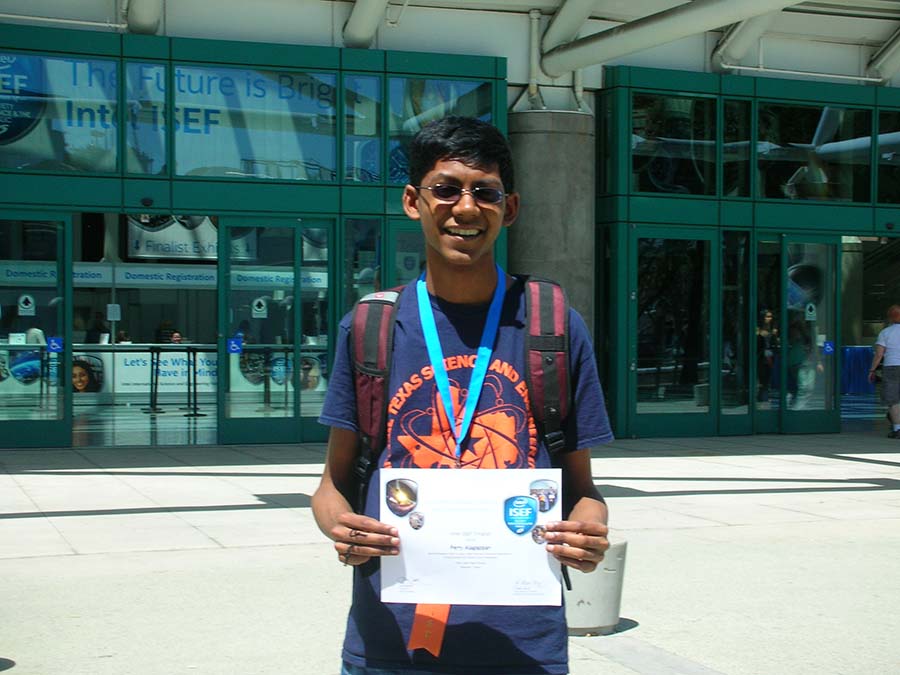 Perry Alagappan from Houston, Texas won a Best of Category award and a trip to the London International Youth Science Forum (LIYSF) at Intel International Science and Engineering Fair (Intel ISEF) 2014. Below he tells us about his experiences.
---
What was your experience being an Intel International Science and Engineering Fair finalist like? Most memorable moments?
Being an Intel ISEF finalist was an absolutely wonderful experience. The experience of meeting so many brilliant, passionate, and excited students was truly a once in a lifetime event. I really enjoyed the specialist lectures that SSP organized, especially the Nobel Laureate session, which represented unique ways of learning from experienced scientists.
Moreover, the social events at Intel ISEF were very well organized and really helped spread the idea of collaboration and friendship throughout the finalists. I made many new friends at the Pin Exchange and Intel ISEF night at Universal Studios! I initially found the day of judging slightly stressful, but as it progressed, I found that it was one of my favorite parts of the entire week; interacting with professionals who truly appreciated and understood my work was a highly rewarding and inimitable experience for me.
Can you provide a short description of your research project and how you initially became interested in this topic/science in general?
My project involved creating a renewable material that could efficiently remove heavy metal contaminants such as mercury, cadmium, and lead from waste water. This material is composed of a substrate called quartz wool with nanomaterials called carbon nanotubes grown throughout it. These carbon nanotubes in turn are functionalized with oxygen atoms, which allow them to adsorb heavy metal compounds effectively. I've been interested in materials chemistry and nanotechnology for a very long time, and this project started as I began exploring one type of nanomaterial in depth: the carbon nanotube. As I grew more familiar with carbon nanotubes and their unique applications, I stumbled upon the concept of modifying carbon nanotubes for selective applications (such as chemical adsorption), which catalyzed this project.
How has doing original research and participating in events like Intel ISEF affected you? Your education or career plans?
Events such as Intel ISEF and conducting original research have solidified my appreciation and zeal for science and have shown me a clear path into the future. Before I started scientific research, I didn't have much of an idea of how versatile and powerful science could be- I only thought of the mundane facts that were found in textbooks. Research in science opened up a world of possibilities to me, and I finally found an activity that I could passionately engage myself in. Programs like Intel ISEF continually motivate me to continue research and celebrate science with other young students from across the world. As I look beyond, I know that science is where my future lies- a realization made possible only by events such as Intel ISEF and LIYSF, and endeavors such as scientific research.
How did you feel when you found out you won a trip to LIYSF?
My initial reaction was one of complete surprise- I was already overwhelmed by winning a Best of Category award and certainly wasn't expecting the trip to LIYSF. As I received the award given in the name of Philip V. Streich, who was also very passionate about carbon nanotube technology, I felt truly blessed. I knew even before the trip to LIYSF that it would be a great honor and an incredible experience, but having completed the trip, I can safely say that it has far surpassed my expectations!
You recently had the opportunity to travel to London and attend the LIYSF. Can you tell us about that experience?
Quite simply, LIYSF was incredible. It was the first time in my life where I could spend two weeks constantly interacting with students from all over the world who were passionate about science, mathematics, and technology. Each day I would meet new people, discover new cultures, and learn concepts in science that I had never encountered before! Although all of the participants were from different countries and of different beliefs, we clicked with each other instantly and bonded over our shared passion for science.
London is a great city to host the forum in and there was always something to do there, whether it be visiting the nearby museums, journeying to eateries, or just walking through the various departments on campus. Even now I am still in touch with many of the participants from the Forum and am really excited for next year's LIYSF award winners at Intel ISEF!
What are you up to now?
Right now I'm still working on enhancing the project that I presented at Intel ISEF and LIYSF.There are a few more improvements that I am focusing on, after which I plan to get a paper published on the research. At the same time, I am still exploring other sub-fields within nanotechnology and looking for anything interesting that catches my eye!
Do you have any advice for other young students interested in science?
I think science is a field in which there is something for everyone; I wholeheartedly encourage all young students to explore science and am sure, that given enough time, each and every one of them will find something in it that he or she enjoys.
Science is constantly evolving and changing the world we live in and those who pursue it will always have something worthwhile to discover. I would recommend young students who are interested in science to seek out research opportunities within their local institutions if possible or explore summer science programs. There is so much knowledge and opportunity for science available, even for middle school and high school students. Science is challenging, rewarding, and most importantly intriguing- for me there is no better field, and I am sure the same is true for many others.