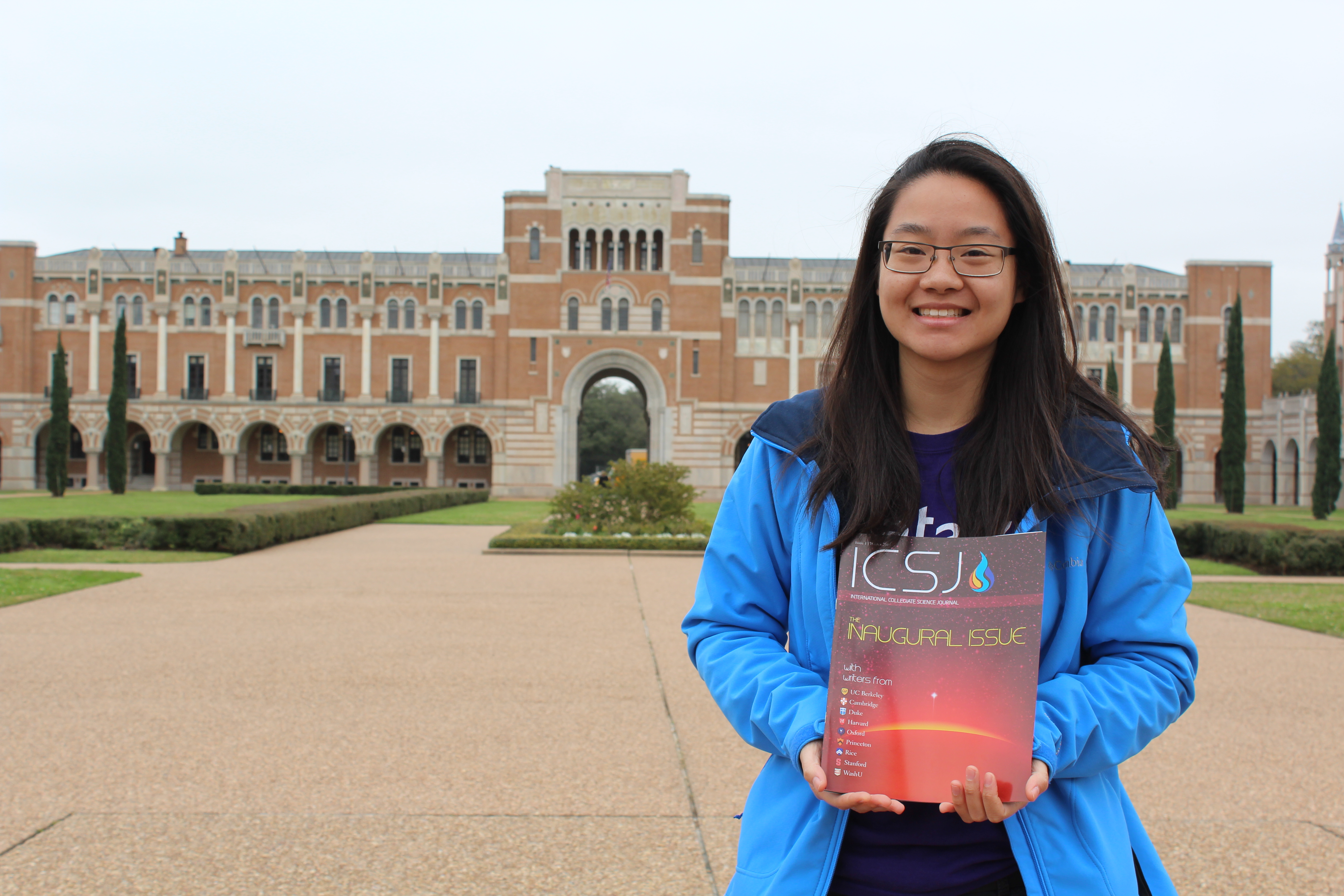 Alexandra Rojek, an Intel Science Talent Search (Intel STS) 2011 semifinalist, is currently an undergraduate at Harvard.
She co-founded the International Collegiate Science Journal (ICSJ) over the past year, with the help of several SSP alumni, including: Malone Locke, Intel ISEF 2007-2008; Abrar Choudhury, Intel STS 2012 semifinalist; Cissy Chen, Intel ISEF 2011; Carrie Sha, Intel STS 2013 semifinalist; and Joyce Kang, Intel STS 2014 finalist.
This phenomenal team of SSP alumni were joined by other undergraduates from nine universities who joined forces to create this new inter-collegiate journal.
We corresponded with Alexandra to hear more about her progress and ICSJ.
---
Catch us up, where are you now in terms of your education and career?
I am currently a senior at Harvard studying Chemical and Physical Biology, and am starting medical school at the University of California, San Francisco this fall. I hope to continue my research and integrate it with my clinical interests over time, and over the course of my career, to bridge the worlds of research from basic science to biomedicine and using that progress to make a difference for patients.
Can you share a personal standout moment regarding science and research?
My most meaningful and significant experience with science and research has been my work in the Drummond Lab at the University of Chicago, where I worked on the heat shock response in yeast and protein self-assembly as a novel regulatory mechanism, that then turned into my senior thesis at Harvard.
What was most remarkable about this experience for me was the chance to work on a biological phenomenon that is both so elegantly simple, yet intricately complex in its regulatory implications. That kind of work was something that I never expected I would have the chance to work on, and much less in my undergraduate years. The group of people that I got to work with was truly remarkable, and being part of such an incredibly collaborative and creative lab as the Drummond group is an experience that has forever changed how I approach science and envision the scientific stories that I have the opportunity to work on.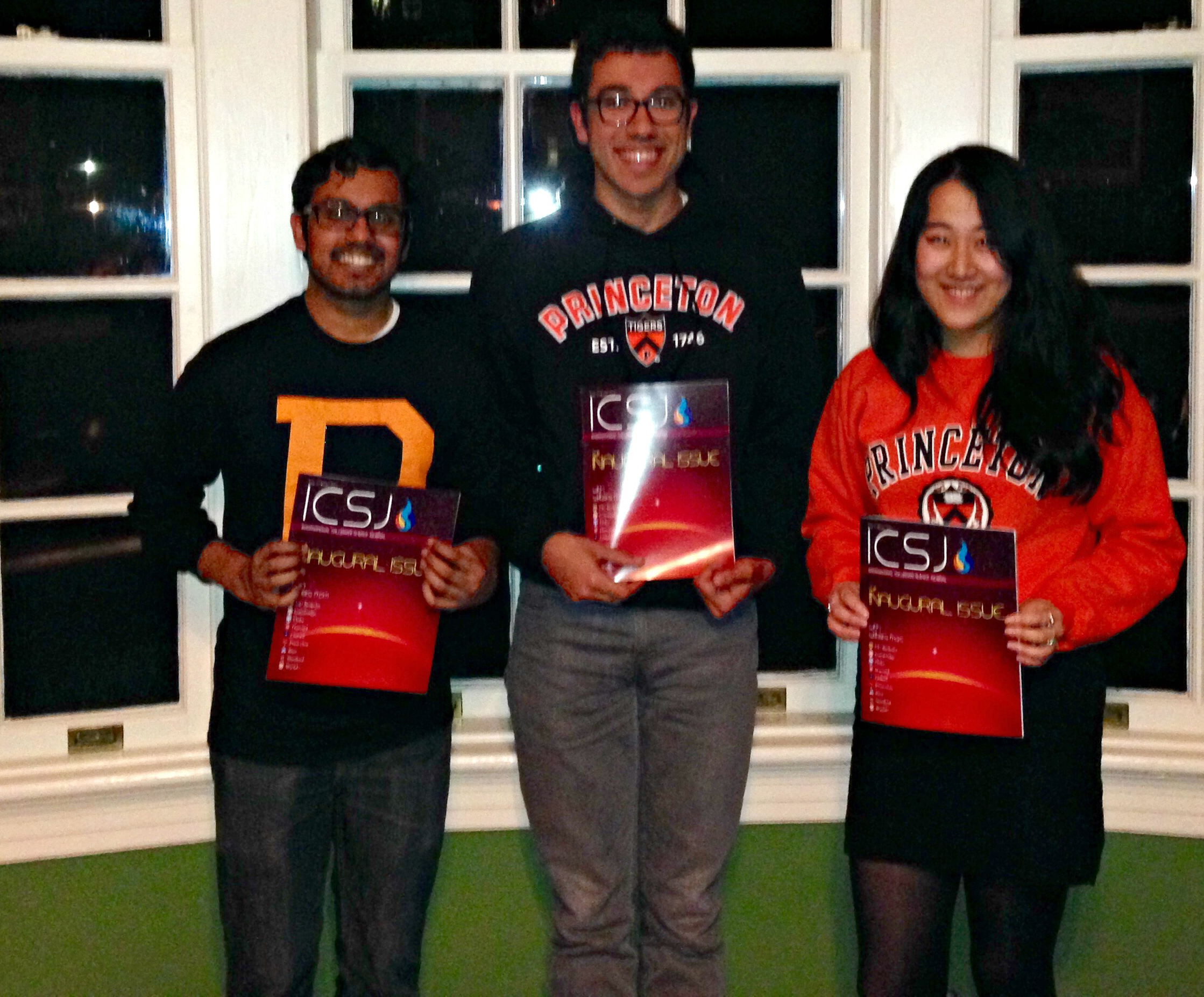 Tell us about ICSJ. What sparked the idea for the journal?  
ICSJ started with one of our co-founders from Princeton, Stephen Cognetta, reaching out to science publications at other schools, like the Harvard Science Review, about the idea of starting an intercollegiate science journal, to allow us to collaborate and create something more impactful than any of us could do on our own.
From there, we picked up member schools one by one until we ended up with the nine schools that we currently have. The motivation behind putting something like ICSJ together, is an ideal that I think we all share – that of bridging science and the public, of making science captivating and engaging for every reader, while empowering students to share their passion for science on an international scale.
How did you get in touch with so many other SSP program alumni?
The inclusion of so many SSP program alumni in ICSJ happened more by happy chance and was something that we discovered well after founding ICSJ. I think this speaks to the dedication of the students involved in SSP programs to continuing their pursuit of science, and just as importantly, sharing that with others, whether it be through something like ICSJ, or through a range of other fabulous things that I know other SSP program alumni have continued onto as well.
What are the short-term and long-term goals for ICSJ?
In the short-term, we just published our first, inaugural print issue of ICSJ (also available online at icsjournal.org) so we've been busy distributing that around our respective campuses and promoting it, and our next step is putting together a formal, executive board as the first step in institutionalizing ICSJ.
Up to this point, we've functioned as a flat board of co-founders as well as new representatives from each member school, which has worked well for our first year, but for the future of ICSJ we wanted to support its success by having a more institutionalized structure that will also allow us to expand to new member schools and hopefully become a long-lasting community for students interested in science writing and communication.
We want to provide students with an outlet for sharing their passions through the journal, but to also give them the space to come up with innovative ways to expand the impact of ICSJ through having a committed and creative group of international undergraduates to work with.
How did qualifying as an Intel STS semifinalist affect your future in science?
Qualifying as an Intel STS semifinalist gave me the confidence in my future pursuits in science and research. I am grateful and proud of having my early research from high school recognized by Intel STS among so many other qualified high school research students. Even though I continued on to entirely different fields of research during my undergraduate career, I was able to enter that research with the confidence that I had learned how to plan out the scientific process, even if the particular experiments were to be different in my future pursuits.
What advice do you have for young students interested in science and research?
I think the most important thing is to not be afraid to fail in the beginning steps, because in some sense that gives you a more real experience of research, and a better understanding of what is necessary for a successful research experience.
While getting early research experience is a great way to get immersed in what real research is instead of learning from textbooks, I think it's also important for younger students to know that they shouldn't feel that they need to continue working in the same field in the future, and to keep their minds open to new ideas and topics they may not have considered earlier. If anything, exposure to very diverse and varied types of science and research will only enrich their future work and can lead to the most meaningful and influential experiences for them.