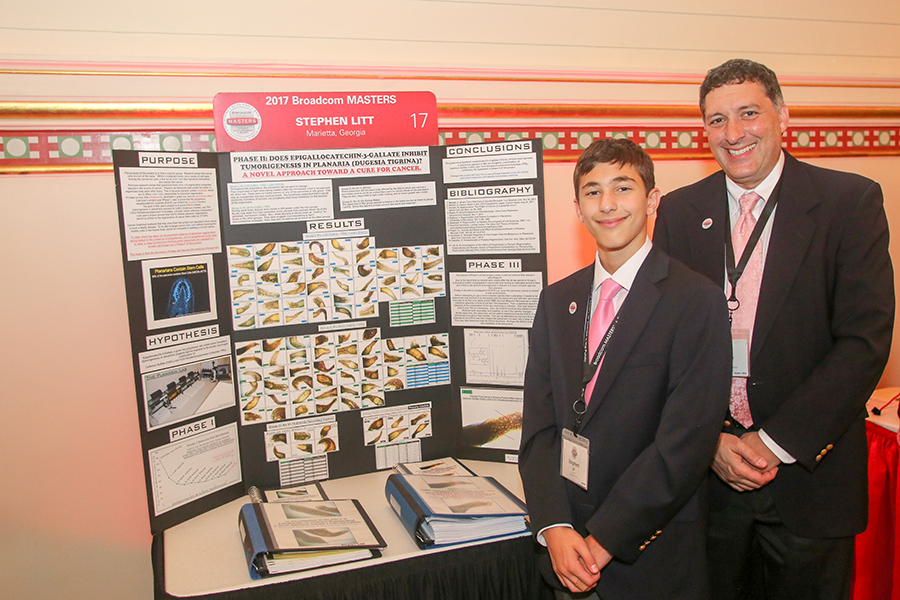 The call of science is often heard through the generations. That is definitely the case with the Litts.
This year, Stephen Litt, 7th grade, competed in Broadcom MASTERS, one of three prestigious competitions produced and created by the Society for Science & the Public. As one of the 30 finalists, Stephen showcased his project on a novel approach to treating cancer. His research showed that Epigallocatechin-3-Gallate (EGCG), an antioxidant in green tea, can inhibit tumors in planaria, a flatworm.
"I may have broken something when I was jumping around after I found out the results," he said, laughing as he reflected on his reaction to his experiment results.
Similar to his son, Stephen's father Lesley grew up with a love for science and research. He was a semifinalist in Westinghouse Science Talent Search (STS) 1986, the Society's most prestigious science and math competition, which is now sponsored by Regeneron. For his STS project, Lesley grew plants and simulated zero gravity. He was thinking about how it could help the Space Shuttle program.
Stephen Litt presenting his research at Broadcom MASTERS 2017. Photo courtesy of Society for Science & the Public/Linda Doane.
While he never made it to Washington, D.C. to compete as a finalist, Lesley said STS helped him get into college. "It made such a difference," Lesley said. He majored in chemistry and now owns a flexible packaging company.
Stephen's mother Melanie, a dentist, similarly inspired Stephen's interest in science. In a previous science fair project, Stephen used some of the teeth she extracted from patients, testing how they eroded in different soft drinks. In fact, Lesley believes that both he and his wife — and their interest in science — influenced Stephen and his love of STEM.
"What matters most is the environment parents bring their children up in, allowing them chances to explore," Lesley said. "If parents can fund their children's STEM interests, that's great; and if they can't, they should seek help from schools or local labs."
"Science fairs are important because they're a good way for young children to express their ideas about science," Stephen added. He loves making friends with others his own age who love science as much as he does. He's currently in a group chat with all of the Broadcom MASTERS 2017 top 30 finalists.
Lesley believes that science fairs, such as Broadcom MASTERS, provide an opportunity for students to learn more and keep going. "It inspires these kids." He is currently working on promoting his local science fair, which will take place this upcoming February. "Science fairs are important not just for doing science projects, but they give the kids a chance to do some public speaking," Lesley explained.
Stephen agrees. "They're a good way for young children to express their ideas about science," he said. In fact, he has participated in science fairs ever since the first grade.
Stephen's advice for others interested in STEM: "even if you don't think what you're doing is a good idea, other people might think it is. Don't listen to your own negative criticism." His dad agrees. "Research is a marathon," Lesley said. "Most students aren't going to get the one-hit wonder. Don't give up."
Stephen plans to study chemical engineering in college. "But that might change as I get older," he said. "I'm definitely interested in chemistry or biology."