Science fairs sharpen storytelling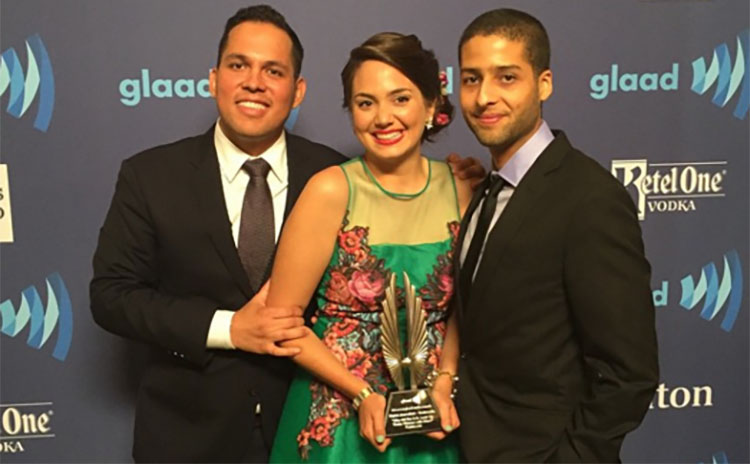 While Cristina Costantini didn't become a scientist, she's used the skills she gained through science fairs to become an award-winning investigative journalist. She was an Intel ISEF 2004 and 2005 finalist.
Competing in science fairs doesn't mean you'll end up as a scientist, Cristina said. "But those skills will be with you for a long time. They help in ways we don't even understand in middle and high school." Skills like confidence, focusing long-term on one project, and expanding your worldview, according to Cristina.
From studying peer pressure, to reporting on immigration.
Science fairs and investigative reporting overlap, Cristina said. She works as an investigative reporter and producer at Fusion, a joint venture between ABC News and Univision. She writes stories and produces documentaries. She said the most exciting part of reporting is when laws change or are impacted by her investigations.
The project-based schedule of reporting is similar to science fair projects. Cristina often works on long-term investigations, concentrating on one project for six months to a year.
"The skills you learn when working on science fair projects are really valuable," she said. "I learned about dedication to one topic from science fairs. And becoming an expert in one thing, which is what I love about investigative journalism." Researching for science fairs turns people into experts, she said. You spend a long time researching and building a project, and then share what you found.
Science fairs gave her the confidence to do documentaries. She uses a lot of those skills she gained every day, like project- and time-management, and critical thinking for figuring out how to map out an investigation. "Communication is a big one," she said. "Science fair taught me how to break down complicated topics and explain them to people who aren't experts. Practicing delivering talks on these topics taught me communication skills and storytelling."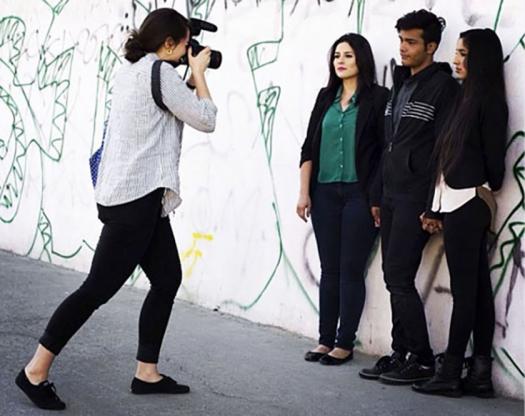 Cristina received a GLAAD award in 2015 for investigating the treatment of transgender women in immigration detention centers, two awards in 2015 from the National Association of Hispanic Journalists, and was nominated for two Emmys in 2015 in the categories of Outstanding Investigative Documentary and Outstanding Research for the documentary Pimp City.
Participating in Intel ISEF 2004 gave Cristina confidence in herself.
"I was a 14-year-old in Wisconsin and I won first in the state. I had no conception of the fact that I could do that," she said. Researching and competing in science fairs gave her the confidence to achieve things she didn't think were possible beforehand.
After Intel ISEF, Cristina traveled and competed all over the country. Science fairs "expanded my worldview and what I thought was possible for me as a 14-year-old girl," she said. Competing in science fairs helped her get into college and attend Yale University.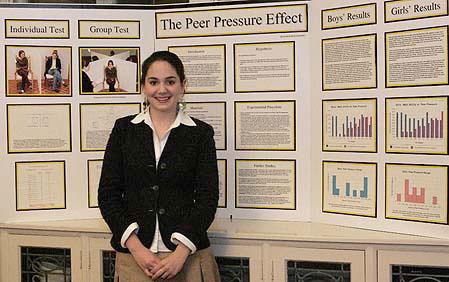 She first became interested in science after she transferred schools in 6th grade.
That was when she started to study peer pressure. "In 7th grade I was really dorky. I didn't fit in. I wanted to figure out what it was," Cristina said.
During research for a class project, Cristina learned about social science, the Solomon Asch conformity experiment, and Stanley Milgram's electric shock experiments. "I became fascinated by the ability of human beings to make decisions that they wouldn't on their own if there wasn't social pressure," Cristina said.
Starting a new school where she didn't fit in contributed to her interest in studying peer pressure. "I became fascinated by that, but mostly because I didn't have many friends and wasn't sure why I wasn't fitting in. The science fair came along and I thought that might be something I could do."
She developed a test to measure peer pressure susceptibility in individuals. Both of her Intel ISEF projects dealt with conformity and group pressure. "It was a lot of fun and got me interested in social sciences, which I thought I wanted to pursue. Then it ended up turning into journalism in college." The support of her teachers and parents empowered her.
Cristina encourages everybody to take advantage of science fairs.
"Science fair is an amazing opportunity," she said. "You meet different types of people from all over the world. You learn a lot. You can go much farther than you would even believe."
Cristina didn't think she'd place first when she competed in Intel ISEF. Self-doubt can determine what young people think they can or can't achieve. Through science fairs, kids are able to achieve more than they think they can, she said.