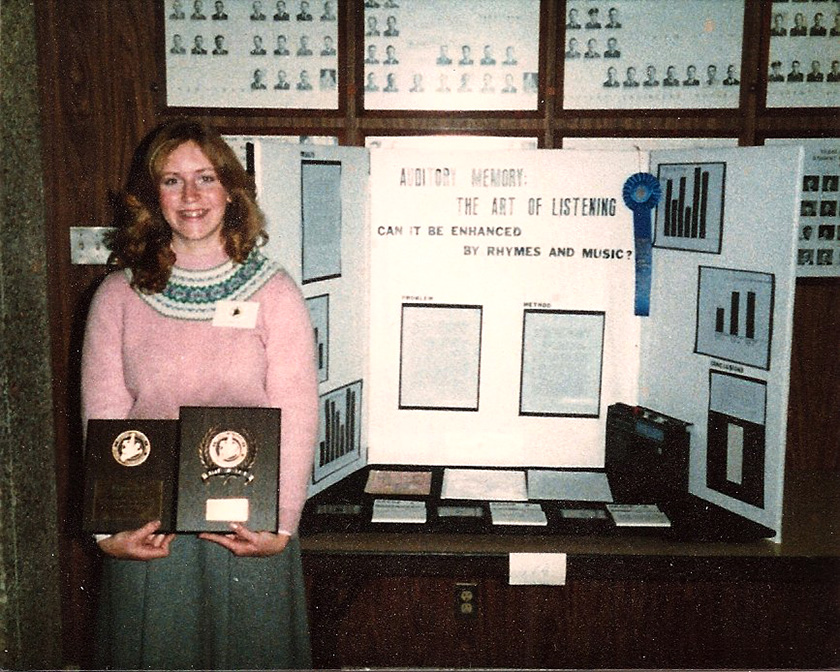 Gwynne Ash is an Intel ISEF 1983 finalist who returned as a Grand Awards Judge for Intel ISEF 2016. Now she's excited to see the 2016 finalists' projects. Gwyne is overwhelmed by the quality of their research.
---
Journey from finalist to judge: I don't remember not doing science fairs. It's the ultimate in self-expression for kids, if they're interested in science.
In 1983 I researched auditory memory and how to improve it. I used a simple children's story, "The Wonderful School of Miss Tillie O'Toole," with variations to see which one students could remember better. One version rhymed, one did not rhyme, and the third rhymed and was read with music. I compared which group had a better retelling. It was the one that rhymed and was set to music. I teach literacy assessment now and retellings are still a measure we use to study memory of a text.
Now, I'm judging finalist's projects in the behavioral science category. I also judged at Intel ISEF 2015 in Pittsburgh. I was so overwhelmed with the quality of research finalists were doing that I wanted to stay a part of it and come out here.
Judges try to find out everything we can about a project in a little under 15 minutes per finalist. You want to make sure they get their opportunity to really express everything they know and understand.
I try to follow with a lot of open-ended questions. My favorite question to ask is "why did you decide to investigate this?" It's a nice warm-up and gives me insight into if they've researched it before or have any personal connections.
---
Register to volunteer or email isefvolunteer@societyforscience.org for more information
---
The long-term effects of science fairs: It made me continue to think. It shapes the way that you ask questions and think about how data of a variety of different kinds can be gathered to support a hypothesis or not.
It also gave me an analytical eye towards reading science. As an adult consumer of science — I read Science News and other journals — I'm often appalled by the way science is reported in the public press. Because I'm someone who can go back and read original articles, it's concerning to see how results are often reported. A big part of that understanding came out of that beginning of "how do you design research" in science fairs.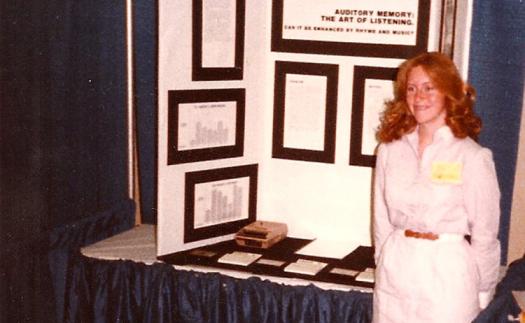 The science of literacy: I teach literacy and strategies for English as a Second Language to pre-service teachers as a professor of literacy at Texas State University. I originally went to college majoring in biology, but switched to English.
Although I didn't know it at the time, my ISEF project looked at learning from text, and students' ability to retell stories of different text types. At that time, teaching literacy wasn't what I was thinking about doing.
I'm interested in science education and how texts impact students' learning. How text can allow them to pursue their interests and see in depth and not just breadth.
Most memorable ISEF experience: ISEF is a great opportunity to talk to kids from different places. I remember having dinner at a big table with finalists from all over the country and world.
Advice for STEM students: I wish young people would think about all of the things you can do with a body of knowledge. You can get a doctorate in biology and not be a biologist. You can pursue engineering and not build bridges. STEM gives opportunities in a variety of places.
I wish they'd care less about grades. I think grades are at the heart of why some young women don't end up going into STEM fields; they might be concerned it will affect their GPA or scholarships too much. It sounds counterintuitive coming from a professor, but it's more important to focus on what they're learning and how it relates to other things.
And I wish they'd feel comfortable pursuing their interests. Have faith in themselves. Pursue questions you actually have for projects and science fair, rather than projects in a box you can find online. That's infinitely more inspiring or interesting.