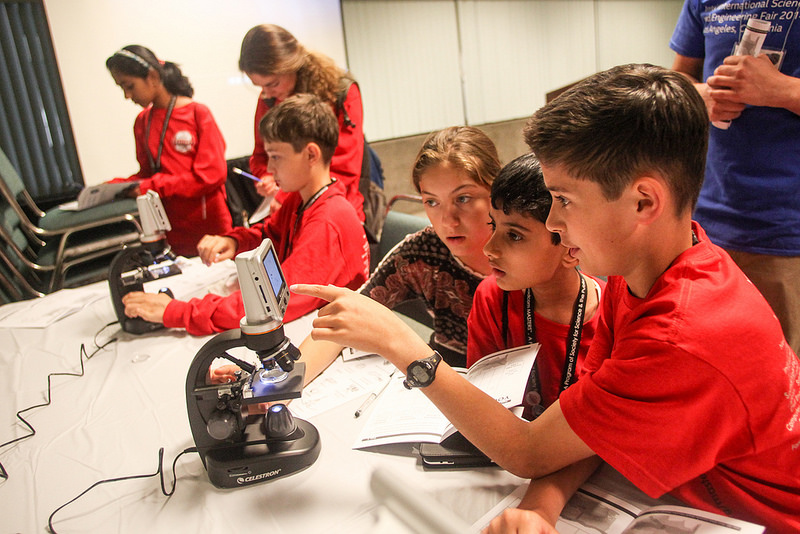 Sean Weber from Sequim, Washington won a Rising Star award at the Broadcom MASTERS 2013, which allowed him to travel to Los Angeles as a U.S. delegate for the Broadcom MASTERS International 2014 this May.
---
What was your experience as a Broadcom MASTERS finalist like? Most memorable moments, etc.?
My experience as a Broadcom MASTERS finalist was incredible. The whole week was dedicated solely to us and developing teamwork and science skills. Everything was done to make sure we had the best time possible. I most enjoyed sightseeing around Washington, D.C. and seeing all it had to offer, because I had never been there before. Although meeting people that either inspired me or were just like me was also really cool!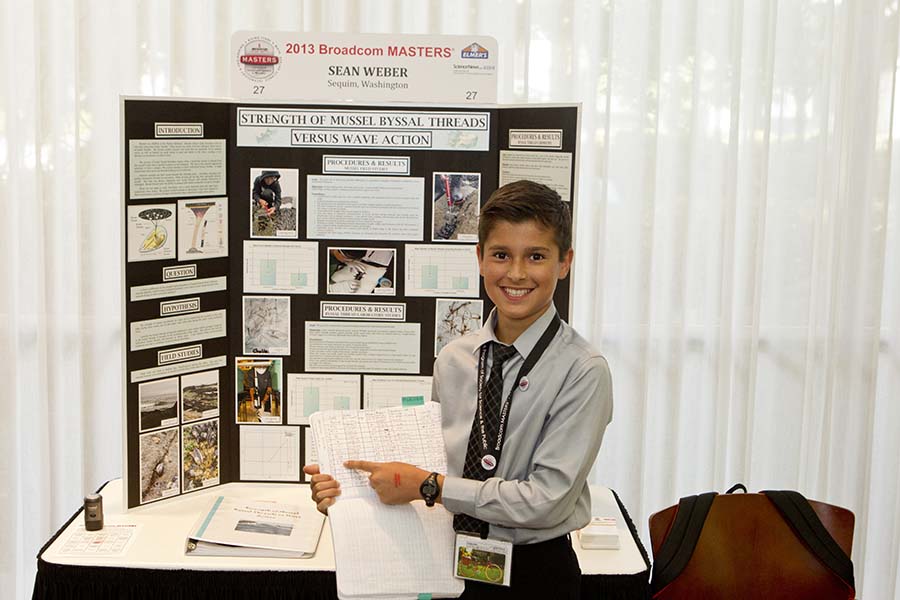 You received the Rising Star award, which qualified you to attend Broadcom MASTERS International. Can you tell us about that?
Receiving the Rising Star award (an award given to two 6th or 7th graders showing a lot of creative and scientific potential) meant I could continue my Broadcom experience at Broadcom MASTERS International during the Intel ISEF in Los Angeles. This program brought together delegates from around the world (14 different countries) giving us the opportunity to interact with each other, meet Broadcom and Walt Disney Studios executive engineers (and Imagineers), and also experience the biggest student science occasion.
Can you provide a short description of the research you presented?
My research studied whether marine mussels that face greater wave action had adapted to their environment and developed stronger attachments. I tested mussels overall removal strength, byssal threads (attachments) individual tensile strength, and the metalo-protein level in the byssal threads.  I found that the mussels that face greater wave action not only adapted as a whole, they also adapted their individual attachments and down to the chemical level of the byssal threads.
How did you initially become interested in science and this topic specifically?
I initially became interested in science through my obsession of dinosaurs at the age of 2-4. My curiosity for biology specifically was fostered by a combination of my parents being doctors and me loving to watch Animal Planet and learning about animals. As I first started competing in state science fairs (3rd grade), I explored various topics in science but still found my favorite projects were those involving biology. When I completed my mussel project, I really wanted to do a project on marine biology as something new that would take advantage of my water-surrounded location. After that project I knew I had found my scientific niche, and wanted to continue to learn about the 'creatures of the deep.'
How has doing original research and participating in events like the Broadcom MASTERS & Broadcom MASTERS International affected you?
Participating in events such as Broadcom MASTERS and Broadcom MASTERS International has really motivated me to continue to work in science and pursue my interests. After my experiences I was almost sure that I wanted to go into a biological scientific research career path and I really felt like the power was in my hands to 'go far.'
Do you have any advice for other young students interested in science? For finalists in this year's Broadcom MASTERS or delegates at next year's Broadcom MASTERS International?
The advice that I have for future Broadcom MASTERS finalists and delegates is to simply follow your passions in science. If you really want to learn about your topic then you will be motivated to take your project to the next level. I would also give the advice to learn from your peers. Our generation will face many future problems and being able to communicate with similar brilliant minded people within ones' nation and around the world will be important.
Are you continuing your research? And/or what are you working on now that is STEM-related?
Since completing my mussel research, I have continued to work on marine science research. Last year I did a study on what factors influence the development of harmful algal blooms on the Pacific Coast of North America. This involved sampling and testing local water areas, running statistical analysis on 25 years of previous algal bloom data and growing my own non-harmful cultures under several conditions. This year I will be working with marine bioluminescence, using it to create a marine toxin field test kit.