Pandas, ancient stone carvings and cuisine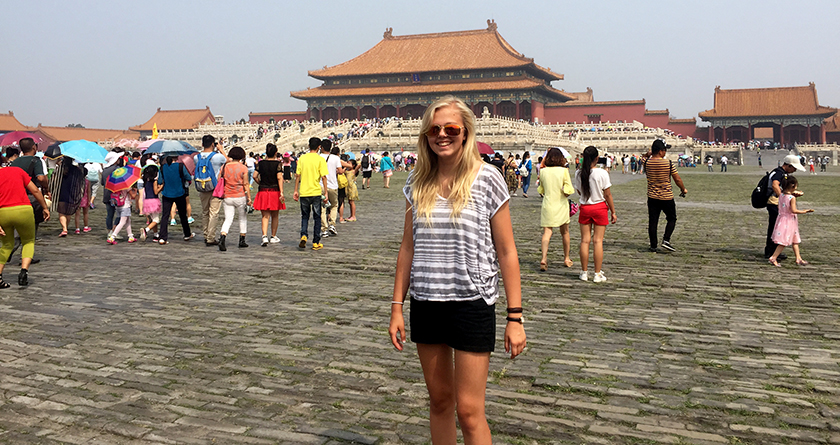 The Intel Foundation partnered with the China Adolescents for Science and Technology Organization to award six Intel ISEF finalists an 11-day trip to the Chinese cities of Beijing, Chengdu, and Hong Kong, including: Niklas Fauth, Sophia Korner, Kathy Liu, Diya Mathur, Raymond Wang, and Joshua Zhou.
These finalists attended the China Adolescent Science and Technology Innovation Contest, the largest national science competition in China. They also visited science educational institutes, research centers, middle schools, and universities in China.
Below is Sophia's account of the trip.
---
The Intel International Foundation China Culture & Science Field Study Program awarded Diya Mathur and I an all-expenses paid trip to China. We participated in the China Adolescent Science and Technology Innovation Contest (CASTIC), visited middle schools to talk to students about science research, visited the Chengdu Research Base of Giant Panda Breeding, and experienced Chinese culture and cuisine.
In the Forbidden City, we were taught an ancient Chinese technique for copying stone carvings. We also visited Tsinghua University, which is the top university in China. It was interesting to discover the differences between American and Chinese universities. Tsinghua is the top university for all subjects, not just law, or art, or engineering. In the afternoon we visited the Great Wall, which was beautiful.
The following afternoon, we boarded a flight to Chengdu. Chengdu is a beautiful city with skyscrapers covered in LEDs — the displays change and dance. On our first day in Chengdu, we visited the Chengdu Research Base of Giant Panda Breeding. We learned that pandas used to be given for free as gifts to other countries. Pandas are lazy animals that eat shoots and leaves. They are given a 50×50 km place to live in the research base, which includes a playground. Pandas are so lazy that their handlers dangle food in front of them so that they will exercise — standing up and swaying to reach the food.
During our trip we also visited the 2015 China-U.S. Young Maker Competition and cooked and ate traditional cuisine at the Chiancai Museum. Then we boarded a flight for Hong Kong. In Hong Kong, we spoke at a summer camp and visited a middle school which had seven floors, plus a rooftop garden, and tennis and volleyball courts. On the first floor, a room big enough for a gift shop was filled with trophies. An entire room was dedicated to robotics, a small biology lab, and a room with a skylight was dedicated to astronomy and displayed the students' innovative research projects. After visiting the school, we went to The Peak, which had an excellent view of the city.
This trip to China offered me a unique insight into the culture of another country. It was the most enjoyable and educational trip I have ever been on. The people who traveled with me — and the ones I met along the way — were extremely kind and intelligent. The food was delicious and the country was beautiful. I only wish that it could have lasted longer.