Meet this year's top 30 Broadcom MASTERS finalists at a virtual project showcase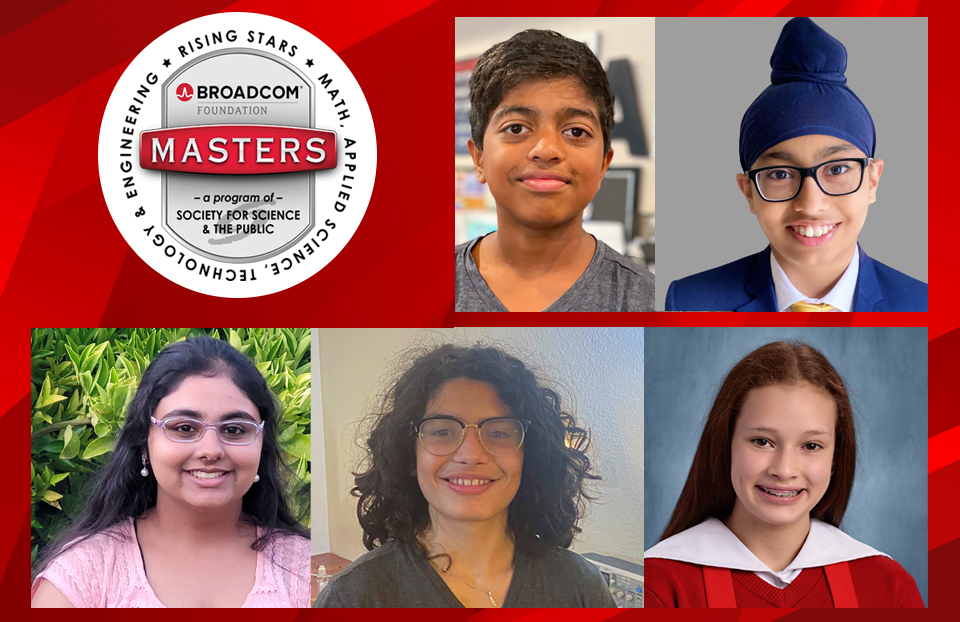 The Society for Science and Broadcom Foundation are excited to share that the public will have the opportunity to learn about the top 30 Broadcom MASTERS finalists' projects during the virtual Science and Engineering Project Showcase later this month. The Broadcom MASTERS Science and Engineering Project Showcase will open on October 26. Finalists will be at their virtual booths from 5-6 p.m. ET to respond to questions from the public through a live chat. You can add an event reminder to your calendar here, no registration is required to attend.
As the coronavirus pandemic continues to affect education and learning, these brilliant students overcame setbacks and continued to explore STEM fields despite these challenges. Learn more about a few of the Broadcom MASTERS 2021 finalists' projects below.
Sebastian Alexis, 13, from Irvine, California knew coronavirus pandemic lockdowns were implemented to slow the spread of the virus, but he wondered how effective the lockdowns really were. He decided to calculate COVID-19 data in his local community of Orange County, California, using a mathematical model. Through his research, Sebastian found that the Spring 2020 lockdowns were effective in slowing the spread of the virus. "My project shows the need for lockdown measures and social distancing to slow the spread of COVID-19. My project can show when to ease or tighten up lockdown restrictions."
Elizabeth Reilly, 14, from San Antonio, Texas has seen the health implications of diabetes firsthand and was inspired to find a way to improve wound healing and tissue regeneration in diabetic patients. So, she explored the anti-inflammatory benefits of the herb Shisho and the anti-coagulant properties of leech saliva in wound care. "This project demonstrates that the Shisho herb and leech saliva will significantly improve wound-care-related regeneration with minimal side effects," says Elizabeth. She hopes her research will not only heal wounds, but possibly prevent the need for amputations.
Raunak Singh, 12, from Fair Lawn, New Jersey wanted to find a way to use Ultraviolet-C (UV-C) light to disinfect areas from COVID-19, without putting living things at risk due to the light's harmful effects such as skin burns or eye damage. Raunak was inspired to build a robot named Apollo. Raunak states, "the goal of Apollo is to autonomously harness UV-C light's potential to eliminate harmful microorganisms while using sophisticated computer vision to minimize harm to living things in line-of-sight." Apollo is equipped with motion sensing technology to determine when living things enter the room, triggering the light to turn off after 20 seconds.
Ryka Chopra, 13, from Fremont, California understands that easily accessible fast food is linked to obesity in communities. With this awareness, she aimed, through her research, to find out if fast food chains intentionally target regions with high obesity rates. Ryka used geographical data to determine the proximity of a high concentration of fast-food restaurants to obesity clusters. "My findings suggest that to successfully combat obesity, we cannot ignore the supply side, and monitoring fast-food branch locations should be a vital public policy initiative."
Lucas Katz, 14, from Moraga, California is looking to improve the efficiency and effectiveness of Unmanned Underwater Vehicles (UUV). After learning that a UUV's data collection is often interrupted by the need to be manually charged and have data downloaded, Lucas was inspired to create a floating-base station, equipped with solar panels, for the UUV. "I performed experiments to better understand light transmission through water and designed and built a prototype test system to demonstrate both energy and data transfer through water."
We look forward to seeing you at the Broadcom MASTERS Science and Engineering Project Showcase! Stay tuned to hear who the winners of this year's competition will be on October 28 at 8 p.m. ET and see who brings home the $25,000 Samueli Foundation Prize.