Meet the young scientists and engineers of the future on October 25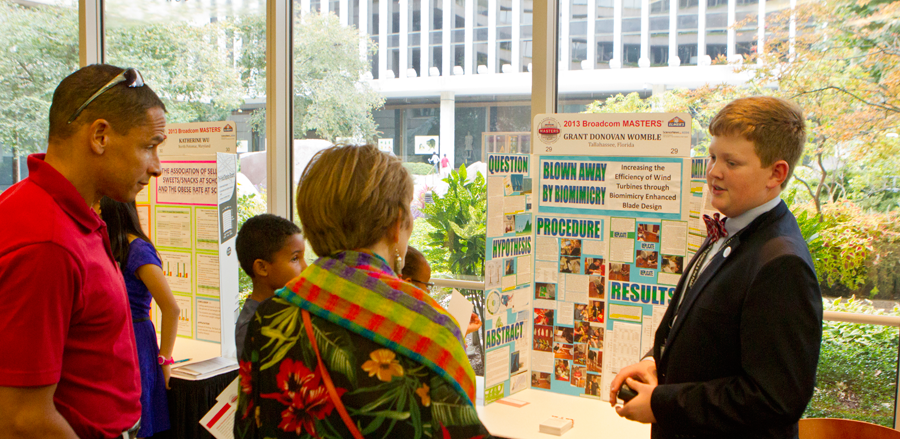 The 30 finalists of the 2014 Broadcom MASTERS (Math, Applied Science, Technology, and Engineering for Rising Stars) will be presenting their research projects to the public from 1 – 4 PM on Saturday, October 25 at at Q?rius, part of the Smithsonian National Museum of Natural History, in Washington, DC.
The Broadcom MASTERS Science and Engineering Project Showcase is a great opportunity to meet the finalists and talk with them about their research. Students, teachers, parents, scientists, engineers and members of the general public with an enthusiasm for science and engineering are all invited. Groups are welcome to attend, and the event is free. Students will also have the opportunity to play "Broadcom MASTERS Bingo" and learn interesting facts about the finalists.
Broadcom MASTERS is the national science, technology, engineering, and math competition for U.S. middle school students. Finalists were selected by a panel of distinguished scientists and engineers from among 300 semifinalists, more than 2,000 applicants, and 6,000 nominated students.
If you are in the greater Washington, DC area we hope to see you there! Top winners of Broadcom MASTERS will be announced on Tuesday, October 28 after a week of hands-on team challenges and interviews with our judges.
Event information
Event flyer (PDF)
Finalist press release
Learn more about the 30 finalists (PDF)
Broadcom MASTERS on Facebook