Intel ISEF alums return to offer special award in 2014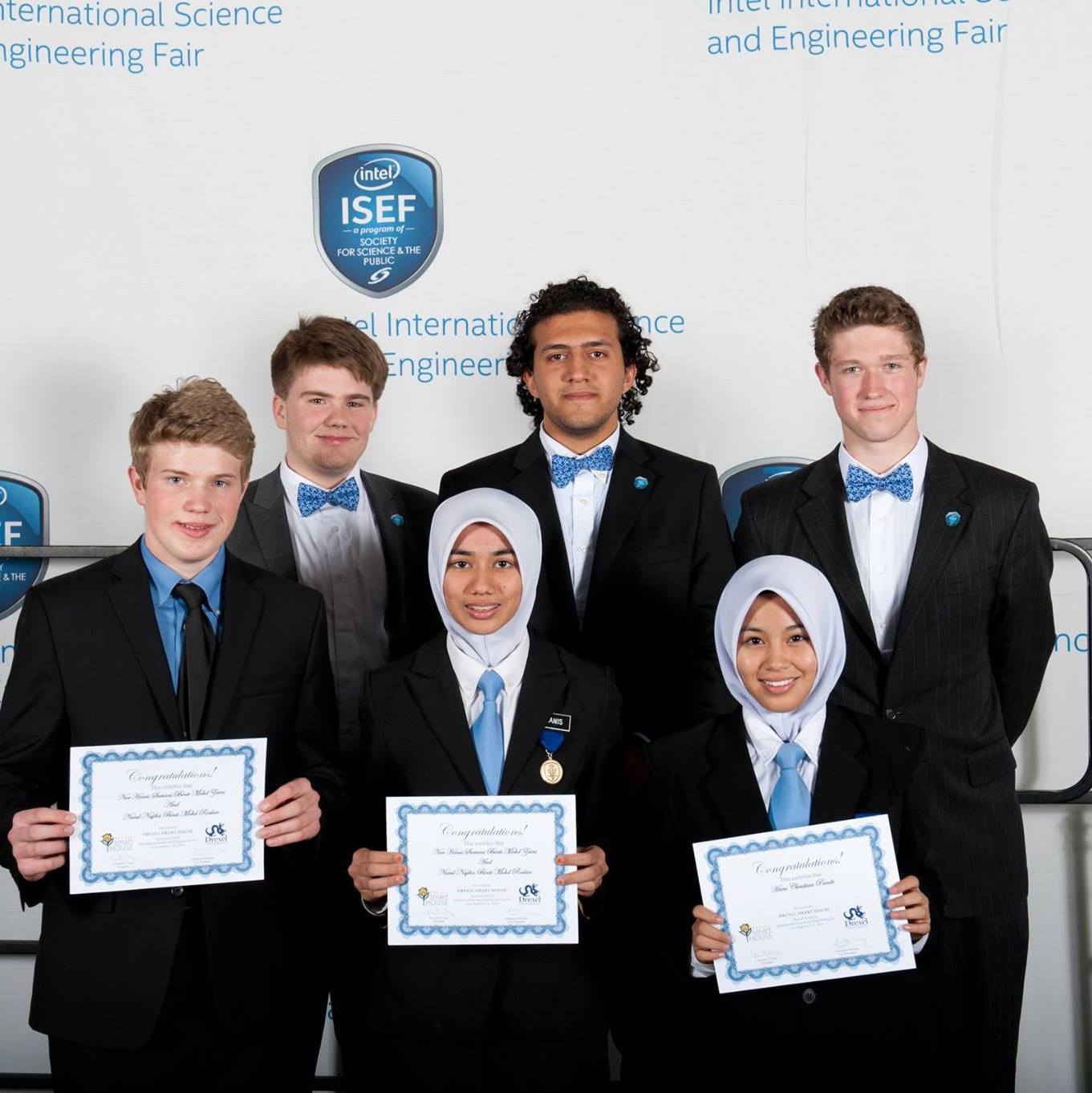 Alex McBride (Intel ISEF 2013) and Vincent O'Leary (Intel ISEF 2010-2012 and Intel STS 2013), both now students at Drexel University, returned to Intel ISEF this year to provide a special award from Drexel's Smart House.
---
What was your experience being an Intel STS or Intel ISEF finalist like?
Alex: It was easily the most motivating week of my life. Conducting a high-quality research project is difficult, and there are many times during the years and thousands of hours that you put into a project, where you wonder if it's possible for your high school project to have any impact at all. When you are in the lab from 8 am to 11 pm on some Saturdays, you wonder…..is it is all worth it? Intel ISEF made it all worth it and more. A week spent with fellow students from across the globe cements the notion that we are entirely capable of changing the world fully in place.
Vincent: I was at Intel ISEF for 4 years, and then I had the chance to participate in Intel STS my senior year. The experience was overwhelming at first, then exciting. From the moment I first went to Intel ISEF, I knew I had to come back. I had to continue doing research and be in this environment. It encouraged me to work hard and do my best at my research. I kept hoping to come back year after year, and then I started seeing some of the same faces and made friends, some of whom I have kept now into college.
Intel STS was one of the greatest experiences I had in high school. To get to meet President Obama and have this experience right before I graduated high school was fantastic. Also, I really got the chance to form a closer bond with the other finalists over the week. Many of us are still in touch. The atmosphere definitely validated my research. Where I'm from no one really understood why I was doing research; I was a bit of an oddball by continuing to do research in high school and putting in the extra work. Intel ISEF and Intel STS made me realize it was worth doing research and sitting in a creek studying crayfish.
Can you provide a short description of your research project and how you initially became interested in this topic/science in general?
Alex: From an early age, I have been interested in taking things apart and learning how they work. In middle school, I started participating in local and state science fairs and became really interested in the field of energy production and storage. In 7th grade, I won best in fair among the 6-8th grade students and was sent to Intel ISEF 2008 as an observer. After seeing the fair, I became extremely motivated to come back as a finalist. After devoting months and thousands of hours to my research project in 9th grade, I did not qualify. The same happened in 10th grade….and again in 11th. My senior year I decided to work even harder and finally qualified for my project on incorporating metallic nanoparticles into quantum dot based solar cells.
Vincent: Right before freshman year, I got involved with a local professor. He had been involved in the local science fair and actually reached out to me after hearing about my 8th grade project. I was reluctant at first to continue research in high school; it just wasn't something people did. But he got me started working on crayfish in my basement, which turned into a 4-year project on different aspects of crayfish.
I observed an invasive species of crayfish. Once introduced, they are very detrimental to the environment. They can actually kill fish species because they are competing for and destroying the same resources. It's only recently that people have begun to realize the negative aspects of invasive crayfish. Last year, I got out into the field with grad students and glued radio antennas onto the crayfish. Over four years, I developed a complete picture of crayfish behavior, ranging, and habitat preferences.
How did doing original research and participating in events like the Intel STS or Intel ISEF affect your career trajectory?
Alex: Having Intel ISEF on your resume gives you a distinct advantage over other applicants, and has dramatically improved my career trajectory.
Vincent: Intel ISEF and Intel STS gave me an outlet that I wouldn't have had otherwise to do research in a professional setting and be recognized. Without it, I wouldn't have known that you could even do research in high school. I was always outside. I was an Eagle Scout and I volunteered at the zoo, but this gave me the idea that I could do this professionally. I could continue to explore, continue to be outside, but still get paid for it.
What are you up to now?
Alex: Glad you asked! I just finished leading a team of freshman students at Drexel University and worked with a professor on developing a new way to store electrical energy. You can learn more about the project here. Now I'm developing the material properties of this technology, and am in Finland for the summer conducting research at the University of Oulu.
Vincent: I'm an Environmental Science major at Drexel. This summer, I'm on campus moving forward with my research on crayfish resources and developing models. I was able to find a new professor to work with at Drexel, but I also continue to work with the same professor that supervised my work in high school. It's great to be able to work with the same people, but also be able to get new perspectives. I'm also trying to publish the research I did for Intel ISEF and am working on drafting the article over the summer.
Can you tell us about the Smart House at Drexel?
Alex: The Drexel Smart House is an entirely undergraduate student led and run organization that seeks to promote undergraduate research related to energy efficient, technologically advanced, and environmentally friendly living. We're a platform for students to not only start research projects, but also to connect them with the professional world. Ultimately our goal is to develop a physical house that we have on 35th and Race Street in Philadelphia, PA, into a showcase for the future of sustainable living.
Vincent: The Smart House was originally a frat house that was in disarray. They had to decide whether to tear it down or renovate it, and they decided to turn it into the Smart House, a student-let initiative to promote student research in environmental sustainability. Students can come to the Smart House and get immediately involved in research. I actually found out about it from other Intel ISEF finalists. It was a natural way for me to continue my research and be able to inspire others.
This spring, I stepped up as the President of the Smart House, even though I was only a freshman. I wanted to be a part of this; to help create another platform for research and to reach out to other students and get them excited about it like someone did for me. We are just now finishing up renovations on the first floor, so we have counter space, bathrooms, meetings, labs. There's a new minor at Drexel based around the Smart House and the goal is to eventually put students in there that are researching things like solar panels and smart appliances that could then try their research out as a living/learning lab.
Why did you decide to sponsor a special award at Intel ISEF?
Alex: We knew the quality and impact that Intel ISEF projects can have, and decided to help promote two projects related to our core mission. SSP has helped us so much both professionally and personally, that it was really a no-brainer to return.
Vincent: There were discussions between several students who had participated in Intel ISEF and now are involved in the Smart House about wanting go back and be a part of the experience again. We realized that we might be possible to sponsor a special organization award. Through Intel STS, I had the opportunity to meet people like Diane [Diane Rashid, Volunteer and Special Awards Specialist] and had the connections to look into what we needed to do to get awards started. We received great support from both SSP and Drexel, which got us to Los Angeles at very little cost to ourselves in order to present our award.
Do you have any advice for young students interested in science?
Alex: The most important thing is to find what you're passionate about and pursue it confidently. Regardless of what area of science interests you….find it…and then go for it! When you are working on something that you enjoy you can't lose. Also, don't be afraid to ask for help! The worst thing that can happen is that someone will say no…and when you keep asking, you'll find most people WANT to help you! It's amazing! Good luck!
Vincent: There is no right way to do science. The scientific method sometimes hits the fan and things don't always happen the way you plan. I was always more satisfied learning how to fix it when something goes wrong than when something goes right. What you learn in the classroom is not everything. Science is always a working process. It's never done and you are always learning and adapting.