Intel ISEF alumna presents research at TEDxMontrealWomen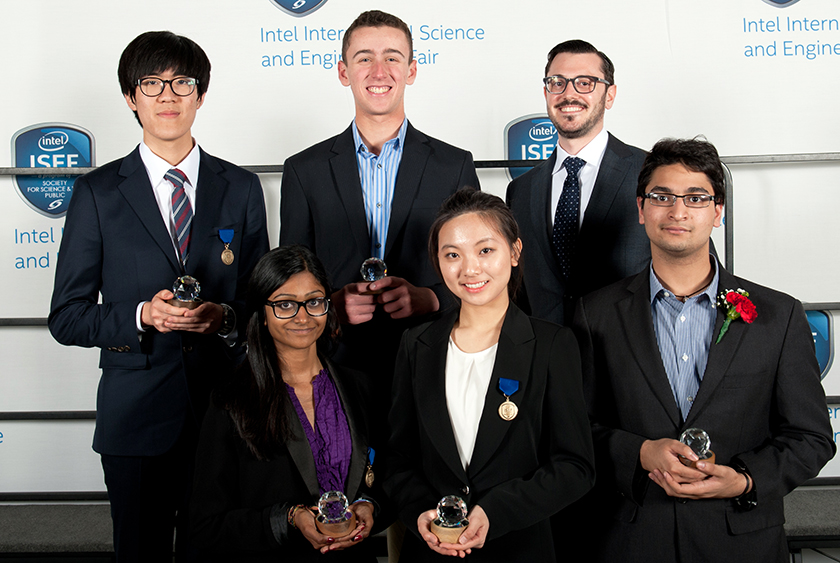 Intel ISEF 2014 alumna Nivatha Balendra recently discussed her biological research and journey into science at the TEDxMontrealWomen event in July. TED is a nonprofit organization focused on Ideas Worth Spreading, and TEDWomen focuses on the creations and change women are making.
Balendra, a freshman at McGill University, started researching the topic of her TEDx discussion, bacteria capable of degrading oil, in her Intel ISEF project.
---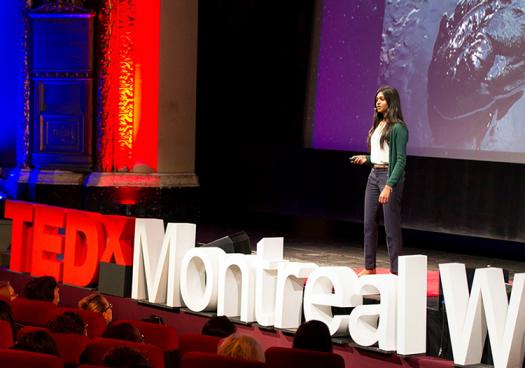 How did you become involved with the TEDxMontrealWomen event? Was this your first time at a TED event?
I was extremely honored to have been given the chance to speak at this event and share my story! They were searching for a speaker in the environmental sector and I was invited to speak at the talk. I was the youngest speaker there. Once I walked on stage, it hit me that this moment was actually happening. Although I'm an avid fan of TED talks, this was actually the first event I've attended. It was an incredible experience being able to share the stage with other inspiring individuals.
Can you describe the focus of your talk?
The focus was really on how we could all contribute to improving society in our own ways. In my case, that was using science. I shared my story of how my interest in reducing oil contamination, particularly at the beginning in water pollution, pushed me to pursue research in this field. I really tried to convey the importance of this environmental disaster to the audience as well as sharing my take on a possible solution.
Tell us about discovering a new species of bacteria that is capable of degrading oil. How does it feel to be the first to discover a new species of bacteria? What does this mean for the biological community?
It's something I would have never expected, for sure. It was an unbelievable feeling. At the beginning of this science fair project, I was focused on finding bacteria capable of degrading oil in my environment. To see that this research has progressed beyond the original scope that I envisioned definitely motivates me to keep pursuing this project even more. I'm always learning in the lab from my mentor, Dr. Éric Déziel at l'Institut national de la recherche scientifique in Laval, Québec. He has been supporting me from the beginning by guiding me and allowing me to do my research in his lab. I am still in the process of working on my research paper, but would hope that it provides insight into this new species of bacteria and possibly novel characteristics.
What was the response to your talk?
The response was very positive. Throughout the preparation of my talk, I kept thinking: how can I make everyone interested in my talk, regardless of their age? The curators really helped me shape it, as well. To receive a standing ovation was beyond what I would have ever expected. It was like a dream. I do hope to continue being involved in TEDx.
In your TEDx speech, you mentioned that you faced discrimination because you are a woman passionate about science. Can you explain what you faced and how you stand up to this type of discrimination? What would you say to other women pursuing STEM who face similar negative responses?
Given that the theme of the event was centered on women, and empowering women to dare to succeed and take risks, I felt that the way in which I could contribute was by sharing my views on women in science. As I mentioned in the talk, growing up I have had certain judgmental comments either in high school or from those older than me, trying to put me down, discouraging me from pursuing my research, and sometimes even discrediting my work. At a young age, it was tough getting some reactions like these, but I am so grateful for having an incredible support team of friends and family who keep encouraging me to follow my passion. I learned to always try and focus on the positive side of things and ignore the negativity.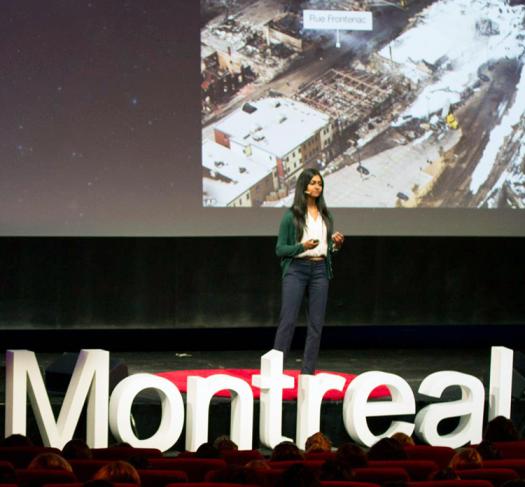 You were also named one of Canada's Top 20 Under 20. How does it feel to be recognized with this award?
It's an absolute honor to be recognized with Top 20 Under 20. It not only provides me with more encouragement to pursue my goals, but also served as an inspiration to see the 19 other real-life teenage heroes who are doing incredible things. Overall, it definitely gave me more motivation to follow my dreams and do my best at trying to help society in ways that I can.
What was your most memorable experience at Intel ISEF 2014? Can you provide a short description of your research project?
My most memorable experience was undoubtedly getting to know other Intel ISEF participants from all over the world, as well as my own teammates from Team Canada. To experience this sort of overload of love for science at one place was incredible. Every one of us shared a strong interest in not only STEM fields, but mainly in making a difference in the world. It was very inspiring and some of us even keep in touch. The project that I presented at Intel ISEF 2014 was the preliminary stage of my current research in environmental microbiology and bioremediation.
Did your experience at Intel ISEF inspire you to pursue other opportunities in STEM?
It definitely inspired me to continue in the pathway of STEM, not only with my current research but also for future projects. I also created a non-profit recently called the International Young Scientists Mentorship Program, where we aim to encourage more youth to pursue STEM related activities while providing the mentorship necessary to provide resources and opportunities. I created the program with fellow university students, but we have already partnered with various local science organizations, university departments, professionals, and high schools. Our goal is to help develop the future generation of young scientists. This program provides a platform for them to learn about different fields. We had our first Youth Science Conference last weekend with over 100 students registered. The conference included a panel discussion focused on STEM fields, lab tours for students to learn about ongoing research, and much more.
What is your advice to young people interested in science and math?
If you're interested in the STEM fields or even just want to try it out, just go for it! Science is so diverse, there's bound to be something that interests you. If you don't think one field is for you, keep trying to discover the many different sectors. Try to get hands-on experience in those fields. Just love what you're doing!