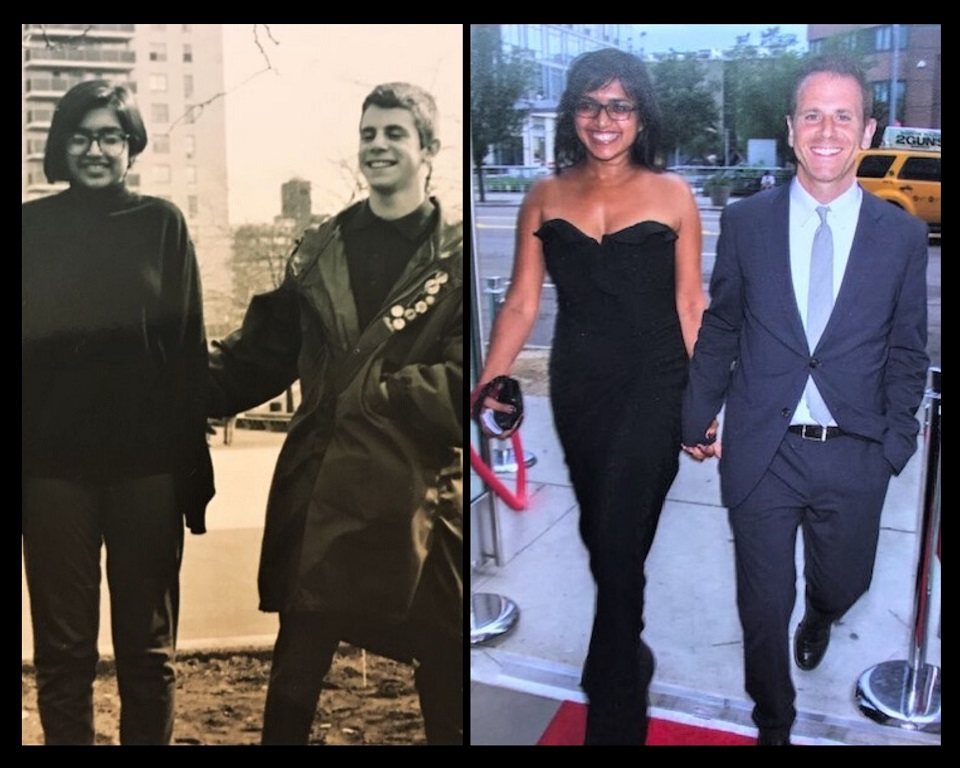 Sumathi Sivapalasingam and Simon Eisinger met at the Bronx High School of Science in 1982. During their senior year of high school with research projects conducted just one floor away from each other at the Albert Einstein College of Medicine, both were named semifinalists in the Science Talent Search (STS), then sponsored by Westinghouse. Thirty-seven years later, Sumathi is Senior Director of Early Clinical Development and Experimental Sciences at Regeneron, the current title sponsor of STS, and is married to Simon. They have two children and reside in Brooklyn.
Simon still remembers their first meeting. "It was sophomore year in biology class. We were lab partners—I think the first time we touched was to draw each other's blood."
The couple took very different paths for many years before they reconnected in New York in the early '90s. At Swarthmore College in Philadelphia, Sumathi majored in physics. After completing her undergraduate degree, Sumathi won the prestigious Thomas J. Watson Travel Fellowship, enabling her to work in human rights, women's reproductive rights and refugee work in Sri Lanka and Malaysia.
"It was during that year that I decided to pursue medicine—yearning to have a direct impact on patients and help communities, like refugees." After her time abroad, Sumathi returned to the US to complete medical school at Albert Einstein, where her scientific journey continued.
Simon moved further northeast to study architecture at MIT in Cambridge, Mass, minoring in acoustics and literature. Today, Simon is founding partner of Lynch Eisinger Design Architects, where he works on projects that span the world.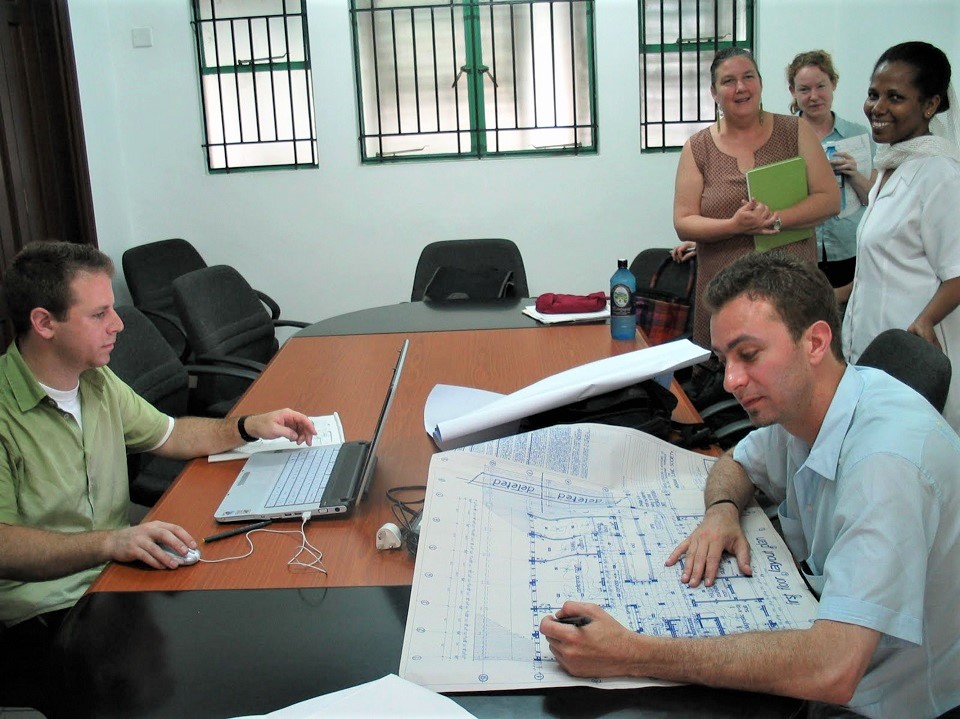 "After years of being close friends, I think we realized that we wanted to share even more," Simon said. They had a lot in common and still do. They appreciate the arts, good food, travel and are deeply concerned by climate change, anti-intellectualism and intolerance. "We started dating in 1991 while I was living and studying in Brooklyn and Simon was at Columbia University's Graduate School of Architecture. We dated for 10 years and married in 2001," Sumathi added.
Though Sumathi and Simon grew up in very different households and have varied histories, immigration was a common thread informing the couple's core values. Simon's father was a Jewish refugee after being on the Kindertransport fleeing Nazi-occupied Austria and his mother is a first-generation immigrant from Russia. Simon, a native New Yorker, grew up in the "rough and tumble" of the West Village, in a house bustling with scientists and musicians. "My parents had friends from all over Europe, either refugees who had moved to the US or my father's scientific colleagues. We lived in New York City, but we spent every weekend on our small tree farm in rural New Jersey, where most of my neighbors were farmers."
Sumathi and her family moved from a small village in Sri Lanka and came to the Bronx to escape a country ravaged by civil war. "I felt so lucky to have opportunities and have a bit of 'survivor guilt,' seeing photos and knowing stories of my first cousins who lived through the war." Sumathi's work in global health was born of these experiences and is her way of finding justice in the world.
Growing up, Sumathi's parents were very strict. "I wasn't allowed to date boys as I was expected to have an arranged marriage. Simon, who had a very active social life in the West Village, did however take me to the prom. But don't tell my parents—they still don't know!"
Though Simon and Sumathi chose different careers, they have always been inspired by their scientific families and are scientifically-minded. Between 2004 and 2012, the couple united their passions and skills to build an HIV treatment center in Mombasa, a coastal city of Kenya.
"Sumathi started the program with just a few dozen patients, and expanded it to thousands," Simon said. "At one point it became clear that the existing clinic buildings wouldn't be able to handle the number of patients being enrolled; we looked at each other and hatched this idea that I would come with her to Kenya and design new clinic space. It was great to bring our very different skills together to do something which made a difference for a lot of people."
During a very memorable part of her career, Sumathi was an Epidemic Intelligence Service Officer at the Centers for Disease Control and Prevention working on the front lines of infectious disease outbreaks. Her work there included responding to a large and deadly cholera outbreak in the Marshall Islands and to a novel strain of Salmonella bacteria that spread across US states, causing death in some patients, all traced back to a single farm in South America importing contaminated mangoes.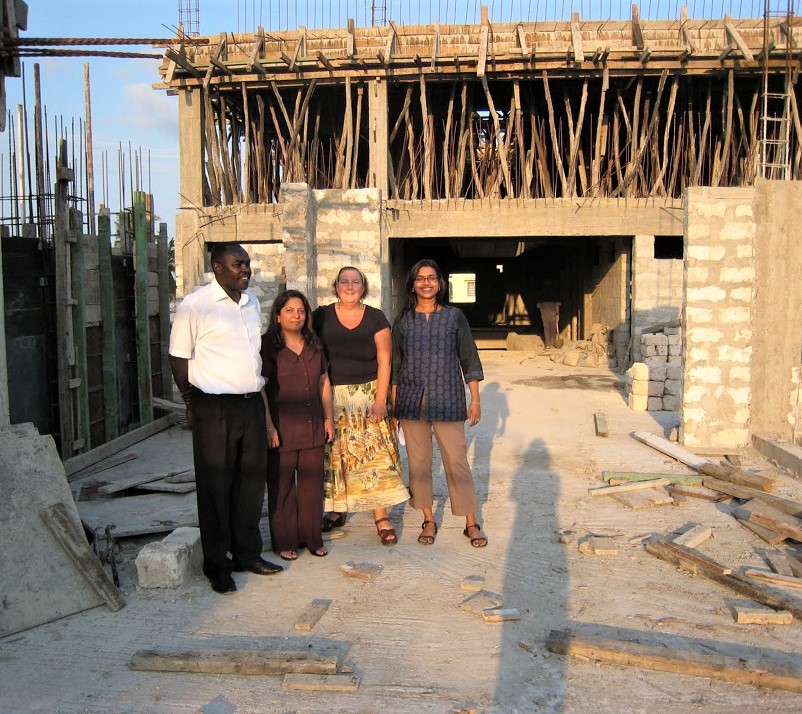 Most recently Sumathi is the medical lead at Regeneron to help introduce a new promising investigational treatment for Ebola virus disease during the second largest Ebola virus outbreak in the Democratic Republic of the Congo. "I joined Regeneron after working almost a decade expanding access to HIV treatment to tens of thousands of patients in Kenya, where I thought perhaps I had the most significant impact on public health. I was wrong. The work at Regeneron to bring REGN-EB3 to the Democratic Republic of the Congo is equally impactful. It is the most significant time in my career to know my work helped to bring a lifesaving medication to patients infected with one of the most de-humanizing infections on earth." Currently, she is working on Regeneron's efforts to bring novel therapeutics to patients infected with the novel coronavirus (COVID-19) an outbreak that is quickly becoming a pandemic of global concern.
Amid the enlightening moments of her career in medicine and research, Sumathi does reflect on the lighter moments and the past. "Perhaps if I weren't so distracted falling in love with Simon, I would have become an STS finalist. But in the end, I guess our relationship of almost 30 years and two amazing kids are better than being a Science Talent Search winner!"