How science fair hurdles prepared Intel ISEF alumni for challenges in college and in life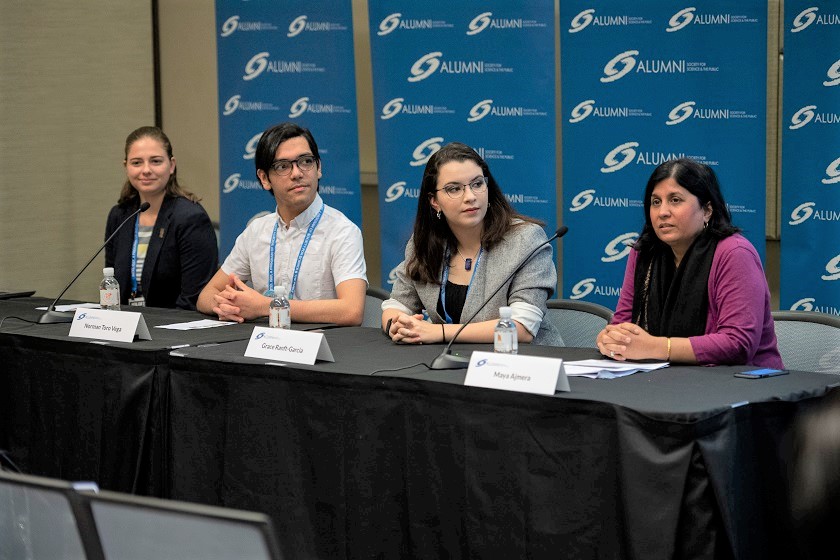 It is often said that if you love what you do, you'll never work a day in your life. While that may be true, it discounts how satisfying hard work can be, especially in the face of challenges. Alumni of the Intel International Science and Engineering Fair can attest to that. At the symposia, "Leveraging Your Science Fair Experience: Oh the Places You Can Go," at Intel ISEF 2019 in Phoenix, Arizona, Maya Ajmera, President & CEO of the Society for Science & the Public and Publisher of Science News, spoke with three alumni about their science fair experiences and the resilience they gained as a result.
Panelists Grace Ranft-Garcia (Intel ISEF 2015, 2017), Amanda Minke (Intel ISEF 2015-2017) and Norman A. Toro Vega (Intel ISEF 2016-2017) are no strangers to the world's largest international science competition for high school students. It was important to them to give back to the community that nurtured their research passions, so they returned this year as volunteers.
They all agreed that ISEF-level STEM research, though not without challenges, is rewarding and prepared them for college. Overcoming different hurdles conducting research and communicating their projects gave them the confidence to tackle obstacles in their academic careers.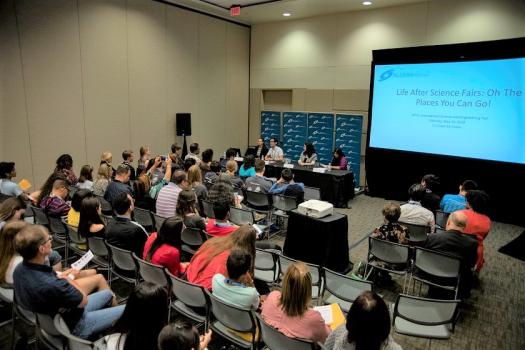 Amanda shared an uncomfortable situation she faced as a woman in STEM. "I was not taken seriously at first," Amanda recounted. A judge once even commented incredulously, "I didn't think this was a girl's project." Amanda perfected her water filtration system and even learned to weld. Explaining her research to countless judges, including those with gender biases, equipped her with the courage to proudly assert, "This is my project, this is my work." Her interests have since evolved into a genuine love for hydrology, her major at the University of Arizona.
For Grace, "the biggest takeaway" was that "science is not about getting the answer you want. Nobody expects discoveries to happen the first time," she elaborated. Grace also candidly shared that she struggled in her first semester at Texas A&M, but quickly realized that she could apply skills she'd developed through ISEF. Grace found that the trial and error process she followed when engineering gold nanorod-based biosensors for disease detection translated to her present studies as well. "I knew I had to keep going, keep trying." Her perseverance paid off in the form of an A for a course on differential equations this past semester.
Norman, a computer engineering student at Boston University, vividly remembered how just five days before Intel ISEF in 2017, the computer code that he and his partner wrote together failed to produce the results they were hoping for. They consulted with several science teachers at their school and finally resolved the issue before the competition commenced. "You may be headed in a wrong direction with your research sometimes, but you will also learn where you need to go from those errors."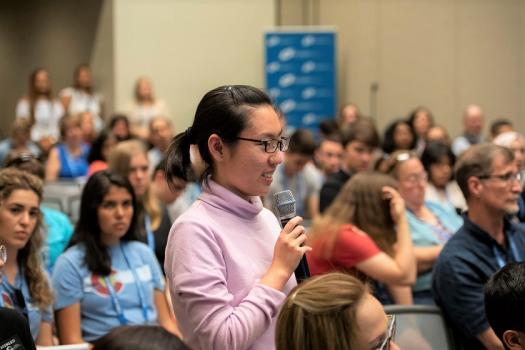 Besides relying on their science fair experiences, all three alumni also have support systems of family and friends, as well as hobbies, to help them cope with college-related stress. Norman remains in contact with finalists from the years he competed. He also enjoys long walks to clear his mind so that he can revisit problems with a fresh perspective. Grace learned how to bike during the end of her freshman year and that serves as her outlet. "I always thought it was something I would never be able to do, so when my friends finally got sick of me complaining and taught me, it made me really happy." Injuring herself is always a risk, she joked, but it doesn't dampen the joy biking brings her. Amanda adopted a dog as soon as she moved out of her school's dorm. The additional responsibilities that came with being a pet parent have been very beneficial for her. "Any stress from the day goes away because I have to focus on my adorableness at home."
After college, the alumni hope to use their education to make a positive impact in the world. Norman's plans remain up in the air, but he intends to pursue computer science and would like to apply his expertise to solving challenges in Puerto Rico, where he was raised. Amanda hopes to pursue a master's degree as the next step to realize her goal of combatting water scarcity. Grace has her eyes set on a dual degree in law and engineering with a focus on malpractice as it relates to manufacturing. None of these paths will be easy, but it is clear that the lessons they've collected from their Intel ISEF experiences will continue to fuel success.