How a science project can become a lifelong research focus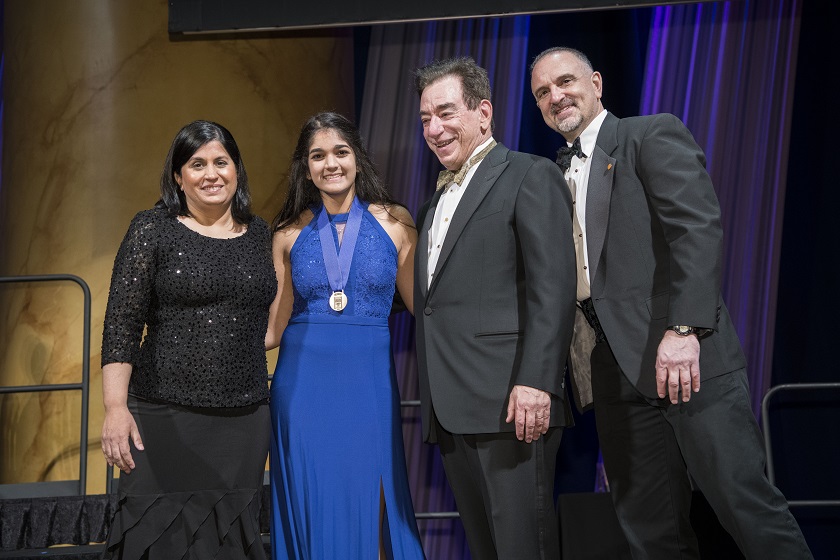 For some students, science projects can be a one-time endeavor—they pick a topic to study in-depth and then move on to other scientific subjects that intrigue them. This is not the case for Isani Singh, who won $150,000 as the third place winner in the Regeneron Science Talent Search (STS) in 2018. She also competed in the Intel International Science and Engineering Fair in 2016 and 2017. Evident in her continued efforts to educate others about a rare condition called Turner Syndrome (TS), Isani has not only researched TS for science competitions, but has continued to work on open questions. Her STS project has morphed into a lifelong research focus.
Isani's project delved into questions about women with TS, a genetic abnormality in which the second sex chromosome is missing in some cells and have two X chromosomes instead. Isani adapted a laboratory protocol to search for and find normal cells in TS embryos. She also identified genes that are underexpressed in TS, a finding that may help physicians and patients better prepare for and understand the variable medical complications of TS.
The publicity that Isani's project garnered after Regeneron STS 2018 showed Isani that her work wasn't over yet. "Several Indian newspapers wrote about my research based on my Indian heritage, and then I proceeded to get LinkedIn and Facebook messages from families of young women with TS across India. There was no established community or society for these women to get support or meet other women with the same condition. They were interested in learning more, but they didn't have many avenues to do that."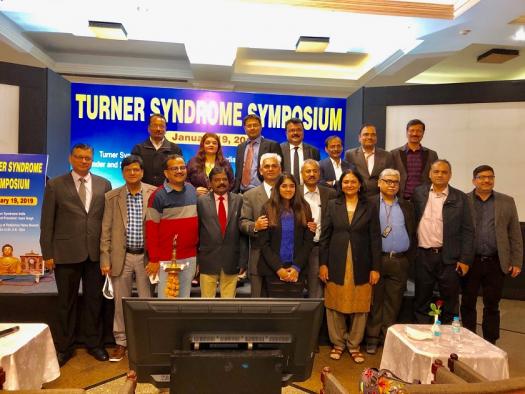 Those messages from anxious families in India with loved ones affected by TS prompted Isani to do more. At the end of 2018, she founded Turner Syndrome India. "I realized research alone will not be useful if there isn't work done to improve the access to new knowledge. Particularly in developing countries, a combination of lack of resources and stigma make it especially difficult to cope with rare diseases." Isani coordinated several conferences across the country for women with TS to attend, along with their family members, to learn more about TS. Isani's involvement with the Turner Syndrome Society of the United States and the Turner Syndrome International Group, gave her experience to draw upon to organize those events. She attended conferences put on by both organizations in 2016 and learned more about how to increase awareness of TS across the globe.
"I contacted doctors in three Indian states that had similar goals of increasing TS awareness. Speaking alongside them, we discussed all the health aspects of TS. Physicians of many relevant specialties including endocrinology, genetics, cardiology, pediatrics and gynecology, as well as hundreds of patients with TS attended. I even presented my Regeneron STS project in Hindi at one of the events." Not only were the conferences a success, Isani also facilitated the formation of a small TS social group, so that the women who attended could benefit from sustaining emotional support, and maintain long-term relationships with one another.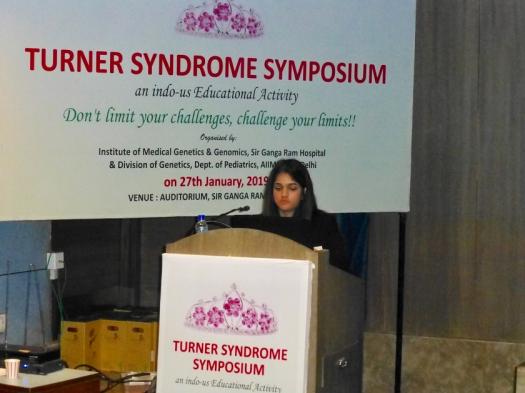 Looking ahead, Isani wants to organize larger conferences and build on the success she had collaborating with the All India Institute of Medical Sciences and Sir Ganga Ram Hospital in New Delhi. She is also currently in talks with a pharmaceutical company, to potentially lower the cost of growth hormones used by TS patients. Isani explained that, "The financial burden can prevent a lot of young girls from being able to conquer one of the biggest challenges with TS—height."
With all this going on, it's easy to forget that Isani is a college student too. She is finishing her first year at Harvard University, where she studies bioinformatics and computational biology. She also plans to concentrate in global health and health policy. Continuing her research at the same lab she worked in for her Regeneron STS project, at the Whitehead Institute for Biomedical Research, she hopes to make a difference on both the academic and social aspects of TS. Ultimately, she wants to earn an MD-PhD to work with a wider set of diseases. "My goal is still the same as it was a year ago during STS: to make as much of an impact possible in this rare disease field."