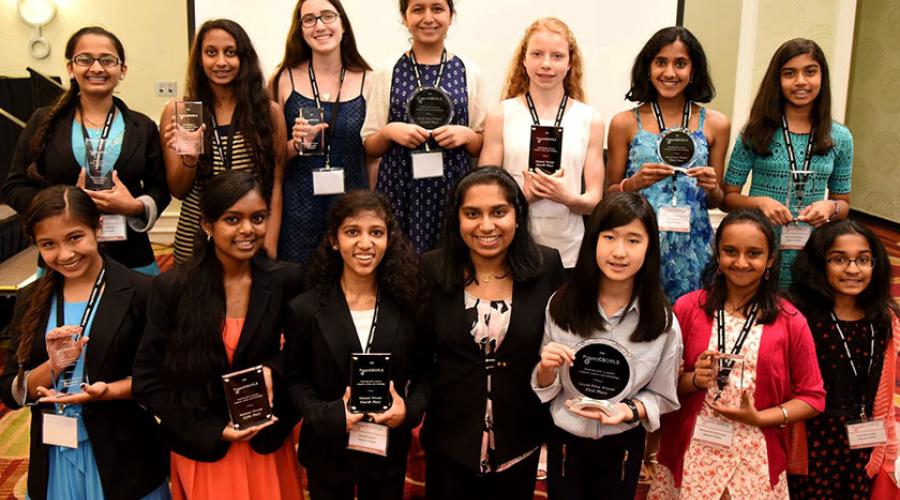 Pooja Chandrashekar is the founder and CEO of a nonprofit that works to close the gender gap in technology. She founded ProjectCSGirls in high school.
Pooja was a 2015 Intel Science Talent Search semifinalist. ProjectCSGirls, founded in 2013, runs a national computer science competition for middle school girls and workshops around the country.
The program recently held its 2016 national gala in Washington, D.C. in June, with workshops, tech talks, and an award ceremony. View the full list of ProjectCSGirls 2016 winners.
The 2016 gala drew esteemed speakers including: Ruthe Farmer, the Senior Policy Advisor for Tech Inclusion at the White House Office of Science & Technology Policy and Chief Growth and Strategy Officer at the National Center for Women and Information Technology; Dona Sarkar, the Global Lead of Windows Insider at Microsoft, a founder of Fibonacci Sequins and Prima Dona style, and an author; Cori Lathan, the founder and CEO of AnthroTronix and chair of the World Economic Forum Global Agenda Council for Artificial Intelligence and Robotics; and more.
Read our interview with Pooja below to find out more about why she started ProjectCSGirls and her next steps.
---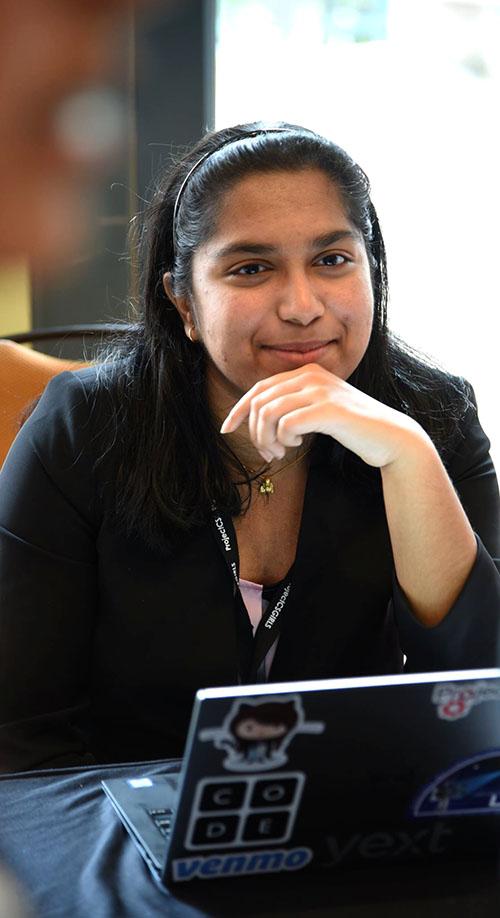 WHY CHALLENGE THE GLASS CEILING IN TECH: I started ProjectCSGirls my sophomore year of high school because of my own experiences facing the tech gender gap. On my first day of high school, I looked around my AP Computer Science class and was shocked to realize that I was one of only three girls in the class. I wanted to give girls a platform and community where they could use technology to change the world.
ProjectCSGIRLS seeks to prepare girls for their futures as the technological leaders of tomorrow.
Only 25 percent of the computing workforce is female, only 17 percent of computer science and information technology bachelor's degrees are awarded to women, and only 22 percent of AP Computer Science test-takers are female.
Our competition and workshops challenge girls to be makers and use tech to develop projects with social impact. We hope to show girls how to break tech gender stereotypes and step confidently into a field as male-dominated as technology. We seek to empower and equip them with skills and prepare them for their futures as the technological leaders of tomorrow.
---
Support other young scientists in encouraging the next generation into STEM. Join the Society!
---
Girls are subjected to so many negative stereotypes regarding computing and engineering, lack female role models, and often don't realize the power technology has to make a difference in issues that matter to them. Through ProjectCSGIRLS, we try to break these stereotypes, provide role models, and emphasize the importance of tech for social impact.
ProjectCSGIRLS provides middle school girls with a network of like-minded peers, mentors, and professionals to help support and grow their ideas. The competition has reached over 1,800 middle school girls in over 35 states. The 2016 competition drew over 600 middle school girls from 35 states.
I tinkered with build-it-yourself kits, watched science documentaries, and made my way through the piles of Scientific American around our house.
Registration for the 2017 ProjectCSGIRLS competition opens in September so encourage interested middle school girls to register!
HOW DOES THE CHALLENGE WORK: ProjectCSGirls challenges middle school participants to build something using computer science and technology that can help solve an imminent social problem under one of three themes: global health, a safer world, or intelligent technology. The program includes a national computer science competition and workshops.
Judges select semifinalists, finalists, and national winners. All finalists are invited to D.C. for our national gala. ProjectCSGirls is sponsored by GoDaddy, Mapbox, Nest Labs, Northrop Grumman, Society for Science & the Public, Sweetfrog Frozen Yogurt, Symantec, and more.
GROWING A NATIONAL COMPETITION: I founded ProjectCSGIRLS a little over three years ago and the response has been beyond what I could have ever expected! During its first year, the competition was a regional program open only to girls in Virginia, Maryland, and D.C. But now as ProjectCSGIRLS approaches its fourth year, we are so thrilled to reach girls in 35 states.
It's truly energizing to realize that a nonprofit organization run by college and high school students around the country is able to make a true impact.
ProjectCSGIRLS shows girls how to break down tech gender stereotypes and step confidently into a field as male-dominated as technology.
It's so amazing to hear our girls say that ProjectCSGIRLS gave them the confidence, support, and resources to take that first step in computer science, a field many of our participants have never considered as a possible career path before.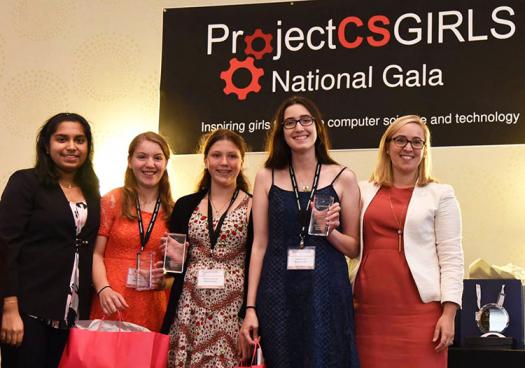 WHAT ARE YOUR CURRENT SCIENCE GOALS: I'm a rising sophomore at Harvard University concentrating in biomedical engineering with a secondary degree in global health and health policy. I'm fascinated with medicine and technology. The projects I'm most excited about involve building innovative technologies to help diagnose and treat human disease.
I'm spending my summer working in the Boston Children's Hospital Computational Epidemiology Group, part of the larger Computational Health Informatics Program at the hospital. I work with the coolest people and do the most exciting research, not to mention live in the most amazing city — so I'm having a pretty awesome summer! My research involves working with the Vascular Anomalies Center to develop a predictive model to identify patients with these high-risk anomalies earlier on in their disease progression. This would allow for early intervention and provide physicians more information about the complexity of their patients' conditions.
It's energizing to realize a nonprofit run by college and high school students is able to make a true impact.
I'm also leading a project at Massachusetts General Hospital to identify predictors of mental health conditions (like socioeconomic status, demographics, insurance, etc.). My long-term goal after graduation is to conduct interdisciplinary public health research abroad before pursuing an M.D./M.B.A. towards a career at the intersection of medicine, technology, and business.
HOW DID YOU BECOME INTERESTED IN STEM: I grew up in an environment that always emphasized the importance of STEM and independent discovery. I tinkered with build-it-yourself kits, watched science documentaries, and made my way through the piles of Scientific American around our house. My parents are both engineers so I'm fortunate enough to have always had role models to look up to and encourage me.
It's amazing to hear our girls say ProjectCSGIRLS gave them the confidence, support, and resources to step into a field many of our participants had never considered as a possible career path.
It was only natural for me to jump into science and research at the first chance I could get, which was middle school. I was also lucky to attend a middle school that included computer science in its curriculum, something which sparked my love for programming early on through web design, robotics, and game programming.
I became interested in renewable energy and my science fair projects ranged from building windmills to experimenting with hydrogen fuel cells. These first projects taught me how to ask questions, investigate hypotheses, and think like a scientist. I loved the challenge of trying to uncover the unknown and carried this love for science into high school, where I deepened my interest in biotechnology, computer science, and neuro-engineering.
DID INTEL STS INFLUENCE YOU TO PURSUE STEM OPPORTUNITIES: Absolutely! Intel STS not only taught me the value of asking interesting questions and pursuing those questions through research, but also the importance of expressing my ideas and goals for the future in writing.
Intel STS emphasized the importance of thinking big, starting small, and the impact I could have through working on projects.
It also helped clarify my passion for the intersection of medicine and technology, which translated into my decision to pursue biomedical engineering in college. It solidified my passion for research and I've continue to pursue research opportunities during my time in college, at the Wyss Institute for Biologically Inspired Engineering, HHMI Janelia Research Campus, and Boston Children's Hospital.
ADVICE TO STUDENTS INTERESTED IN STEM: Try as much as you can as early as possible. Explore different areas and fields within and outside STEM.
In middle school, I spent my summers dabbling in anything and everything that sounded interesting, trying web design, game programming, robotics, blogging, and journalism. Exposing yourself to a broad range of fields and ways of thinking not only expands your horizons and helps you clarify which particular fields you're interested in, but also enables you to do interdisciplinary work.
Also, reach out to mentors who may be able to help you or provide you with advice. This is so key to finding success in STEM. And if you have a passion for solving a problem, pursue it! Don't let any statistics or a fear of failure deter you.