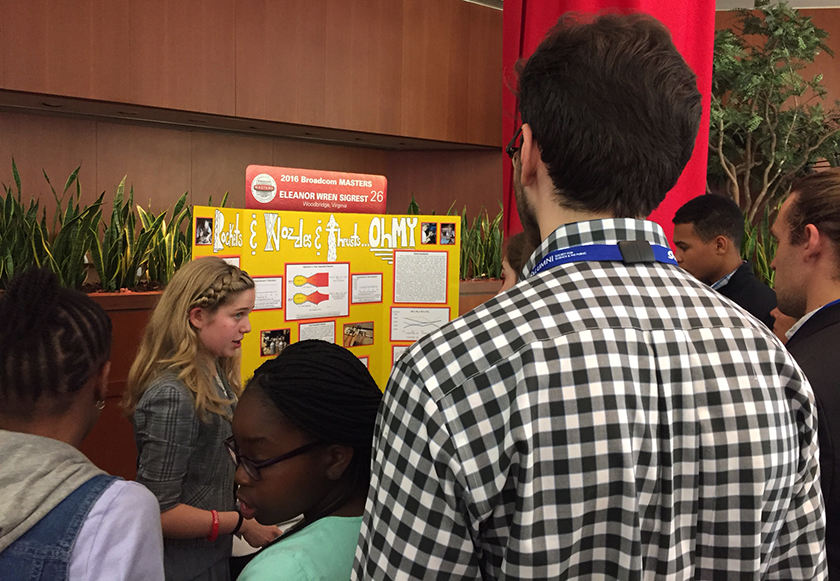 Dozens of judges and the public attended the 2016 Broadcom MASTERS Project Showcase on Saturday, October 29 at the National Geographic Society. Students from local schools, parents, and members of the public came to meet the finalists and learn about their projects.
View some photos from the showcase below.
---
Shreya studied the effect of soap nut gray water on the environment. Gray water isn't safe for drinking, but it can be used for other purposes to conserve during droughts. Used laundry water can be harmful to reuse because of the chemicals. But gray water from soap nut, a natural detergent, worked well, she found.
Lucas developed a towable conductivity-mapping system in orde rto locate springs or septic leachate. This system measures differences in electrical conductivity, essentially showing springs versus other bodies of water, based on the amount of ions in them.
Nikolia researched solutions to heavy metal water pollution. He studied different types of eco-friendly filter materials to find which removed the most lead and copper from contaminated water sources.
Kaien developed iDiagnostic, an early detection tool for major depressive disorder. This tool combines a psychological evaluation with data from MRIs.
Read more about the finalists' projects here. And check back for more during the week!