From life sciences to life lessons: the alumni experience spans generations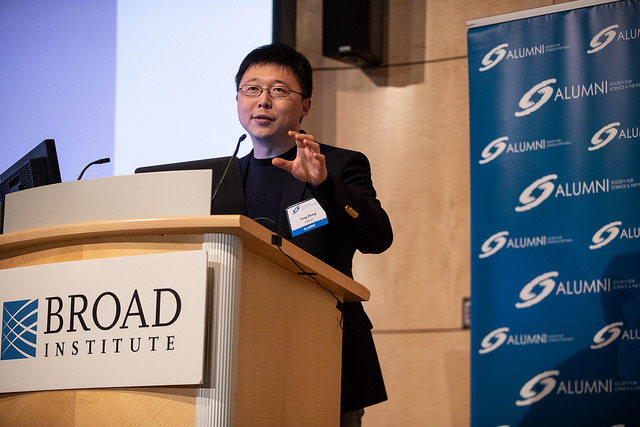 Recently, the Society for Science & the Public hosted its annual Signature Alumni & Friends Event at the Broad Institute of MIT and Harvard University in Cambridge, MA. The annual gathering included innovators, researchers, students and educators with a collective passion for science and technology, a desire to tackle global challenges and an impulse to encourage young people to pursue science.
Society Board of Trustees member, Feng Zhang (STS 2000; ISEF 1998-1999), a core institute member of the Broad Institute, opened the event sharing that as a young man his research goal involved removing the bioluminescence from a jellyfish so that it could be used as a sunscreen. Feng, now world-renowned for his biological research using CRISPR Cas-9, has come a long way from that young man who moved to Des Moines, IA from China as an adolescent. With a push from his high school science teacher, Feng entered his local science fair which enabled him to compete at Intel ISEF. "The science fair led to a phenomenal road trip [to Houston, Texas] leading to lasting bonds," Feng said.
Maya Ajmera, President and CEO of the Society, Publisher of Science News and STS 1985 alum, moderated a discussion featuring alumni panelists: Erika DeBenedictis, Graduate Student at MIT (STS 2010; ISEF 2007–2010; DCYSC 2006), Tom Knight, Founder of Ginkgo Bioworks (STS 1965) and Kristi Snell, Chief Scientific Officer and Vice President of Research at Yield10 Bioscience (STS 1985). Distinguished guests included Nobel laureates Walter Gilbert (STS 1949) and Martin Karplus (STS 1947).
The event shed light on a variety of science careers and strategies to overcome challenges and failure. For the last 21 years, Kristi, a biochemist by training, has worked to develop technologies that will improve yield in food crops. Her postdoctoral project was challenging and taught her a lot about failure. She coped by shifting focus and opted to begin a successful alternative research project.
Tom, an electrical engineer and computer scientist, spent 25 years in academia. In 1990, as engineering and biology were becoming more heavily intertwined, he started a microbiology lab in the computer science department at MIT. Tom noted that he experienced many failures in his career, highlighting one failure in particular: a 1989 crash of a computer company he founded. "I learned a lot about venture funding and what that does for companies as they start up," he said.
"If you can figure out why you failed and figure out what to do about those failures, it can be one of the best learning experiences." He has applied what he's learned to his current company Gingko Bioworks.
Erika, a fourth year student in biological engineering at MIT, spoke of the failure that comes with being an experimental scientist. For her, celebrating the daily successes is what keeps her inspired. "You have to have the right attitude. Celebrate every time your controls pass!"
The panelists further stressed that funding scientific work that can bring research from bench to market is challenging in the current environment. As Tom explained, "Government agencies supporting innovation is relatively rare these days. We are not seeing the same level of innovative thought and creative solutions [as DARPA] in some of the other organizations like NIH or NSF." Erika drove the point home: "Big grants make big science happen."
And government funding is by no means an extinct resource. Advanced Research Projects for Energy (ARPE), a company modeled after DARPA, has supported Kristi's research. They recruit companies and academics to work together to solve "moonshot-like projects," addressing problems that are impacting society. Kristi and Tom, who both lead small companies, agreed that both government backing and corporate support are important. Collaboration with larger companies also helps lessen the risk associated with making a small company successful.
The importance of mentorship for success was also discussed, with Tom sharing that his mentor, Marvin Minsky, known as the father of artificial intelligence, encouraged Tom to avoid specializing in a specific type of science too early in his career. Marvin wanted Tom to have time to explore. Tom advised, "Surround yourself with people who have a breadth of knowledge, in addition to specialization; that makes a huge difference."Erika explained that as a graduate student, she has struggled to find female professors who are mentors; and in turn, has consciously sought to mentor undergraduate students who could benefit from the type of mentoring she received from scientists just a few steps ahead in their journey.
"I think there's more involvement of women in science, but a lot of these fields are still male top-heavy," Kristi echoed. "We need to be visible so that young girls can see what science is and show what possible careers there are for young women, minorities, everyone."
The event concluded with a networking reception that reinforced the personal and professional interconnectedness of the Society community. "Feng Zhang just came in and gave his rotation talk to us first-year neuroscience students at lunch, trying to recruit us to join his lab," Sara Kornfeld Simpson (STS 2014; ISEF 2011-2012) reflected. "And then two days later, I'm seeing him speak to me in this capacity…and it's amazing, all these connections and different people…it just blew me away."