From inner workings of the brain to surviving on Mars: Broadcom MASTERS finalists demonstrate their STEM skills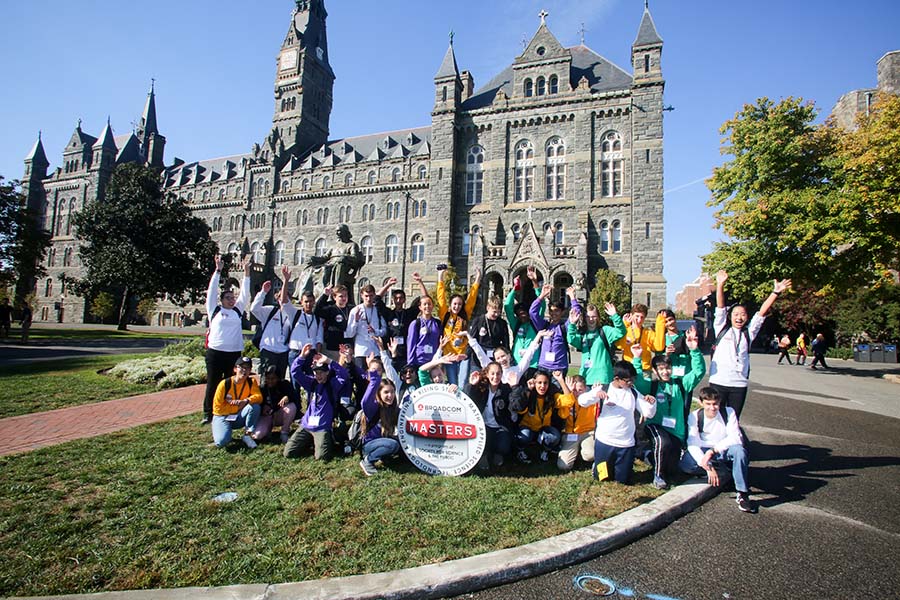 Touring the Georgetown University campus, chatting with students, and learning about what medical school is like makes for a busy day. But add building a brain, creating a nutrition board game, and trying to find a way to survive on Mars to that schedule, and you'll get an idea of a day in the life of a Broadcom MASTERS Top 30 finalist!
As part of the 2017 Broadcom MASTERS competition, finalists demonstrated their critical thinking skills while completing STEM challenges. Following a Raspberry Pi coding competition in the morning, the finalists traveled to Georgetown University to complete another series of challenges at the medical school.
Before the challenges started, Georgetown University medical students took the finalists on a campus tour, giving them a glimpse of the life of a medical student and the opportunity to ask questions about the field.
After lunch, it was time to get to work on a series of challenges that required quick thinking and collaboration.
Build a Brain
Dr. Jian-Young Wu, professor in the Department of Neuroscience at Georgetown University, led the finalists in a challenge that required them to design a human brain, imagining what it will look like in the future. Brains and computers are similar—as computers have become more technically savvy, brains have changed to better adapt to life. Students learned about brain structures and their functions, the basics of brain function in different species, and how the human brain has evolved. Using playdough, teams built brains to scale, created a diagram, and defended their design to the judges in an oral presentation. We can explore Mars, but diving deep into the brain provides us with a great chance to explore as well, Dr. Wu explained.
Martian MacGyver
Imagine you are an astronaut on a mission to Mars. What would you need to do to survive? This was the scenario the finalists were given in the Martian MacGyver challenge, led by Anna Rhymes, the Science News in High Schools Program Manager and Caitlin Sullivan, Director of Outreach & Equity at the Society. Students were given the task of purifying waste water, to simulate what might be found on Mars. They were challenged to make the murky water look as clear as possible. Exploring physical and chemical separation techniques, finalists channeled Matt Damon from "The Martian," and worked on creative filtration methods.  The second part of the challenge required the students to produce oxygen with the same supplies through the electrolysis of water.
Nutrition is the Name of the Game
The nutritional food pyramid that many people are familiar with is not really a useful way to monitor nutrition, explained Dr. Tom Sherman, Georgetown professor of Pharmacology & Physiology and leader of this challenge. For someone who may be lactose intolerant, pregnant, or have other dietary restrictions, the pyramid is not effective.
Students were given the task of designing a game that provided nutritional information that was simultaneously fun and educational. They were then instructed to share the game with the judges in just five minutes. Teams were incredibly creative, inventing everything from video games to traditional board games. Games included challenges that required a player to eat a certain number of calories while eating foods with nutritional value. One game had players draw cards that introduced various scenarios that required them to play the game as a vegan, or someone with a gluten allergy. Students created fun games that educated players on the importance of following a nutritious diet.