From Blue Spinach to Cancer Treatments, Society Helped Shree Bose Get There
By Caitlin Jennings, Communications Coordinator, Society for Science & the Public
When Shree Bose was in third grade, she thought of a way to help her peers eat their veggies. For a science project, she injected blue food coloring into spinach plants. "Because, for some reason, I thought if children saw that vegetables weren't green, they'd want to eat it," she says. "Yep, that didn't work, we killed the spinach plant, and I brought in a dead spinach plant to school."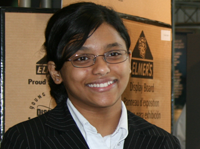 Despite this early setback, she continued with science fair projects through elementary school and, by middle school, had a really good idea. She mixed metal with plastic to try to get a substance with the same weight and density as lead, but that was more environmentally friendly. It worked; however, the substance she used, tungsten, was very expensive. So, the next year she combined plastic with granite powder to get a cost-effective, environmentally-friendly material that could be used for things such as railroad ties and outdoor furniture. That project won her awards and a spot at the Society Middle School Program in 2008.
"It was one of those programs that just really, it just changes your life," Shree says. "When I went to the Society I saw all of these kids who were my age. They were 14, and they were working in college labs and they were working on these incredible projects that had such amazing implications." She had already decided she wanted to be a medical researcher, because of how cancer had affected both of her grandfathers, but it was her experience with the Society that inspired her to start conducting medical research in high school. "You just make these amazing friends who are doing these amazing things, and it just inspires you to do even better than what you're doing right now."
For the last two years, Shree has collaborated with a professor and Ph.D. students at the University of North Texas Health Science Center on possible cancer treatments. Specifically, she is working on inhibiting an energy protein, AMP kinase, in ovarian cancer cells to see if that improves the effects of a chemotherapy drug called cisplatin on deaths of sensitive cells versus resistant cells.
Last year, she researched a cancer drug called Taxol that works by stiffening microtubules and therefore preventing cancer cells from replicating. However, some cells are resistant to the drug and she found out they were using a process called autophagy (digesting its own organelles) to survive and, essentially, wait out the treatment. Once the treatment was over, the cells continued to replicate, causing a relapse in breast cancer patients. Her research suggested combining Taxol with an autophagic inhibitor would help improve the effectiveness of the treatment.
She advises students in elementary and middle school who are interested in science to persevere through setbacks. "It takes a lot of power to keep yourself going, and it's one of the most important characteristics you can have as a scientist," she says. "Even if you fail something 20 times in a row, you have to try it again, and maybe the 21st time you'll get something interesting and it will be a breakthrough."
Support science by joining the Society.