Five Questions with Sidor Clare, winner of the Marconi/Samueli Award for Innovation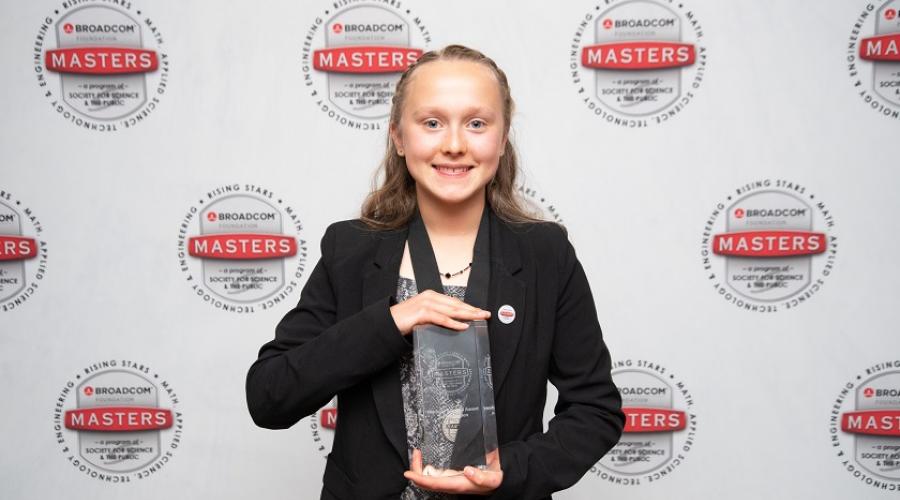 Sidor Clare is a seventh grader from Sandy, Utah, and the recipient of the 2019 Broadcom MASTERS $10,000 Marconi/Samueli Award for Innovation. Sidor and her partner, Kassie Holt, developed brick prototypes that could one day be made on Mars, using the materials there. The project explores ways to ensure that humans would not need to transport expensive materials from Earth in order to build on the red planet. Read more about Sidor and her project here.
What risk do you think is always worth taking?
The risks worth taking are the ones that help others. For example, you might risk your social status or your friends if you stick up for a peer, but by standing up for that peer, you've helped them become happier. Risks that result in helping others are worth it because whether you are humiliated or not, you've helped the world become a better place.
If you take a risk for money or power and you don't get the outcome you had hoped for, you'll most likely feel humiliated and disappointed. On the other hand, if you take a risk to try to help someone and it doesn't work out, you probably won't be as disappointed because you were trying to do something selfless. No matter how big or small the risk is, or how much you help someone, risking something for them is a gesture that shows you care.
Who, if anyone, is your fictional stem idol?
My fictional STEM idol is Beatrice "Tris" Prior from the science fiction film Divergent. It may not be obvious that she uses STEM, but she definitely has an engineering mindset. Tris's character looks at the problems she faces and uses logic to come up with solutions. If her first idea doesn't work, she revises it. Tris lives in the future, so she has technology that we don't have. When Tris solves problems, she takes into account the technology she has available (like memory-erasing serum) and uses it to her advantage. She is my idol because we have lots of common traits. For example, we both ask questions and aim to improve existing ideas. We also have similar morals, which makes it easier for me to understand her motives and learn from them.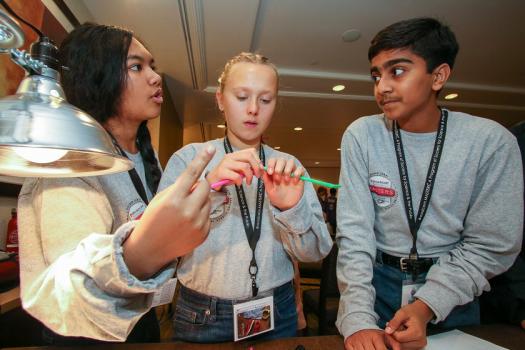 What issues do you feel all countries should unite to take on?
Climate change is an issue that all countries should work together to fix. It's a problem that affects the entire world. Even though it occurs naturally, humans are aggravating it. This is another reason why our entire world should unite to fix it. We can all have an impact on climate change, whether positive or negative, and so we should all work together to fix it.
Another issue the entire world should unite on is violence. It negatively affects so many people in our world, forcing some to even become refugees. It is vital that we work together to fix this issue.
What would you tell your five-year-old self if you could talk to them today?
As a five-year-old, I was very talkative and loved to be around people. Because of that, I would make sure to tell myself to stay that way and that my personality would help me accomplish great things. I also underestimated myself. So, I would definitely tell myself that I can accomplish much more than I once thought by being committed, believing in myself and working hard. Between the ages of four and 11, I moved across the U.S. three times. Being a sensitive kid, moving was hard, but it also broadened my view of the world. With that in mind, I would tell myself that I can make it through tough times. Life is hard no matter who you are or where you come from. So lastly, I would tell myself that no matter what happens, no matter how lost I feel, I am loved and that everything will be okay.
What's next for you?
Currently, I would like to become a nutritionist. Having said that, my career interests have changed as I've gotten older. When I was in kindergarten I wanted to be a teacher, an actress or a librarian. Later, when I was in fourth grade I wanted to be the Secretary of State, but that phase wore off after I realized how complicated politics is. Now, I'm aspiring to become a nutritionist so that I can help people live healthier lives.
In the short-term, I will continue to participate in science fairs and look forward to attending a rigorous high school that will continue to challenge me and prepare me for the future.