Five Questions with Rebecca Cho, winner of the 2022 $10,000 H. Robert Horvitz Prize for Fundamental Research
Princeton freshman, Rebecca Cho, 18, won the $10,000 H. Robert Horvitz Prize for Fundamental Research at Regeneron ISEF last year. Rebecca's research involved creating a sophisticated geological model that incorporates a variety of environmental factors, including the impacts of changing landscapes, climate, sea levels as well as erosion. Her model has the potential to enhance human understanding of ecological change over millions of years in the western United States and may even help us to anticipate the effects of climate change on the region's biodiversity.
Upon receiving the award, Rebecca expressed immense gratitude towards her family, research mentors, and high school science teacher, acknowledging the pivotal role they played in her success, saying, "Receiving this honor has been more than just a testament to my hard work. The award recognizes the indescribable dedication of my parents as I pursued research in high school, the amazing help of my research mentors at SUNY Stony Brook University, and the endless support of my high school science research teacher Serena McCalla. The people in my life have been my greatest role models as well as huge drivers of my scientific passion and personal growth."
Since her success at the Regeneron ISEF, Rebecca has been pursuing diverse interests and ambitions at Princeton. She is an active member of the Undergraduate Student Government Sustainability Committee, plays cello in the Princeton University Orchestra, writes for The Daily Princetonian and dances in the KoKo Pops Dance Company. When asked about her future aspirations, she said, "Altogether, I guess my answer would be that I would like to be most renowned for being a sincere human who relied on her abilities and passions to make a change in someone's life and in someone's perspective on the value of life on this planet."
Rebecca's dedication to making a positive impact on the world is evident through her scientific research, music, writing and dance. Ultimately, her hope is to inspire others and create meaningful change through all she does.
Let's hear more from Rebecca below!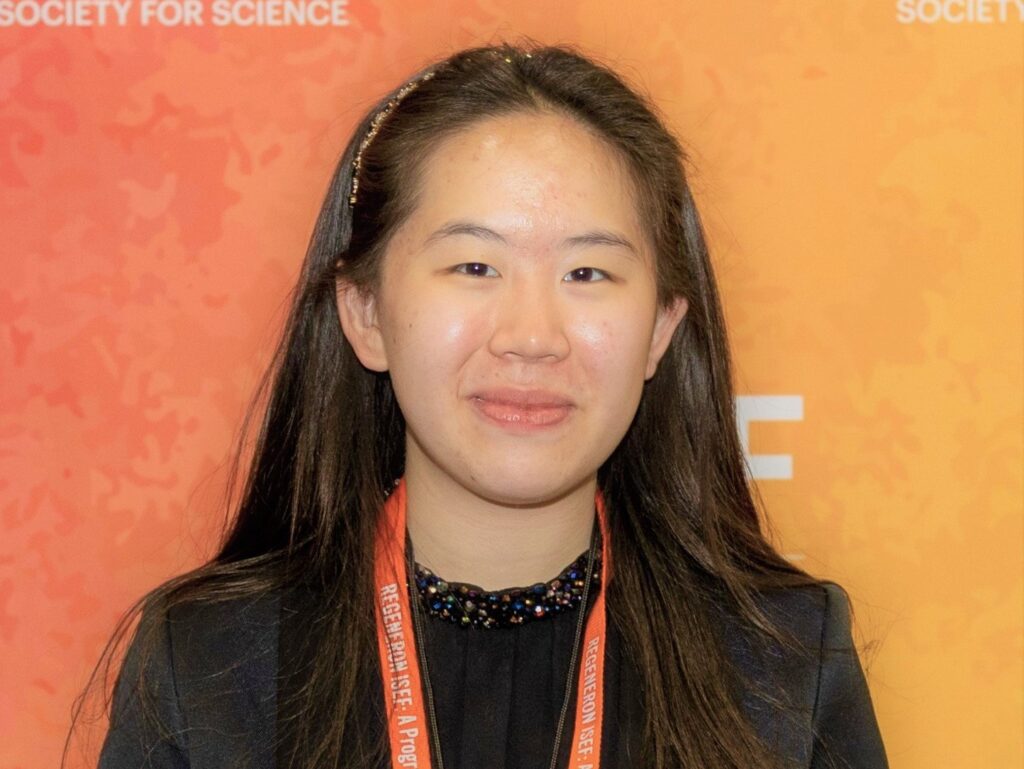 What about your experience at Regeneron ISEF surprised you most?

Regardless of the stories I had heard from Regeneron ISEF alumni, I was still astounded by the professional ambience of the fair. I was given an opportunity where I could discuss the potential and details of my research with some of the greatest scholars in my field at a depth I had never experienced before. The international fair was genuinely a place where we could also witness the intellect and capabilities of our peers around the world. I had time to interact with fellow students who shared a passion for scientific knowledge, skill, and curiosity towards resolving the greatest challenges of humanity.
What was your most memorable experience from ISEF this year?
My most memorable experience from Regeneron ISEF would have to be the opening ceremony with the presentation of the countries participating in the fair. I distinctly remember being surrounded by students from all over the world as we shared the joy in being a part of this incredible experience, taking in the cultural pride of each student as a representative of their country.
In the context of political, economic and social turmoil, we tend to lose sight of important actions we can take as young members of society. As I encountered this unity of youth in the scientific community, I realized the Regeneron International Science and Engineering Fair was the place where we sparked the innovation and collaboration necessary in the world, while defying the stereotypes defining the age, appearance and background of a scientist.
Which scientist – alive or deceased – would you want to solve scientific mysteries with and why?
I would love to have the chance to meet and study with Jane Goodall. Not only is she one of the most prominent primatologists and conservationists, but she redefined a scientific and social vision that made people care about the preservation of the world. I would be curious to join her on an in-field study and learn from her approach in investigating the coexistence of the physical and biological spheres of the planet.
What would you invent if you had all the resources in the world?
I would invent an effective, low-cost in-ear translator that can be used for any language. The
implications for incorrect translations are severe in medical settings, educational settings and legal settings. Accurate translations require a translator with a thorough understanding of the nuances of a language as well as an awareness of respective cultures. With many regions of diversity, a reliable and accessible translator would be significant. The creation of such a translator would also be essential in the scientific community, where researchers can transcend language barriers to effectively collaborate and communicate the true extent of their findings.
What would you say to inspire the next generation of scientists?
Pursue what you love. During the initial stages of discovering my interest in Earth and Environmental Sciences, I was greatly challenged by a relative lack of resources and close mentors in my life. For young scientists who feel they are taking a step out of their comfort zone with a specific field of interest, I would encourage you to listen to yourself and take the risk.
Making decisions for my academic and personal life have been both the greatest challenge and privilege with countless moments of hesitation. However, I found that my innate love and interest lie in the stories I unfolded when I asked several questions about the science propelling the Earth around me. Chase after your goals and dreams with ambition, deliberation, and humility. At the same time, I would say: reconnect and surround yourself with a vital support system of mentors, teachers, friends and family. There will be many times when identifying the next steps in your research, following your academic pursuits, or navigating your personal development will be daunting. Spending time with the people who will have your back throughout the entire process is the best way to overcome these challenges.
Discover the incredible innovation and scientific brilliance at this year's Regeneron ISEF in Dallas, Texas! Explore all the finalists' projects at https://projectboard.world/isef and catch the Grand Awards Ceremony on May 19 from 9:00 a.m. – 11:30 a.m. CT, where the top $75,000 winner of will be announced: https://bit.ly/44GD7Hn. Can't watch live? Catch it on-demand on YouTube. Join us in celebrating the next generation of scientists and engineers as they tackle some of the world's most pressing issues!