Five questions with Rachel Seevers, winner of the $50,000 Intel Foundation Young Scientist Award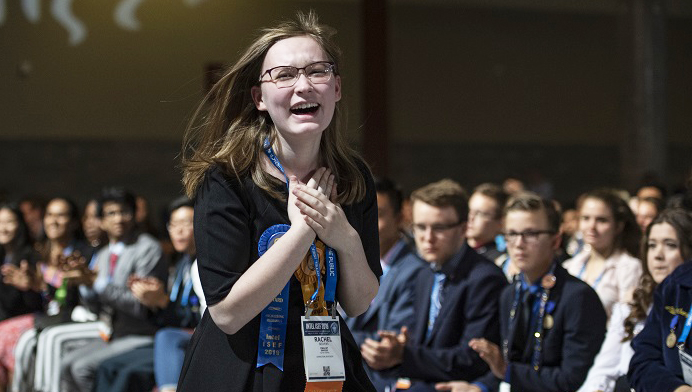 This post is part of a series profiling the top award winners of the Intel International Science and Engineering Fair (ISEF) 2019. Intel ISEF is the largest pre-college, international STEM competition in the world. This year's competition included participants from 80 countries, regions and territories. Every year, the brightest young scientists from all over the world come together to participate in this incredible fair.
Rachel Seevers of Lexington, Kentucky, was one of this year's $50,000 Intel Foundation Young Scientist Award recipients. Rachel won the award for her development of a jellyfish-inspired underwater propulsion device. By building a watercraft that mimics a jellyfish's swift and energy-efficient movements, Rachel was able to increase efficiency by up to 37%. Rachel believes that her approach will allow the mysteries of the unexplored 95% of the world's oceans to be revealed by greatly improving the efficiency and range of light-payload submersible vehicles, such as underwater drones.
Here is our conversation with Rachel.
What is something that people aren't worried about that they should be more worried about?
Climate change. It is my responsibility as an oceanographic researcher and human being to point out the lack of knowledge and concern about this issue.
Also, vaping is turning into an epidemic. Like most of my peers, my opinion on vaping used to be non-existent. I didn't care much about the kids walking the halls at school, polluting our airways with "magic vapor" that disappears within seconds. It didn't faze me when radio commercials advertised a healthy alternative to smoking. But, after living next to a vaping researcher for six weeks, I realized the harmful effects it may have. We simply do not understand the long-term dangers of vaping, but the current research doesn't look good.
What was your experience like at Intel ISEF?
Intel ISEF 2019 was my fourth ISEF, and my third time being a finalist. In middle school, I was also a student observer, an experience that changed my life forever. I was awed and inspired by the people and work I saw at ISEF, and instead of big, scary high-schoolers, I saw the scientists of tomorrow.
I was star-struck by the winners of the 2015 Intel ISEF. They were giants to me, and showed me that I could do work that changes the world. The next four years of my life were filled with research and science. I fell in love with it. And, all of that hard work and grit paid off this year. This time, I was the one up on that stage, looking out over the audience. I was given the chance to inspire people.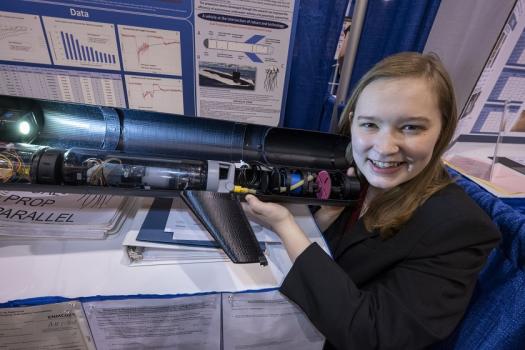 What's the biggest lesson you've learned thus far in your scientific career?
Nobody can achieve success without the help of others. This lesson took me a long time to learn, but now it's a vital pillar to my work ethic and how I view problems.
A couple years ago, I found myself stuck. I wanted to use Computational Fluid Dynamics (CFD) for my project, but had no idea how to use or find it. So, I looked in my area for mentors who were familiar with CFD modeling and found somebody willing to help. I really could not have done it without him.
How do you unwind when you're not doing research?
In my basement there are two absurdly large neon boxes. Their flaking paint and the beautiful artwork that adorned their sides fascinated me when they were first moved into my house. I stood before two pinball machines, ones with real metal balls and plungers, but no computers to control them. They didn't work, but were crafted with such detail that they withstood decades of tilts and hits from frustrated players. Restoring old pinball machines with my dad is a passion that follows me to this day.
How do you deal with setbacks?
Setbacks are bound to happen, not just with research, but in every aspect of your life. When I encounter setbacks, I always try to remember my favorite quote by Maya Angelou: "Nothing will work unless you do."
When faced with difficulty, you can't give up. You always have to keep trying and working. I know in my heart that a breakthrough will always occur if you keep trying—maybe not the one you were expecting, but the one that was destined to happen. And yet, hard work means nothing if you don't back it up with positivity and kindness. I live by the advice my dad gives me every day: "Smile, be nice to everyone, always stay positive and try your best."
Really, you can't go wrong with that.