Five questions with Noah Getz, the 2nd place winner of the 2021 Regeneron Science Talent Search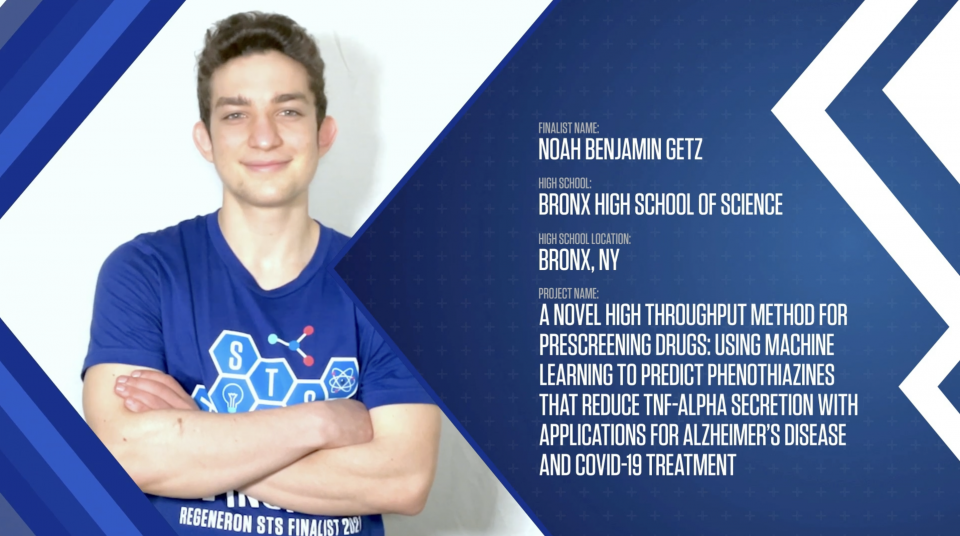 This fall, Noah Getz, the 2nd place winner in the 2021 Regeneron STS, will be headed to MIT, where he plans to focus his studies on computer science, cognition and molecular biology. There, he hopes to join a computational biology lab to expand his skills in machine learning. This past March, the Bronx High School of Science graduate won $175,000 for his research using machine learning to find promising pharmaceutical compounds, which could make the discovery of new drugs faster and less expensive. The small molecules he identified could potentially help treat Alzheimer's disease.
After his big win, in an interview with Freethink, Noah revealed that one impetus for his research was a personal one. He had seen firsthand, on both sides of his family, how Alzheimer's profoundly impacts patients and their loved ones. To make an impact using science, he had reached out to labs all over New York City, eventually finding his place in the lab of Charles Mobbs at Mount Sinai.
This summer, Noah will invest more time in his project and submit his paper to an academic journal. Besides that, he's taking time to reconnect with friends and family, working on coding projects, rock climbing and learning guitar. Noah says, "While I can't wait to take classes and conduct research in college, right now, I'm focused on spending as much time as I can with my friends over the upcoming summer before we all go our separate ways. It's been a long year, and I'm excited to finally celebrate with the incredible people who guided me through it."
Let's hear more from Noah below.
Which sci-fi advancement do you wish we had by now?
Noah and this year's first place STS winner, Yunseo Choi, both dream of a world where teleporting exists. "As someone who lives in New York City and spends hours every day on the subway, I really wish that we had a method of teleportation or high-speed travel like the human sized pneumatic tube system in Futurama's New York City. In the meantime, though, I think that I would settle for slightly less delays."
Which scientist – alive or deceased – would you want to solve scientific mysteries with and why?
I would love to solve mysteries with Professor Katalin Karikó, who spent her life researching the therapeutic potential of mRNA despite people discouraging her at every turn. I have so much respect for her — not only for the research that resulted in a vaccine that I've been injected with — but with her conviction to look at a problem differently and not back down in pursuing that line of thinking. I would love to be able to learn from someone who approaches science in such a fearless way.
What would you like to be most renowned for?
I'd love to be known for either helping to identify a novel target for a disease, or helping to find a novel compound that interacts with a target. Alternatively, I'd love to help figure out a standard procedure for extracting the internal logic of deep neural networks.
What was the most surprising part of having STS be a virtual event?
Going into finals week, I wasn't expecting to form any meaningful connections over video calls. But over the course of the week, through judging, virtual field trips and late-night zoom calls, I was surprised to actually form friendships as I got to know the other finalists. They're all so smart, personable and funny, and I'm so grateful to the STS for helping us get to know each other. We've all still kept in touch since the competition ended, and I can't wait to meet them all in person once the pandemic is over.
What was your most favorite or memorable experience from virtual STS? And why?
My most memorable moment from the competition was the keynote address by Wei-Hwa Huang. He walked us through how designing puzzles had shaped his approach to life and gave us thoughtful advice on how to make choices with the information that we have in a given moment. As someone who tends to overthink things, I found the experience deeply insightful and meaningful.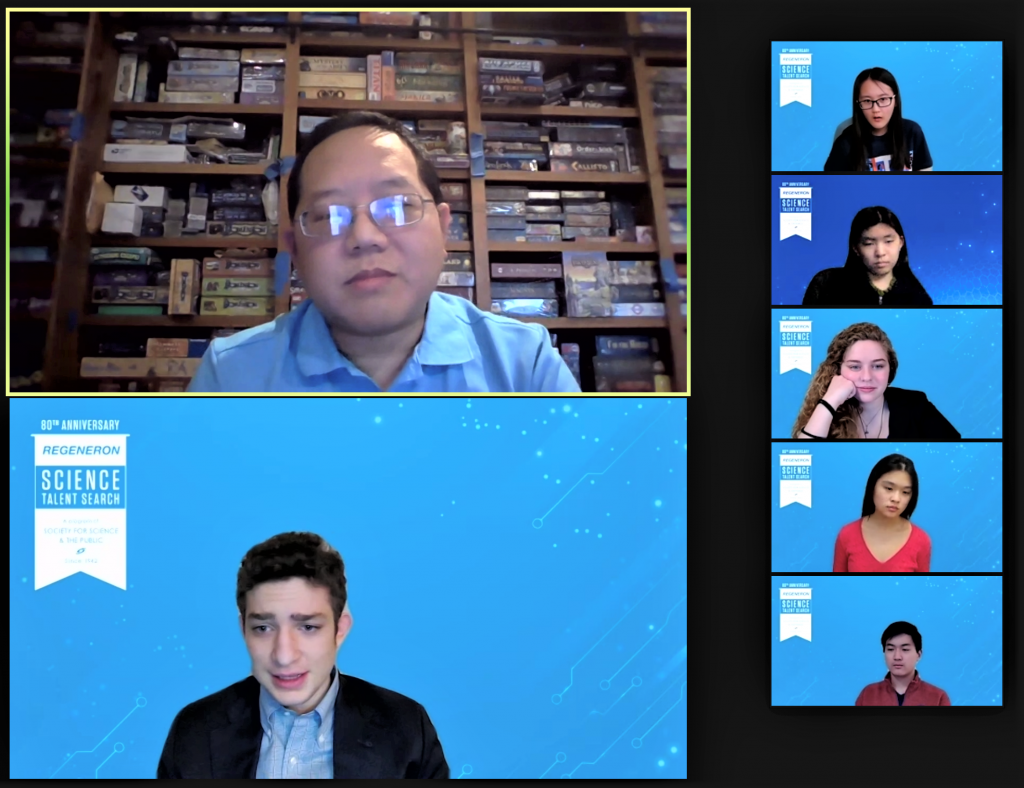 Share your research for a chance to win incredible prizes and meet like-minded young leaders in science, just like Noah, by applying to the Regeneron Science Talent Search 2022! Applications are now open.