Five questions with ISEF 2019 Best of Category in Robotics and Intelligent Machines winner, Kevin Meng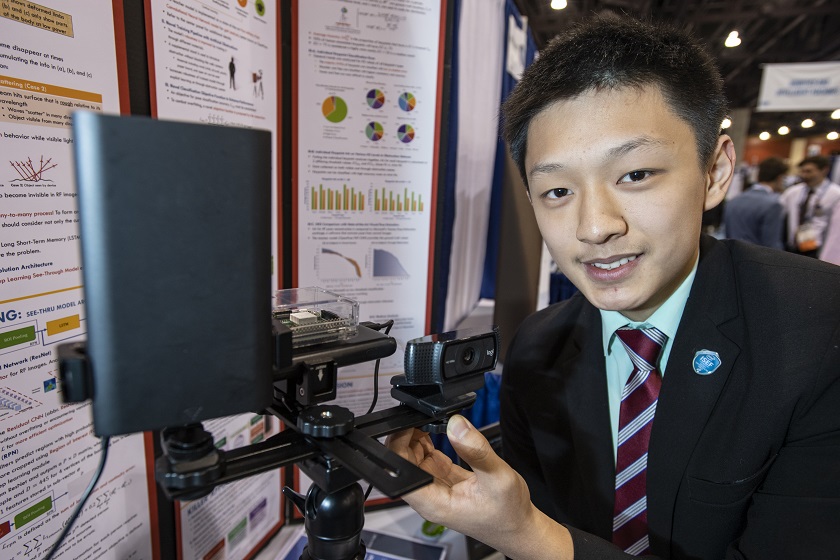 This post is part of a series profiling the top 22 Best of Category award winners of the Intel International Science and Engineering Fair (ISEF) 2019. Intel ISEF is the largest pre-college, international STEM competition in the world. This year's competition included participants from 80 countries, regions and territories. Every year, the brightest young scientists from all over the world come together to participate in this incredible fair.
In this year's competition, one of the top winners in the category of robotics and intelligent machines, Kevin Meng of Plano, Texas, developed a system using radio frequency (RF) signals that could one day allow us to see through walls! His AI model can use these RF signals to reconstruct a continuous video of a 15-point human skeleton – even through visual occlusion.
Here is our conversation with Kevin.
What was your experience like at Intel ISEF?
Needless to say, it was incredible! ISEF was a precious opportunity for me to meet young scientists from all over the world and learn about their work. I've formed friendships that I hope will last a lifetime. The city of Phoenix was also great; I particularly enjoyed mountain climbing and sightseeing in the area. I'd also like to highlight the panel sessions–they were phenomenal! Something that has stuck with me is a story shared by Regeneron cofounder George Yancopoulos during a session titled, The Journey from Young Scientist to Successful Entrepreneur. Before hearing Dr. Yancopoulos speak, I had  always seen academia and business as too disparate to consider a career involving both. Now I realize that the two fields are quite synergetic.
How do you deal with setbacks?
There's no question that failure hurts in the moment. Yet, in hindsight, I often find myself appreciating the setbacks I've faced as they play an important role in defining who I am today. Most importantly, I try to take something away from each failure I encounter. It doesn't have to be particularly profound, nor does it have to be groundbreaking – just something that can help me move forward. Maintaining positivity and patience is key; these two ingredients keep me grounded in times of difficulty. Sometimes it's even comforting to realize that none of us are alone in failure. A task that's hard for one person is probably hard for others too. For this reason, setbacks give us the perfect opportunity to distinguish ourselves above the rest.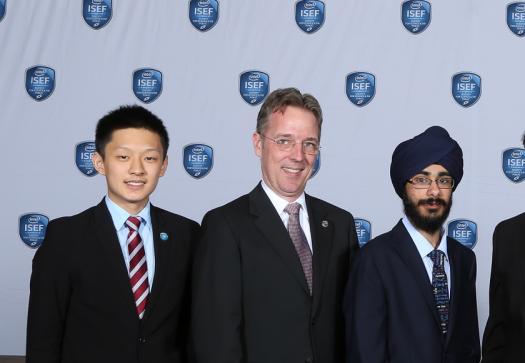 What do you feel is the most important invention/scientific breakthrough in the world?
The Internet. It's an invention that touches every aspect of our daily lives, transforming the way we work, play and live. The internet defines our modern age by providing a set of revolutionary benefits that seemed like distant science fiction only a century ago: smart city integration, split-second communication and limitless access to knowledge, to name a few. Today it's difficult to imagine a world without the internet, and with the 5G revolution on the horizon, the internet is bound to become even more capable. But, as with all disruptive technologies, I believe that, in addition to reaping the internet's benefits, it is equally important to analyze its potential adverse effects and curb them as best we can. For now, as we strive to protect the freedom and privacy of online citizens, cybersecurity should be one of our primary concerns.
What is something you don't currently understand that you wish you understood?
As far as we've come in our quest to both emulate and extend human intelligence using machines, we're still largely in the dark when it comes to understanding why artificial intelligence makes the decisions it does. Artificial neural networks have recently shattered records in computer vision, natural language processing and robotics tasks, but we still struggle to grasp the meaning behind the numbers comprising these "black-box" models. This becomes problematic in a number of cases. If, for example, an AI jury sentences someone to death, how will it explain its reasoning? If a self-driving car runs someone over, why didn't it stop? If an AI classifies a friendly citizen as a terrorist, why did it do so? These questions, which lie at the convergence of science and the humanities, are fascinating to me, and they're likely to be at the forefront of artificial intelligence research for years to come.
How do you unwind when you're not doing research?
Whenever we can, my friends and I go to the recreation center to play basketball! I can't say that I'm great, but it's incredibly fun and helps take my mind off things for a bit. Outside of social settings, I enjoy flipping through science magazines, watching movies and traveling.