Five questions with ISEF 2019 Best of Category in Physical Energy winner, Mincheol Park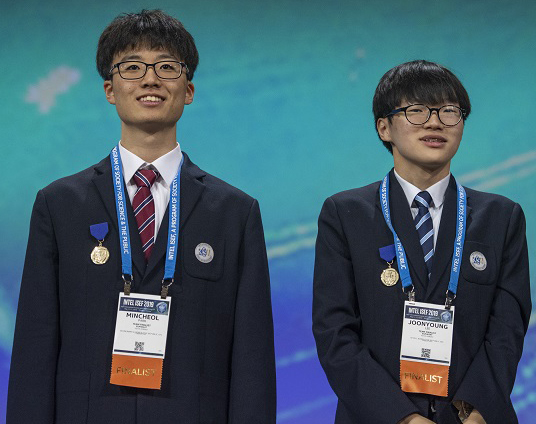 This post is part of a series profiling the top 22 Best of Category award winners of the Intel International Science and Engineering Fair (ISEF) 2019. Intel ISEF is the largest pre-college, international STEM competition in the world. This year's competition included participants from 80 countries, regions and territories. Every year, the brightest young scientists from all over the world come together to participate in this incredible fair.
In this year's competition, the best of category winners in physical energy were Mincheol Park and Joonyoung Lee of South Korea. They developed a more efficient way to extract energy from waves called "SHOWPAM," which stands for System of High-efficiency Ocean Wave Power with Acoustic Metamaterial. In order to maximize the amplification of water surface waves, they surrounded their wave energy-converting device with acoustic metamaterial. Together, these produced more than twice the energy (225%) compared to the control device, which did not contain additional metamaterial.
Here is our conversation with Mincheol.
What was your experience like at Intel ISEF?
It was one of the best experiences in my life for three reasons: judging, friends and inspiring lectures. Before I came to ISEF, I had never met judges like these before. They understood each step we followed to fulfill our goals, and saw the drawbacks and limitations of our research as well as the potential we had to change the world. We were especially encouraged by one of the grand judges, who fully understood the implications of our work before we even explained any of the potential advantages. 
The new friends we met at ISEF were all amazing. Sharing our research with finalists and attendees from other countries was a great experience for me. The lectures also inspired me—especially the lectures by past ISEF participants who have founded their own start-ups. Though I have not started a business based on my research, meeting young entrepreneurs was an exciting experience.
What is the last book you read?
Feynman's Rainbow: A Search for Beauty in Physics and in Life, written by Leonard Mlodinow. Whenever I read about Richard Feynman, especially about his attitude in research, I feel a connection. This book deepened my understanding of Feynman's point of view concerning physics and nature.
My favorite sentence in the book is: "To be a physicist is to have an enormous potential to change the world." Being a scientist means that we are prepared to change the world, but the direction we are going to take it is totally up to us.
How do you deal with setbacks?
My partner and I overcame setbacks during the research process by trying different approaches. For example, when we could not generate water surface waves (for testing our wave power system) using dual-motors, we adopted a uni-motor system. To stabilize the uni-motor system, we connected to linear gears at each side of the wedge. This alternative strategy turned out to be the solution we needed.
What's the biggest lesson you've learned thus far in your scientific career?
I have learned that scientific success can sometimes transpire by coincidence, but research ultimately requires a great amount of effort. Much of our own research was built on coincidence in the beginning, but it was in facing challenges and solving problems one by one that we enhanced our skills as young scientists.
What do you feel is the most important invention/scientific breakthrough in the world?
I believe that it is the capture of energy. Nowadays, researchers are trying to develop non-polluting energy sources such as solar power, wind power and wave power. I believe these alternative energy sources can not only help people to effectively maintain their energy-dependent lives, but do so while saving our planet.