Five Questions with Georgia Hutchinson, winner of the Samueli Prize in the 2018 Broadcom MASTERS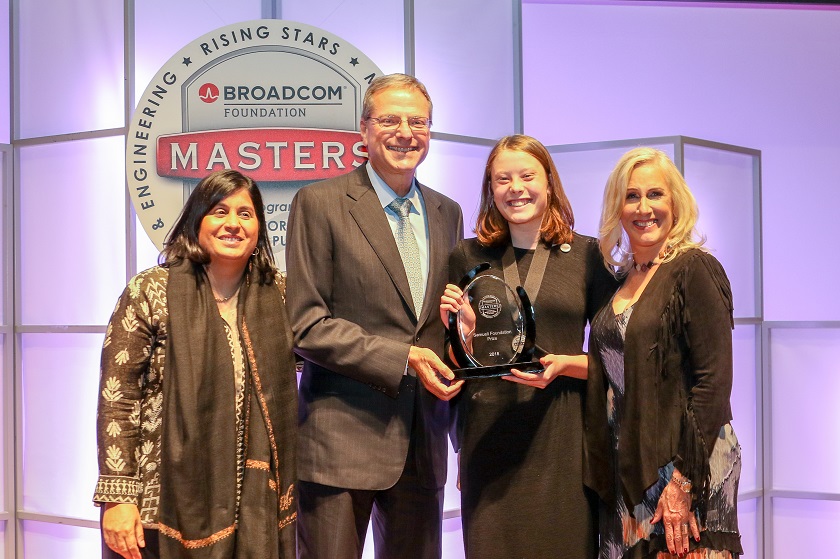 Georgia Hutchinson is an eighth-grader from Woodside, California and winner of the $25,000 Samueli Foundation Prize, in the 2018 Broadcom MASTERS. Georgia's project was a dual-axis solar tracker that used computer data to track the sun across the sky, making solar energy more efficient and affordable. Read more about Georgia and her project here.
Who, if anyone, is your fictional STEM idol (Iron Man, Sandy Cheeks, etc.)?
Dewey Kerrigan from the books Green Glass Sea and White Sands Red Menace
What would you invent if you had all the money in the world?
I would keep investing in renewable energy research and invent economical solutions that would reduce humankind's greenhouse gas emissions. Climate change is one of the biggest issues facing my generation, and if I had all the money in the world, I'd want to take it on.
Which moment in your life made you feel the most accomplished?
After begging my way into the middle school computer programming elective, I realized that not only was I the only third grader, but also the only girl. The next year, I started a club called Codettes, aiming to inspire more girls to get involved in computer science. Although I was really nervous that no one would show up, ultimately, three dozen girls came and we needed to share computers! It was really inspiring to realize there were other girls that were passionate about STEM like me!
What would you tell your 5-year-old self if you could talk to them today?
Don't worry about how many birthday parties you get invited to. Quality over quantity. Be yourself.
What's next for you?
Working on my patent application, water polo and spreading my love of STEM to underserved schools.