Five questions with Amber Luo, the 3rd place winner of the 2022 Regeneron Science Talent Search
Amber Luo, the 3rd place winner in the 2022 Regeneron Science Talent Search, is currently a freshman at MIT in Cambridge, Massachusetts. The Stony Brook, New York native is pursuing a double major in computer science and applied math in the hopes of eventually pursuing a doctorate in computational biology.
This past spring Amber won a $150,000 award for her project — a software called RiboBayes — that identifies key regions known as "ribosome pause sites" along a cell's mRNA transcripts that regulate protein synthesis. Her tool reveals critical insights into how ribosome pause site expressions can be altered by disease. By providing a greater ability to locate and evaluate the key components of protein synthesis that occur at these ribosome pause sites, she is helping to provide a more complete view of the mechanisms underlying a wide range of diseases.
At MIT, Amber has continued conducting computational biology research and new projects in the lab of Christopher Burge. She has also pursued some of her key passions outside of science and engineering through the Asian Dance Team and Science Olympiad. She enjoys K-pop and hip-hop as well as other traditional Asian styles of dancing.
Amber is invested in the next generation of STEM leaders and plans to inspire them through her career in the future. For now, she wants to encourage her peers saying, "Chase your passions! If you love something – whether it's astrophysics, computational biology, or electrical engineering – it will always be worth it to spend that time pursuing it. I used to read cell biology and organic chemistry textbooks for no reason other than the knowledge within the pages. I wanted to understand it – never would I have guessed that the knowledge would become so useful. If you love something and put in the time to understand it, you will always go far."
Let's hear more from Amber below.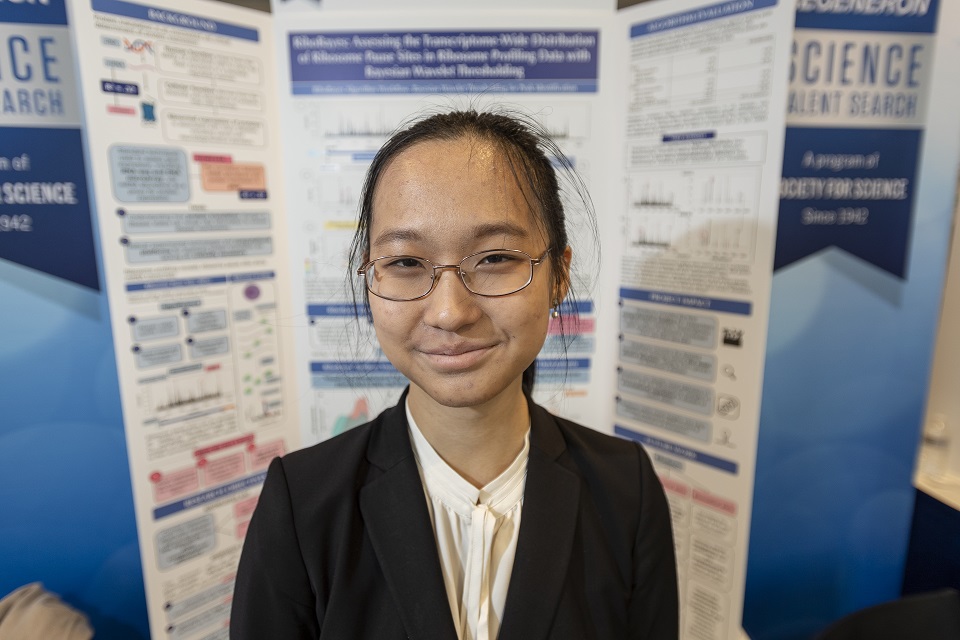 What about your experience at STS surprised you most?
How quickly all 40 finalists, staff, from the cameramen to our chaperones, bonded to become one huge family! Everyone at STS is united by a love for the excitement and adventure that comes with pursuing a passion, and this is evident in the confidence and joy with which people interact. It was simply impossible to not love every single person around you – I had never before been in an environment so vibrant and spontaneously intellectual my whole life, and it is truly an energy-filled, once-in-a-lifetime experience.
What was your most memorable experience from STS this year?
On the day before judging, the STS staff put letters that our teachers, mentors and parents had written for us in our cubbies. This was especially touching because we were all anxious and nervous the night before judging and being able to feel the love and support of those that given so much to support us to this point in our lives was a truly powerful moment. I remember I took the letters from my family, Science Olympiad coach and AP Chemistry teacher to my room and read them alone in bed (I didn't want anyone to see me cry!). I went to sleep hopeful, a little nervous and confident for the day to come.
Which sci-fi advancement do you wish we had by now?
I've always wished that we could teleport! From being able to physically intern at my mentor's lab at UT Austin to visiting my extended family in China to returning to my high school's Science Olympiad team anytime, teleportation would open up countless possibilities for scientific collaboration across the nation.
Which scientist – alive or deceased – would you want to solve scientific mysteries with and why?
Dr. Feng Zhang! Fun fact: we both attended the same summer research program during the summer of junior year and both placed 3rd at the Regeneron STS with biology projects! Dr. Feng Zhang is well-known for pioneering the use of CRISPR in gene editing, the elegance and versatility of which have always fascinated me. When I first met Feng Zhang during his colloquium lecture at RSI, I was quite intimidated by the prospect of being on the same Zoom call as my scientific idol, but in the end, he is just a genuinely clever, brilliant and humble human.
What would you invent if you had all the resources in the world?
I'm not sure if this counts as "inventing" (my engineering skills aren't great!), but I would love to establish an organization with centers around the nation to provide STEM courses and hands-on research experience specifically to high schoolers! I feel like research is a powerful way to develop all facets of one's skillsets – from speaking and writing to coding to creativity. Research ties together so many diverse skills into a singular pursuit of knowledge that is an incredibly enriching experience, especially in high school.
The Regeneron Science Talent Search 2023 application is now open to high school seniors. Apply by Wednesday, November 9 in order for a chance to win a top prize of $250,000: https://sciencetalentsearch.smapply.org/