Family Disagreement Leads to Broadcom MASTERS Finals
Ria Chhabra from Plano, Texas was the Class Speaker at the Broadcom MASTERS 2011. Below she describes how a family disagreement led to her project comparing the health effects of organic and inorganic food.
---
What was your experience being a Broadcom MASTERS finalist like?
All the way from the day I got the call notifying me I was a finalist, to the interviews and the delicious food, the whole experience was surreal. I literally enjoyed every moment of it. The students that I met at Broadcom MASTERS are truly friends that I will keep forever. The memories of the experience will be cherished forever and the challenges and mistakes have made me a richer, better person. Even writing about the experience gives me goose bumps and this excited, warm feeling inside because Broadcom MASTERS has probably been the best and most memorable experience of my lifetime…so far.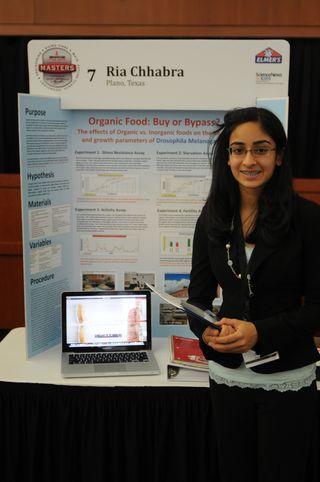 Can you provide a short description of the research you presented there?
I examined the differences between organic versus inorganic foods by testing the palatable health effects on Drosophila Melanogaster, commonly known as the fruit fly. I tested how organic and inorganic fruits and vegetables affected the fertility, nutritional reserves, stress resistance, lifespan, and activity of fruit flies. I was able to prove that organic food is not only more beneficial for the environment, but it is also more beneficial for our bodies.
How did you initially become interested in science and this topic specifically?
I've always had a fascination for biology. From its versatility, to its explanations for the inner workings of our bodies, to its applications in the study of organisms of all habitats, it's always amazed me. There are so many unsolved mysteries in this world, and there are even more regarding the human body. We don't even know why we do so many of the things we do. I'm always curious to know why. Why is my head hurting? Why does my mom say that changing weather causes people to get a cold? What does weather have to do with catching a cold?! The human body is in itself so interesting. For this reason, I've always focused my studies around the human body. I came upon this topic through the arguments of my parents, actually. My father is economic so he would tell us to buy groceries from Wal-Mart, where conventional groceries are sold for relatively cheap prices. On the other hand, my mother would argue that we should get our food from Whole Foods, where we need to purchase the "nutritious" organic food. The first thing that came to my mind was, why is it that organic food is considered more nutritious? I researched and there were no published articles indicating the specific health benefits of organic food. These small quarrels among my parents led me to do some life-changing research (life-changing for me, at least).
How has doing original research and participating in events like the Broadcom MASTERS affected you?
I found my passion. Before this research, I never really had a consistent hobby. Now, I've found my forte, and I think I'm going to stick with it. What I am doing is important and the feeling that I get after a day of working in the lab is like no other. It's irreplaceable. I'm tired and I feel mentally absorbed, but I feel like I've accomplished something that in one way or another will eventually give back to the community. It's like community service, but better.
What have you learned about STEM principles through participating in the Broadcom MASTERS?
STEM principles are everywhere. When I thought about it broadly, I didn't really think that my project involved anything but science and a little bit of simple mathematics, but without engineering or technology, I wouldn't have been able to do any of my project. I needed engineering skills to come up with a recipe that encompassed the organic diet and the nutrients necessary for fruit flies. I needed technology in order to measure the activity of these flies and in order to do any of these assays under the microscope, which is a prime example of technology being used at its best. These principles are the reason that I am typing on a laptop right now and not writing with a feather pen and a piece of paper. Science, technology, engineering, and math hold the key to our future.
Do you have any advice for young students interested in science? For those finalists participating in this year's events?
Enjoy every moment of the experience because I promise that the moment you blink, it'll be over. Keep working hard and never lose hope because as soon as one door closes, another opens. This year has been challenging for me, and I was really hit hard at the state science fair when I didn't get even one ribbon on my board. I was devastated and I almost thought it was a mistake when my name wasn't announced because I couldn't believe that I could've lost after losing so much sleep and working so hard. I was going to give up on my current research topic, when my teacher entered me into another state science competition. I ended up winning the grand prize. It was the second best moment of my life right after the time when I got the call that I was one of the thirty Broadcom MASTERS finalists. The moral of the story is to never give up on something that you truly believe in.
Broadcom MASTERS semifinalists will be announced on August 15 and finalists will be announced on August 29. The public is invited to attend the free Broadcom MASTERS 2012 Science and Engineering Project Showcase on September 29 in Washington, D.C. where the thirty finalists will be on hand to discuss their projects.