Experts present to finalists at reverse science fair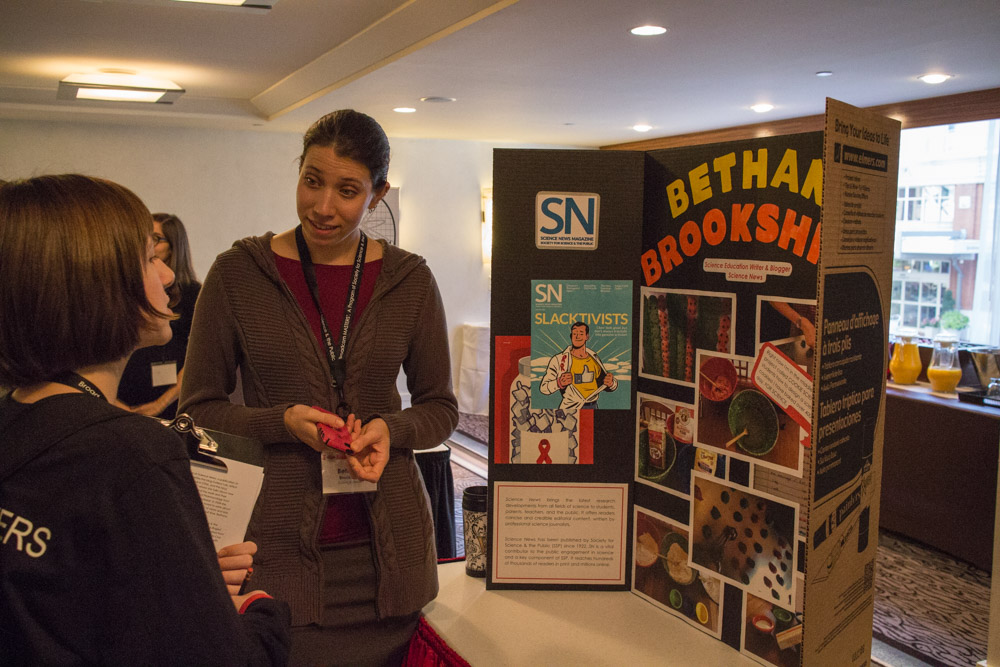 The traditional science fair got flipped around this year at Broadcom MASTERS, as experts were the ones presenting their work to the finalists. Finalists had the chance to meet 12 professionals in the science and engineering fields, hear about their careers, and ask questions about their work.
Participating experts included:
Melissa Anley-Mills
Environmental Protection Agency
Social Media Lead, Office of Research and Development
Melissa is responsible for @EPAresearch, where she shares science news, links, and hosts Twitter chats. She also monitors and posts content for the agency's other social media accounts and coordinates the EPA's participation in several major STEM events, like Intel ISEF, the USA Science and Engineering Festival, and Broadcom MASTERS.
Drew Baden
University of Maryland
Professor and Chair, Department of Physics
Drew is a Professor of Physics and the Chair of the Physics Department at University of Maryland. He is a practicing experimentalist in particle physics, currently with a research focus at CERN, the large European physics lab. He works on the CMS experiment, taking data at the Large Hadron Collider (LHC).
Tina Bahadori
Environmental Protection Agency
National Program Director, Chemical Safety for Sustainability Research
Exposure Scientist
Tina is an Exposure Scientist and the National Program Director of Chemical Safety for Sustainability Research at the Environmental Protection Agency. The program evaluates how safe the chemicals are that are used in the things we use every day — products, appliances, furniture, etc – from the time they are made and throughout their lifecycle, until they are disposed.
Bethany Brookshire
Science News
Science Education Writer & Blogger
Bethany is a Science Education Writer and Blogger at Science News, a publication of Society for Science & the Public. Bethany writes the blog Eureka! Lab, which is focused on inspiring middle and high schools in STEM, and the blog "Scicurious: a peek behind the science curtain" where she talks about new discoveries in depth, as well as the scientists behind the work and their biases.
Dennis Glanzman
National Institutes of Health
Program Chief, Theoretical and Computational Neuroscience Program
Dennis is the Chief of the Theoretical and Computational Neuroscience Program at the National Institutes of Health. The Program supports research on the development and application of realistic models for the analysis and understanding of brain function.
Josh Hurd
Cause IQ
Founder and CEO
Josh is the Founder and CEO of Cause IQ and in charge of all company operations, including technical development and sales. Cause IQ is a technology startup that provides business intelligence on the nonprofit sector. The customers are banks, consulting firms, and IT firms that sell to nonprofits. Josh is also an Intel International Science and Engineering Fair alumnus.
Shane Lansing
Broadcom Corporation
Director, Integrated Circuit Design Engineering
Shane is the Director of Integrated Circuit Design Engineering at Broadcom Corporation. His group consists of an international team of highly experienced design and verification electrical engineers who architect, develop, and bring to production several Broadcom modem semiconductor devices.
Susan Mulroney
Georgetown University School of Medicine
Professor, Pharmacology
Susan is a tenured, full Professor of Physiology at Georgetown Medical Center and Director of the Special Master's Program. The Special Master's Program is specifically for students who need to strengthen their application to medical school with rigorous curriculum.
Jacob Rael
Broadcom Corporation
Director, RF/Wireless Engineering
Jacob is Director of Radio Frequency/Wireless Engineering at Broadcom Corporation. His group develops radios for WLAN, Bluetooth, and GPS that are used in cell phones and tablets, and he leads the team that makes sure the radios are used correctly by the chip teams.
Meghan Rosen
Science News
Staff Writer
Meghan is a Staff Writer at Science News, a publication of Society for Science & the Public. She reports on a variety of topics at Science News, from camouflaged robots to feathered dinosaurs and stretchy electronics.
Denice Shaw
Environmental Protection Agency
Senior Advisor for Innovation
Denice is a Senior Advisor for Innovation at the Environmental Protection Agency. She supports the development and adoption of innovative practices and programs that contribute to EPA's mission, and is currently working with a group of agencies and organizations to address the issue of nutrient pollution.
David Soto-Pantoja
National Institutes of Health
Cancer Research Fellow
David is a Cancer Research Fellow at the National Institutes of Health, National Cancer Institute. The National Cancer Institute focuses on researching the development of cancer and therapeutic interventions to treat the disease. David is also an Intel International Science and Engineering Fair finalist.