European Intel ISEF alumni network takes shape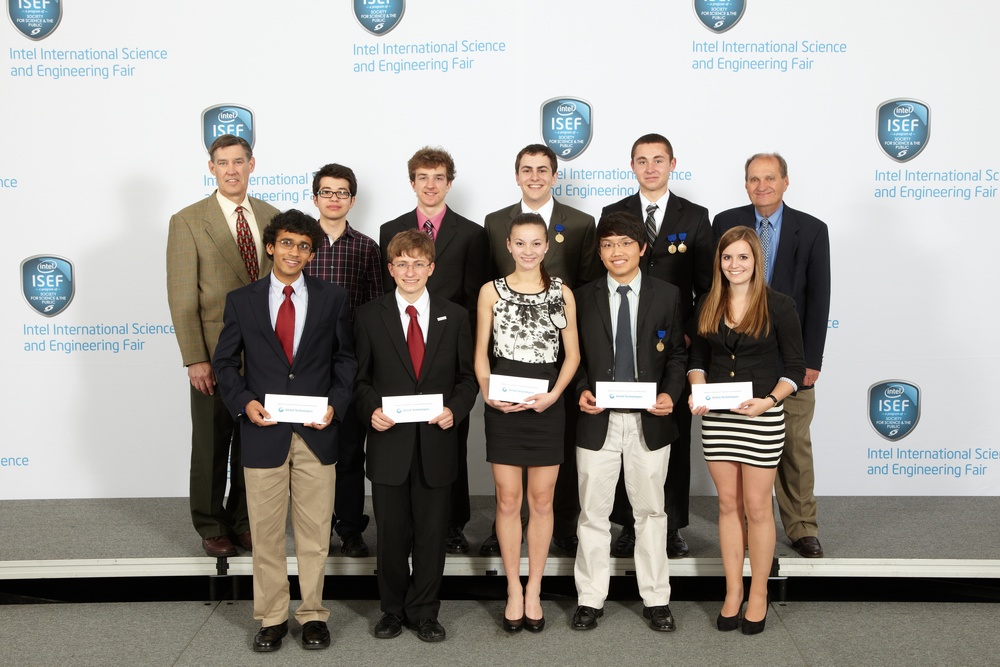 Carolin Lachner from Loerrach, Baden-Wurttemberg, Germany won a Second Award in Physics and Astronomy at the Intel International Science and Engineering Fair (Intel ISEF) 2012. Carolin, now studying electrical engineering at the Technical University of Munich, is also now handling communication affairs for the recently formed European Intel ISEF Alumni Network.
---
If you told me a few years ago that I would become an Electrical Engineering student, I would have laughed and told you 'surely not.' Even though I have been interested in science since the first time I thumbed through my older sister's physics schoolbook, when I was 12 or 13, I always thought that science was just too complex.
When I was 15, because of my interest and fascination with science, and especially physics, I worked up the courage to go to the physics group at my school (fortunately we had one), and ask if I could work with them on a science project. My first project was small. I worked together with two of my classmates, and I learned the basics of research, writing a science paper, and explaining to people what we had done. At the end, we had the chance to participate at the German science fair (Jugend forscht). We had a lot of fun together and I really enjoyed the days at our Science Center. I even spent my weekends and holidays there, in order to find out more about our project, and lose bit by bit my awe of the complexity of science.
After participating in the science fair for the first time, I spent the next school year in Argentina, where I didn't have the chance to take any science subjects. I really missed physics, biology and chemistry classes. But during this year, I was contacted by someone I had met while initially conducting research. He must have noticed my fascination for physics because he encouraged me to participate again at the science fair when I came back to Germany. He sent me a picture of the 'floating waterbridge' and told me to watch some videos about it.
I was fascinated by the phenomenon from the first time I saw it. The week after coming back to Germany, I went to the research center at our school and showed my adviser a video of the floating waterbridge. We immediately started to set up my experiment. I had many ups and downs. Finding out completely new things about a barely investigated phenomenon felt like Christmas and my birthday rolled into one, but realizing that some theories don't work didn't feel well at all.
After working on the project for almost a year, I participated at the German science fair for my second time, where I won the regional and state fairs, and received third prize in the national fair. I really couldn't believe it. I got to know so many interesting people – everyone had a story behind his or her project and everyone shared my passion for science, something many of my friends couldn't really understand.
After the national fair, I was nominated to attend Intel ISEF and felt so blessed. It was an extreme honor for me, since there were only ten German projects chosen to go to Intel ISEF. I enjoyed every second in the United States, especially talking to all these amazing and fascinating young people from all around the world who had worked so hard at their projects. I just wanted to have a good time there and would never have expected to win anything. I was almost paralyzed with shock when I was called to the stage for three Special Awards and the Second Award in Physics. And the best thing was that one of my Special Awards was an invitation to the Taiwan Science Fair.
After Intel ISEF, I got the opportunity to visit a few German and Swiss companies who invited me to take a look at their work, and I finally realized what I really wanted to do after high school. Even though I know I will never understand every aspect of it, I decided to study Electrical Engineering in order to have a mixture of physics, mathematics, chemistry, and especially electronics. I'm glad I did, because it's such an interesting field of study.
In 2012, right before starting my university life, I received an email from Intel Europe, asking me and another German Intel ISEF alumnus if we would be interested in helping to found a European Alumni network, bringing together young people from all around Europe. Of course we were interested. Participating in science fair really changed my life and offered me the opportunity to see and get to know so many interesting things and people, and I wanted to share my experience.
In November 2013, Fabian Scherer, the other German Intel ISEF alumnus, and I helped organize the first European Alumni conference in Berlin, where we passed three amazing days with 30 other alumni from all over Europe. We elected a board, chose another city for the next (annual) European Alumni conference and worked out some areas we want to concentrate on during the next few months. For us, it is important to serve as a mentor for our current Intel ISEF delegations, and to coach and prepare them for their amazing stay in the U.S. We also want to get more and more alumni involved in this network. Another point we would like to work on is to get in touch with other existing alumni networks worldwide.
It would be awesome to have a worldwide Intel ISEF alumni network, since we all shared the same experience, an experience that will always be a huge part of our lives. It's also something we should share with other people who might be afraid of participating at science fairs. As Elson Galang, of the Intel ISEF Philippines' alumni network, said: 'You don't have to be a science geek to be interested in science. Whether you are an artist or athlete, a love for science is surely still embedded in you, and it is up for you to find it. Make sure you help others find it too!'