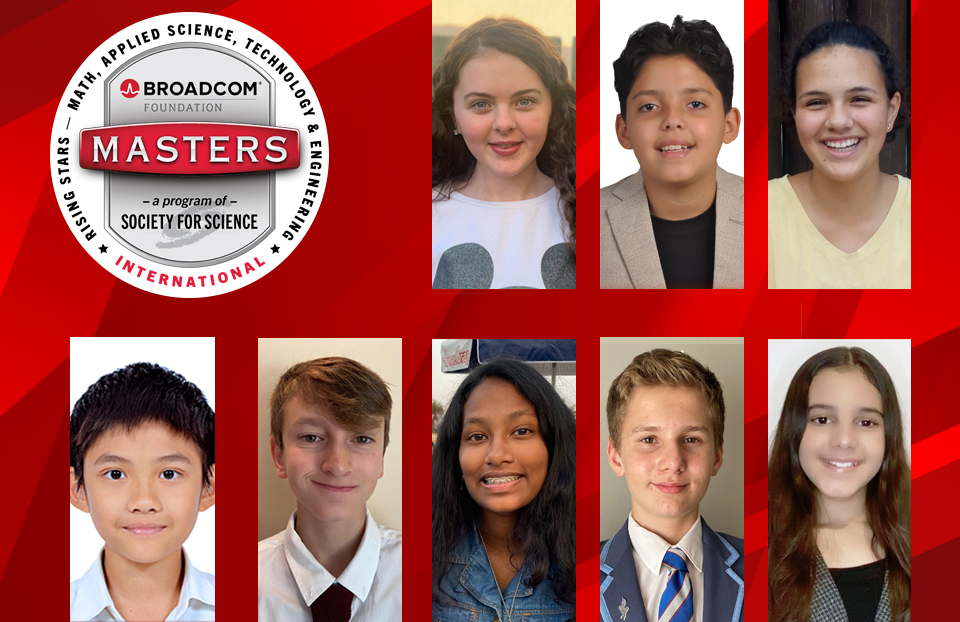 We're thrilled to have the 2021 Broadcom MASTERS International delegates gather virtually to represent their respective nations for this annual international exchange! This year, 25 students from 22 countries, regions and territories were selected to participate together in specialized programming, including virtual field trips to NASA's Johnson Space Center, the Pacific Marine Mammal Center and European Organization for Nuclear Research (CERN), among others. Get to know some of the 2021 Broadcom MASTERS International delegates below, how they are using science to build a better future and fun facts about their home countries!
Monique Ackermann, 13
Brazil
Broadcom MASTERS International delegate Monique's project came out of an activity with electrical circuits from her science class. She studied daily electricity use and proposed a way to use the resource more consciously. "I wanted to promote the sustainable and safe use of electricity, to minimize energy consumption and ensure the safety of electrical discharges," she said. To do so, Monique compared different energy conductors and also examined how to develop a device that protects children from electric shocks.
If a fellow delegate were to visit Monique's home country of Brazil, going to Cristo Redentor (translated "Christ the Redeemer"), one of the New Seven Wonders of the World, is a must. Visiting any of the beautiful beaches throughout Brazil would also be an activity Monique recommends.
Verónica "Vero" Adams-Suárez, 12
Puerto Rico
Verónica's research is about substituting part of the fine aggregate in concrete with shredded polyethylene terephthalate (PET or PETE). PET is a lightweight plastic that is widely used for packaging, especially bottles or other packaging. "I was inspired to do this project because I am very concerned about the amount of plastic on our beaches and natural resources," she explained. "There is not a good way of disposing of plastic, an environmental problem. By replacing some of the fine aggregate in concrete, PET could be an alternative and at the same time reduce the amount of sand needed to prepare the concrete."
Related to Verónica's desire to preserve the natural world, the Vieques Bioluminescent Bay is a mandatory place to visit she says. "Puerto Rico has three of the world's five bioluminescent water sources. It is an amazing experience to see the water glow with millions of single-celled microorganisms called dinoflagellates."
Ahmed Tarek Alframawy, 12
Egypt
Broadcom MASTERS International delegate Ahmed's engineering project aims to make an integrated city that employs a smart system using a remote internet connection. He specifically looked at the possibility of using solar energy and was concerned with making sure people with special needs could navigate easily. There are three components to Ahmed's proposed city: the smart home, which includes temperature and light sensors; the smart road, which includes motion sensors and the smart gate, designed for security purposes.
"What drives me to be a scientific researcher is my passion to solve problems," Ahmed expressed. "I can help my country with what I have learned." If a fellow delegate were to visit Egypt for just a day, he highly recommends going to the Pyramids of Giza, one of the Seven Wonders of the World.
Chia-Tse "Alex" Hung, 13
Taiwan
Chia-Tse wanted to solve the problem of inconvenient transportation in mountainous regions, so he explored the feasibility of using wind-powered cable cars. He also believed this would alleviate some of the world's energy demands. According to Chia-Tse, "Science exists to improve our lives. That's why I did this research and I hope my designs will be useful."
One of the landmarks in Chia-Tse's native Taiwan is the Taipei 101. Previously classified as the world's tallest building from 2004 to 2009, he says his fellow Broadcom MASTERS International delegates shouldn't skip out on it should they visit Taiwan.
Niamh Loughran, 13
Northern Ireland
Niamh got the idea for her project when she was taking out her recycling bin. "It was very light, but full, and made me think there must be a better way of dealing with recyclable waste," she said. "I realized that if this waste could be compacted prior to collection, it would greatly reduce the collection cycle completed by the bin lorries, thus reducing traffic congestion on roads and reducing the CO2 emissions emitted by these lorries." So, she set out to build a waste compacting prototype and found that her design could reduce the volume of waste by almost 75%.
Sharing an aspect of Northern Ireland culture with us, Niamh discussed the tradition of Gaelic games. "Gaelic sports include football, which is a bit like rugby and hurling or camogie (the girls' version of hurling) which is the fastest field sport in the world," she explained. "These sports are played in our local towns and villages all over the country. It is considered the national games in Ireland and on All-Ireland final day, when the best two county teams play, there are over 80,000 spectators watching in the national stadium, Croke Park. Not bad for amateur players!"
Snigtha Mohanraj, 13
United States
Snigtha's project investigates the usage of three different natural coagulants (Nirmali seeds, Shrimp shells, and Cassava peels) for removing microplastics from water. "These inexpensive, nontoxic, and efficient natural coagulants agglomerate with the microplastics, and these formed aggregates can be easily filtered out to remove the microplastics," she explained. Her results indicate Cassava peels are a great coagulant, working more effectively than the others she tested.
When asked about an American destination her fellow delegates must visit, Snigtha recommended Yosemite National Park. "It is a breathtaking place, you're surrounded by beautiful nature on all sides. I went to Yosemite in both the summer and winter, giving me different views of the waterfalls, towering sequoia trees, mountains and wildlife."
Joaquín "Joaco" Paulo Soravilla, 13
Uruguay
Joaquín wanted to find a way to recycle paper that would otherwise be discarded. "In our class, we began to create ecological books," Joaquín said. "Then we saw an opportunity to recycle the paper that we were throwing away, like paper clippings and sheets of notebooks." The process, Joaquín explained, is very simple—it requires just water, a blender and molds to give the "new" paper shape. Next, Joaquín is working on creating a device to press the recycled paper.
In Joaquín's home country of Uruguay, there are deposits of agates and amethysts. "They are semi-precious stones, highly valued throughout the world and known for the positive energy they transmit and their natural beauty," he described to his fellow delegates. For Joaquín, they are a must-see for anyone who visits.
Benjamin "Ben" Stow, 12
South Africa
For Benjamin's project, he studied making renewable fuel out of a succulent plant called Portulacaria afra (Spekboom) using the anaerobic digestion process. "The global climate crisis has resulted in the urgent need to find renewable sources of energy," he noted. "I have a deep commitment to finding ways to make the world a better place and to reduce the impact of humans on the planet." For further research, Benjamin would like to compare Portulacaria afra's ability to produce biogas to ordinary kitchen waste's ability.
Given an opportunity to visit South Africa, Benjamin insists his fellow delegates should make plans to see the country's incredible wildlife. "We are blessed to have the Big 5 [game animals] living in the wild, at our door step," he shared. "I would be proud to show them off to anyone."