CRISPR pioneer and STS alumnus on the "joy of doing science"
The Regeneron Science Talent Search (STS) alumni community is an illustrious group who hold many honors. This year's finalists had the opportunity to hear from one of the many accomplished Society alumni, Feng Zhang (ISEF 1998-1999, STS 2000), at a virtual version of an annual STS tradition—the Alumni Dinner. Each year a distinguished alumnus is invited to speak to the current class. Feng was in the same position as the students when he competed and heard from STS alumni who came before him. Returning to pay it forward and inspire this cohort with his insights as a successful molecular biologist focused on developing tools to improve human health, Feng spoke to the Regeneron STS 2020 finalists about his work with CRISPR-Cas9 systems and some of its applications.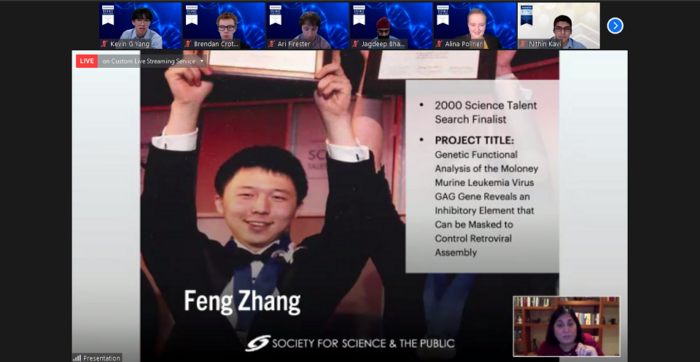 Since competing in 2000, Feng has helped develop bacterial tools for gene editing and diagnostics. "One of the really exciting advances over the past decade-plus has been the completion of the human genome," he said. By using genomics, scientists are now rapidly learning about what causes health problems and what can potentially be used as a way to treat illnesses.
Out of its many uses, CRISPR's potential as a therapeutic is most tantalizing to researchers and the public, but Feng cautioned against hasty adoption. "One of the ongoing challenges, especially surrounding the development of gene editing and more broadly, biotechnology, is to also think about bioethics." STS finalist, Amogh Bhatnagar asked Feng if there should be any governmental regulations for the use of CRISPR. Another finalist, Jake Yasonik, wanted to know if gene-edited babies would become the norm in the future. In acknowledging the complex nature of these questions, Feng stressed the importance of involving the entire scientific community for input. "Different groups have different opinions and it's really important to have discussions and have all these different groups come up with a consensus for how to go about using the technology."
Ultimately, it will be up to the finalists to have these important conversations. "As you go through college and training, you will become leaders in scientific, political, ethical or medical professions. Really think about these issues," Feng encouraged. "These are the things that will impact humanity in a very irreversible way going forward."
Based on Feng's conversation with the finalists, it is clear more scientific innovation is possible. "There's so much out there to explore. It's very exciting," he expressed. "We're really in a golden age where there's so much data and computational resources. We are beginning to learn so much more about the natural world and we can also try to make something useful out of it." When STS finalist, Alina Pollner, asked about his research experience, Feng had these words of wisdom to share: "In science, you will have many eureka moments. Once you have one, you will yearn for another, it's almost like getting addicted. That's really the joy of doing science."