Combating global warming through science fair projects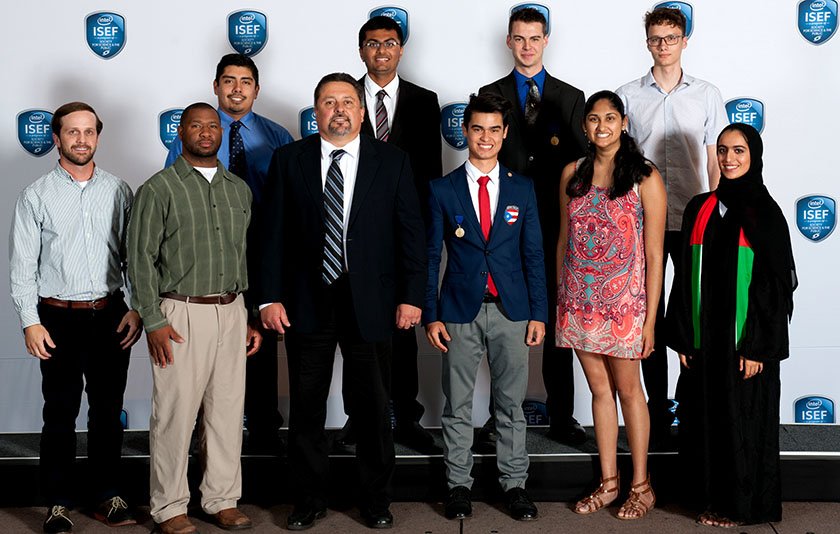 In high school, Naveena Bontha created an energy efficient way to reduce people's carbon footprints. The Washington state high school student's novel approach to create inexpensive electrochromic coatings for smart windows earned her the attention of one of the Special Award Organizations at the 2016 Intel International Science and Engineering Fair (Intel ISEF) in May.
In her project, Naveena used Prussian blue on smart windows to test the idea of changing the pigment's color to allow more or less light. By lightening or darkening the pigment, Naveena could cut the amount of energy needed to heat or cool a building.
Naveena was one of six innovators who received awards for sustainable designs from Alcoa Foundation. She won the first place award of $2,500 for her project.
Alcoa Foundation sponsored awards totaling $10,000 at the 2016 Intel ISEF. Alcoa Foundation recognized sustainable urban design and sustainable design in transportation.
Alcoa Foundation, one of the largest corporate foundations in the U.S., has invested more than $550 million since 1952. The foundation has contributed $38 million to nonprofit organizations, like the Society for Science & the Public, throughout the world, focusing on environment and education. Alcoa Foundation is building innovative partnerships, engaging people to improve the environment, and educating tomorrow's leaders.
Read our interview with Naveena below to learn more about her projects combating global warming, and her current work with filters to remove radiation contamination from the Fukushima-Daiichi disaster area.
---
HOW INTEL ISEF ENCOURAGED HER TO EXPLORE HER PASSIONS: My science fair projects have all tried to combat global warming by reducing CO2 emissions from the atmosphere. In my freshman year, I focused on finding out which type of porous material absorbed CO2 the best. In my sophomore year, I developed membranes of super selective material for CO2, called metal-organic frameworks (MOFs), to make them more commercially viable.
My science fair projects have all tried to combat global warming.
In my junior year, I took a 180-degree look at mitigating CO2 emissions, for example, through energy efficiency. I worked on special coatings for windows called electrochromic coatings. These coatings can change the amount of visible light and heat entering or leaving a building through the application of a small electric potential. I worked on Prussian blue coatings, which are an extremely cheap alternative to the very expensive coatings available today.
Support other sustainable research like Naveena's. Join the Society today!
Participating in Intel ISEF has deepened my passion for science and engineering. I've competed in three Intel ISEFs. My favorite experience has always been judging day. The tension and excitement in the room is palpable as every finalist stands in front of their board, waiting for the opportunity to share their project and work with the judges. Even though I've experienced ISEF judging day multiple times, the blend of excitement and anxiety is never the same.
The tension and excitement in the room is palpable as finalists wait for the opportunity to share their projects with the judges.
Being called onto stage to win a special award, the Alcoa 1st place award for sustainable urban design, and then hearing your name called during the Grand Awards Ceremony, for 2nd place in the physical energy category, was one of the most surprising and exhilarating feelings ever.
ON GOING TO A STEM SUMMER PROGRAM: Research Science Institute was one of the greatest experiences I've ever had. It was a perfect combination of cutting-edge science, bright peers, and the best college town in America. The program is designed to create a culture of science in an atmosphere of fun and games. From daytime research at MIT labs, to dinner trips in Boston, Harvard Square, and the North End, to the annual RSI ultimate Frisbee game, I became friends with 82 of the smartest students from all over the U.S. and countries around the world. 
Working at the MIT department of materials science and engineering physics of living systems was a completely eye-opening experience. I worked on cutting-edge research in the field of particle interactions, using experiments to improve theories about long-range interactions. This was a dream experience for a young scientist like me.
This was a dream experience for a young scientist like me.
Through RSI, I made some of my best friends, and I know these friendships will be lifelong. From our nightly group bed checks where we discussed our schedules and plans, to Fourth of July on the tarp overlooking the Charles River, every moment was one for the books. It was the best six weeks I have ever spent.
WHAT ARE YOUR CURRENT STEM GOALS: This year I want to try something completely different. Recently I read an article about how people of Japan living around the Fukushima-Daiichi nuclear disaster area are still dealing with radioactive contamination six years after the disaster. I'm looking at ways to help them by developing filters to remove radioactive cesium from their water supply.
HOW SHE BECAME INTERESTED IN SCIENCE: Science has always been an integral part of my life as long as I can remember. My father is a scientist and my mother has an advanced degree in science. My parents taught me to ask why and to research for one when they or my teachers could not answer.
Never think that having a passion, whether it's a STEM field or something different, is weird or uncool.
ADVICE FOR OTHERS INTERESTED IN STEM: Never feel that you can't make a difference — you can! Think outside the box — sometime the answers to challenges that appear to be very difficult can be very simple. Also, never think that having a passion, whether it is a STEM field or something different, is weird or uncool! The best people I got to meet through these experiences are the ones who are passionate about their work and not afraid to show it.