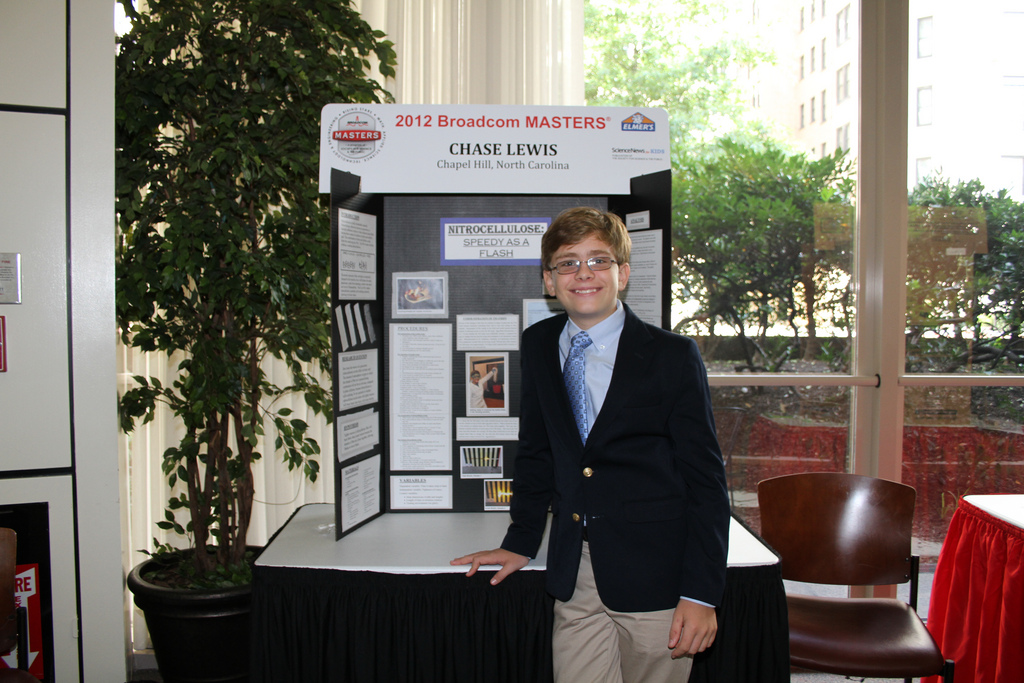 Chase Lewis, now a high school student in Chapel Hill, NC, won the first place award in Engineering at the 2012 Broadcom MASTERS (Math, Applied Science, Technology, and Engineering for Rising Stars). Read on to hear about his experience at Broadcom MASTERS and what he's been up to since then. Nominees to the 2014 Broadcom MASTERS must complete their applications by June 17.
---
Do you have any advice for students nominated to participate in this year's Broadcom MASTERS?
Broadcom MASTERS looks, to any prospective finalist, like just another competition.  Broadcom MASTERS, as a matter of fact, is about as far as you can get from "just another competition."  Broadcom MASTERS is packed chock-full of great activities, like tours of the city, visits to museums, visits to theaters for live shows and much more.  In addition to this, the events on which participants are graded are fun and challenging (even to the nations' brightest).  From creating a very complex Rube Goldberg machine using a bin of miscellaneous toys and optimizing a straw house to withstand a scale tornado, there was certainly enough challenge to go around.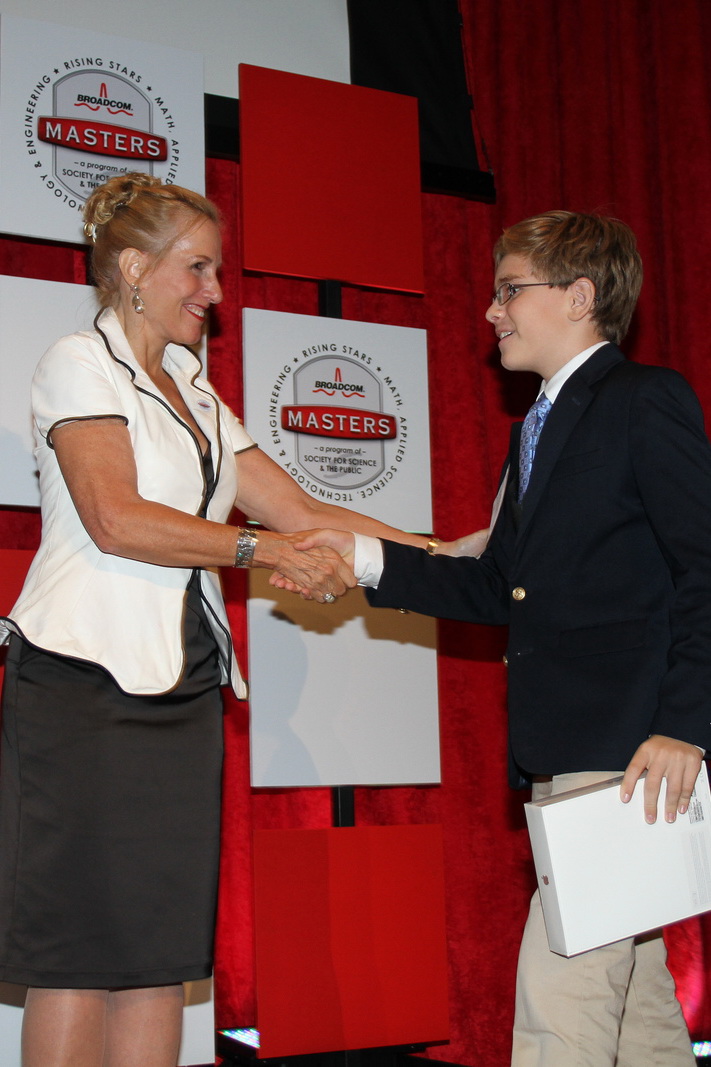 But all this isn't even what makes it great. You see, what makes Broadcom MASTERS the best week I have ever had are its competitors. They all love STEM and couldn't be happier to be there. They also are unusually friendly. At the closing ceremonies, my friend Daniel Liu  spoke for all the participants, saying that even though he was being judged all week, it was the first time in his life that he felt he was not being judged by his peers. It is true; we all accepted each other, partially because we all were so similar in our love of STEM.
For prospective applicants, apply, and write it like you mean it, because trust me, you want in!  And remember, loving STEM is one of the most important factors to becoming a finalist and having fun. But whether you like it for the excursions, the competition, your resume or the kids, you will find that Broadcom MASTERS is quietly shaping your future for the better.
Can you provide a short description of the research you presented?
My project, while fancy in title and chemicals used, was actually fairly simple: I tested how the weave density of a nitrocellulose textile (cloth form gunpowder) affected its burn rate in grams per second. What made this project interesting to me, and to the judges, was the fact that my data was very different than what I had expected. I anticipated the results would plot out like a 45 degree angle with the burn rate being faster as the density of the weave grew. Instead, the results looked like a bell curve. After more research, I found an article in Nature's 1870 issue (yep, 1870), that explained these results. Sometimes the most interesting experiments are those that do not turn out the way you expect.
I found an article in Nature's 1870 issue (yep, 1870), that explained these results.
How did you initially become interested in science?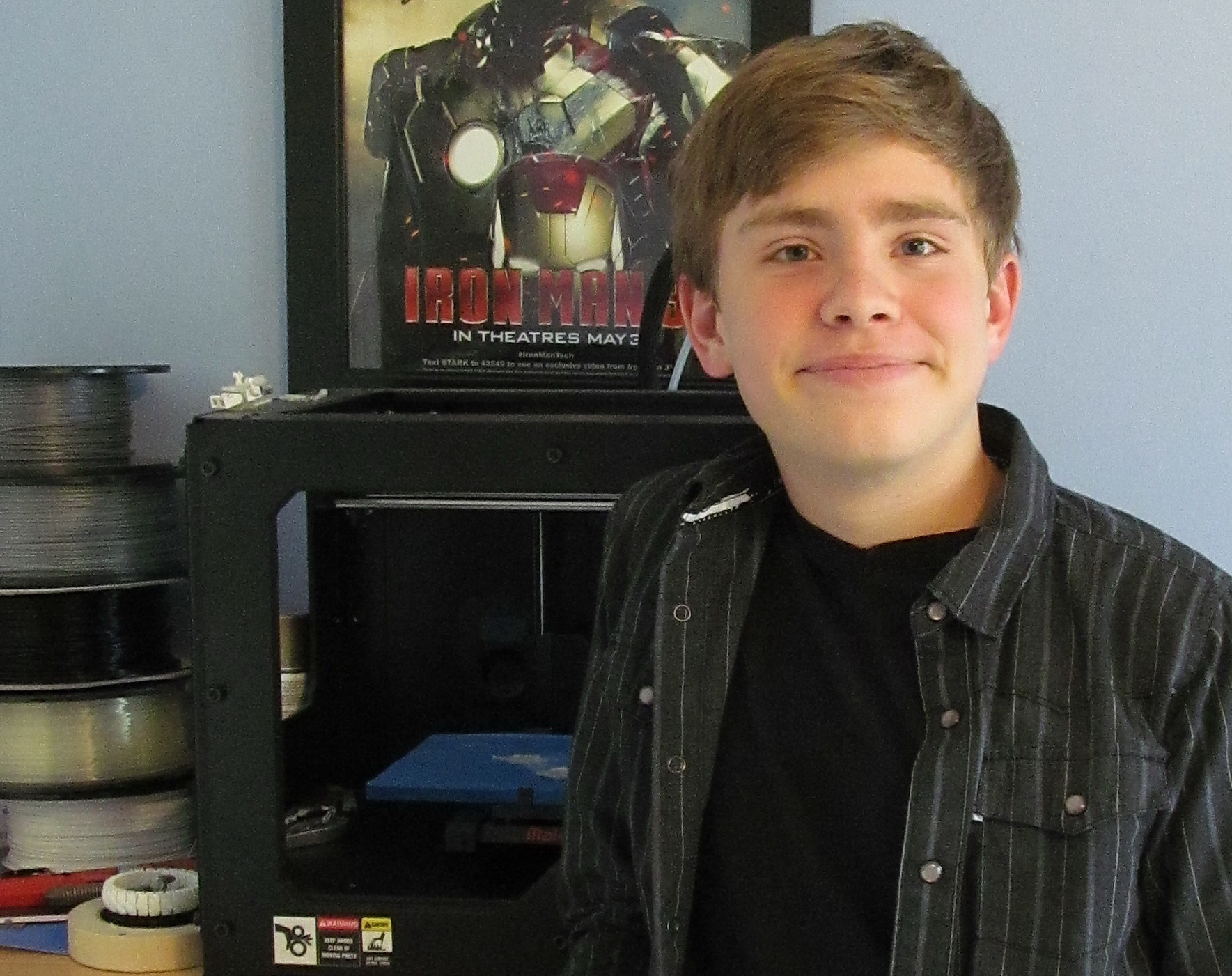 I have always been interested in how the world works.  When I was five years old, I was fascinated with the visible light spectrum and intent on learning how a photo scanner worked.  When I was seven and a half, I told my mom one night as I was going to bed, "I hope I dream of new technologies."  Since then, I have always been looking for something to satisfy that hope, and I have had a lot of fun along the way.
 
How has doing original research and participating in events like the Broadcom MASTERS affected you?  
Doing my own research is a really neat opportunity to discover and create something no one else ever has created and to explore something I normally would not be able to explore.  When this research gets me all the way to something amazing like Broadcom MASTERS, I am reassured that my research is not just interesting and important to me, but that the rest of the world finds it just as cool as I do.  I have to say, opportunities to see what people really think of what you have done are rare and worth every drop of effort you put into them.
What types of STEM projects have you been working on since your 2012 Broadcom MASTERS experience?  
In the past couple years, I have invented two life-saving devices.  A quick (and fun) video about them is at: http://www.youtube.com/watch?v=WR19HTQUxyg.
The first invention, called the "Rescue Travois," is a device for easily transporting the sick and elderly, particularly in areas in rural Africa, where people risk death walking long distances to reach doctors and refugee centers.  I got the idea for this invention after reading news reports that Somali children had been left on the roadsides to die on the way to refugee centers when their parents could no longer carry them. Rural Africa has a shocking dearth of wheeled transport devices, so even getting to a doctor often requires the person to walk, or be pushed in a highly inefficient wheelbarrow (if the village even has a wheelbarrow).  
My solution, the Rescue Travois, was inspired by the American Plains Indians, who towed teepee poles behind their horses to move cargo between villages. European explorers who first saw this device called it a "travois." I redesigned the travois to be towed by people, and added wheels. The Rescue Travois is easy to use. In fact, a 9-year-old 60-pound girl was able to easily tow the travois holding two children whose combined weight was 85 pounds.
My solution, the Rescue Travois, was inspired by the American Plains Indians, who towed teepee poles behind their horses to move cargo between villages.
I have been told by numerous health care professionals that my invention is needed in Africa. A co-author of the United Nations Millennium Development Goals Report on Child and Maternal Health has been a strong supporter of the Rescue Travois. This summer I will be contacting health care providers in rural Africa in order to start spreading the word about this effective and inexpensive invention.
The Rescue Travois has been a national finalist in the 2012 Discovery/3M Young Scientist Challenge and the 2013 Broadcom/Marvel Iron Man 3 Innovator and Inventor Fair.  In addition, the Rescue Travois won an all-expense-paid patent application through the ePals/Smithsonian Invent It Challenge.  I presented the Rescue Travois to the USAID's Chief Innovation Officer, as well as to hundreds of attendees at the 2013 SXSW Education Conference.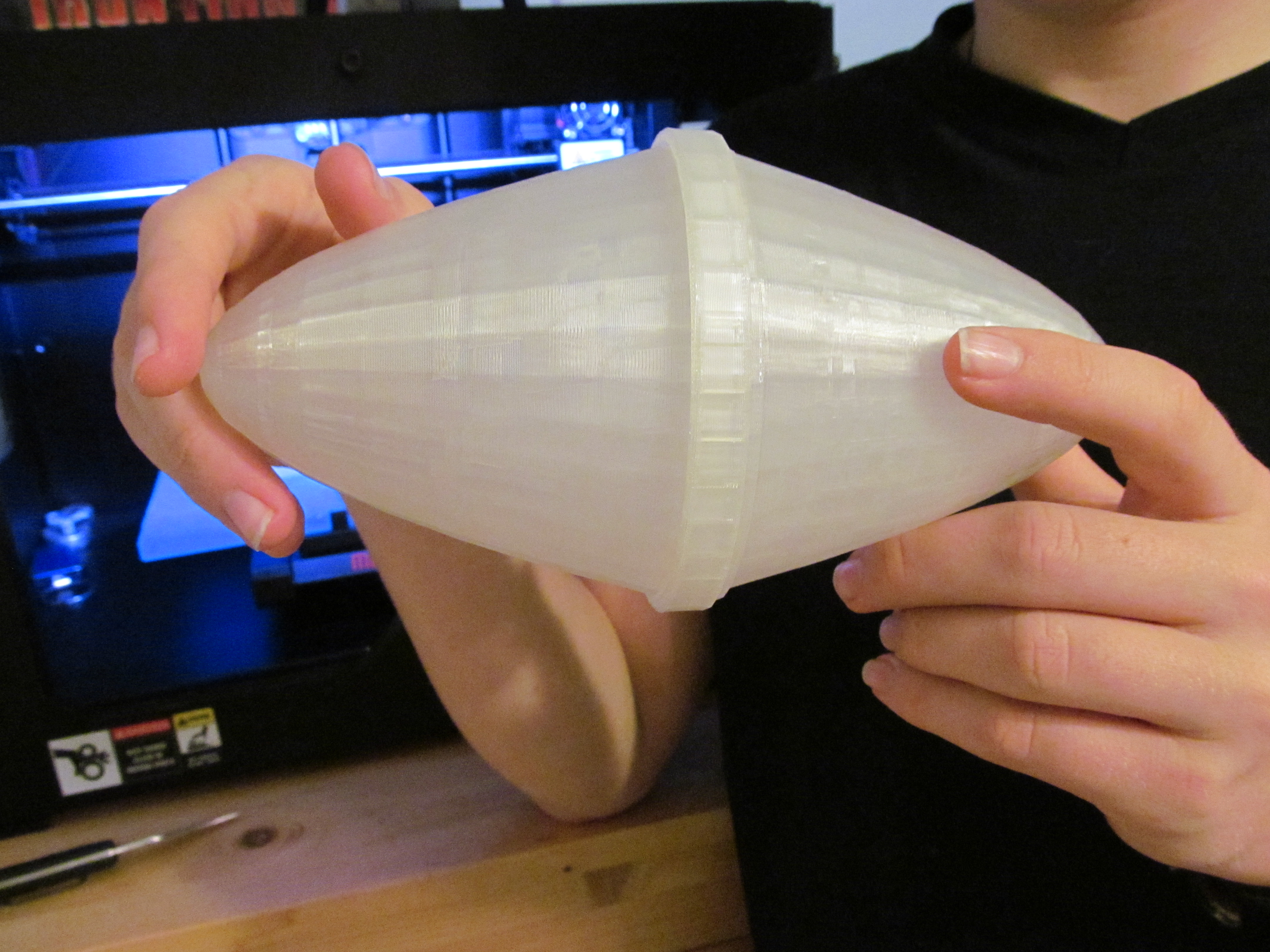 My second invention delivers smoke masks to people stuck in the upper stories of burning buildings. The idea for this invention came from a news report about an infant who was thrown out of a second-story window of a smoke-filled apartment and caught by a 10-year-old. My invention is a 3D-printed football-shaped canister designed to be thrown by first responders into the upper stories of burning buildings.
The canister would hold an Xcaper smoke mask, which filters out smoke particulate, carbon monoxide, and toxins from the air, giving smoke inhalation victims more time to breathe while they wait for fire trucks with ladders to arrive to rescue them. This system is most needed in rural areas with volunteer fire departments because it takes longer for volunteer fire departments to get their engines to the scene of a fire. Surprisingly, 70% of America's fire departments are 100% volunteer.
I have just received some exciting news that Xcaper, the maker of the smoke mask, is interested in putting the football canister into production.  
In summary, have science fairs played a role in inspiring your research?
Absolutely.  I can honestly say that if my research and inventions had to stay in my garage and not be shown to the world because I am just a kid, I never would have pursued them.  Science fairs provide me with an opportunity to show my ideas to experts and receive feedback.  Science fairs also have helped me believe in the importance of my work, notwithstanding my age.  When I won 1st place in Engineering at the 2012 Broadcom MASTERS competition, I knew my ideas were not just the ideas of a kid, I knew they were ideas worth considering.