Broadcom MASTER becomes a Mythbuster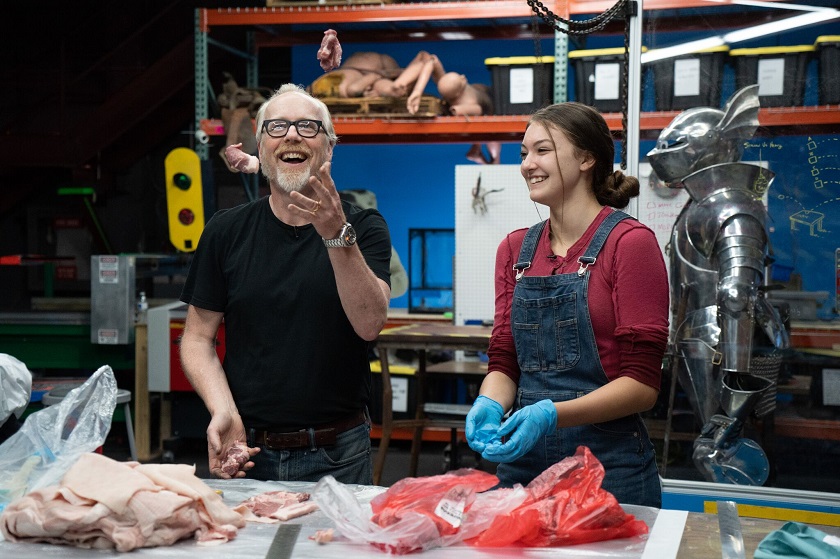 On a day like any other, Rachel Pizzolato received a phone call. Normally, her family wouldn't answer an unrecognizable number, but that day they felt compelled to answer. Little did they know how impactful that innocuous phone call would turn out to be.
"It was a talent scout for Beyond Productions!" Rachel Pizzolato, a freshman at the John Curtis Christian School in Louisiana and a three-time competitor in the Broadcom MASTERS, the country's most prestigious middle school STEM competition, was officially invited to join the cast of an off-shoot of the popular Discovery Channel series Mythbusters.  The new show was called Mythbuster's Jr.
"I couldn't believe that any of it was true, but I was extremely excited about the possibility of being a MythBuster!" Rachel exclaimed. "We did quite a bit of research on the woman who called." Rachel's family wanted to make sure the woman was who she said she was. "Well, she was a real person!"
This past summer, Rachel spent most days on the set of Mythbusters Jr. in California, far away from her home town of River Ridge, LA. For those who aren't familiar, the main premise of the show is one where scientists from different disciplines attempt to find whether myths from popular culture are feasible in real life.  
Mythbusters Jr., hosted by Adam Savage, who is also the executive producer, gives six of the nation's brightest young scientists, ranging from 12-15-years-old, a chance to tackle mind-bending STEM challenges. The show follows much of the same format as its predecessor, but offers fresh ideas and perspectives while allowing the young men and women to engage in their science in practical and entertaining ways. During the original Mythbuster's run, the cast worked to answer a variety of STEM questions, from whether or not the ancient inventor Archimedes constructed a working weaponized laser or if a penny falling from a skyscraper could be fatal, and this new iteration promises more of the same interesting investigations.
Throughout the filming of the show, Rachel had the opportunity to work closely with Adam Savage, an engineer and special effects expert with over 20 years of experience—some of his credits include Star Wars: Episode II – Attack of the Clones and The Matrix Reloaded. "When it comes to Adam Savage, he is one of the best individuals that anyone can ask to have as a mentor," said Rachel. "He has years of practical experience, not only in engineering and fabrication, but in television production and public speaking. He is a wealth of knowledge, and I am fortunate to be able to call him my friend."
It has been a dream come true to be part of #MythbustersJr!! Thank you @donttrythis for being an amazing mentor to us all!!! BRAVO!!! https://t.co/7oqWNPCJDw

— Rachel Pizzolato (@braintwist2112) August 31, 2018
Rachel said that her time on set was a learning experience in television show production. Rachel was joined by fellow young scientists, all with different backgrounds and experience. Other equally talented scientists who joined Rachel on the show were 12-year olds, Cannan Huey-You, who is a college sophomore double majoring in Physics & Astronomy and Engineering, and Elijah Horland, a self-taught electronics maker and programmer.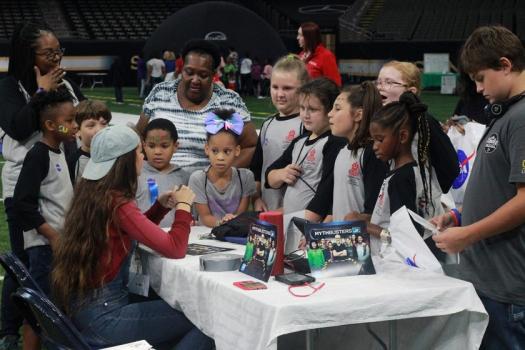 Through starring on the show, Rachel hopes to be seen as a STEM advocate for budding scientists younger than herself.
"Many young kids do not have STEM-related role models due to many factors, but I can be that role model by encouraging their work and offering a bit of advice based on my experience." When asked about mentoring the next generation of scientists Rachel had this to say: "I can't begin to tell you just how wonderful it is to see the eyes of those kids light up when they know that they are important to someone—it is the best feeling ever!"
Rachel participated in the Broadcom MASTERS from 2016-2018. She participated in 2016 and 2017 as a finalist, and in 2018 she was named a Top 300 MASTER. Her Broadcom MASTERS projects all focused on modifying wind turbines to make them more efficient, research that is being undertaken by the most seasoned of engineers and renewable energy experts.  
Rachel emphasized that her Broadcom MASTERS experience wasn't "…just about awards; it was about being a part of a team and making new friendships with people who have the same interests as you." The teamwork and collaboration skills she developed during the competition have helped her in many aspects of life, and they were certainly an important skill she carried with her during her time on Mythbusters Jr.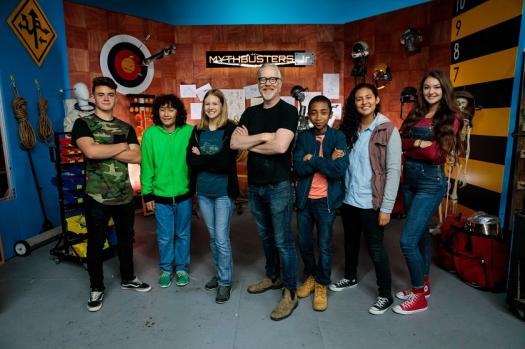 Rachel commented that the friendships and bonds with fellow competition finalists and her Mythbusters cast were both enriching enough to last a lifetime. When they weren't on set, she and her fellow cast members had innumerable fun moments and made memories hanging out.
"At the end of that first day, I still remember sitting down with Adam, all the MythBusters and the parents, and we listened to him say how we are all now one big family," said Rachel. "And I can tell you, from that day on, I really felt like I was part of an amazing family."
Rachel aspires to one day attend MIT to pursue aeronautical engineering, and she hopes to compete in the women's trampoline event at the Olympics! Stay tuned as Mythbusters Jr. is set to debut on Wednesday, Jan. 2, 2019, on the Science Channel.