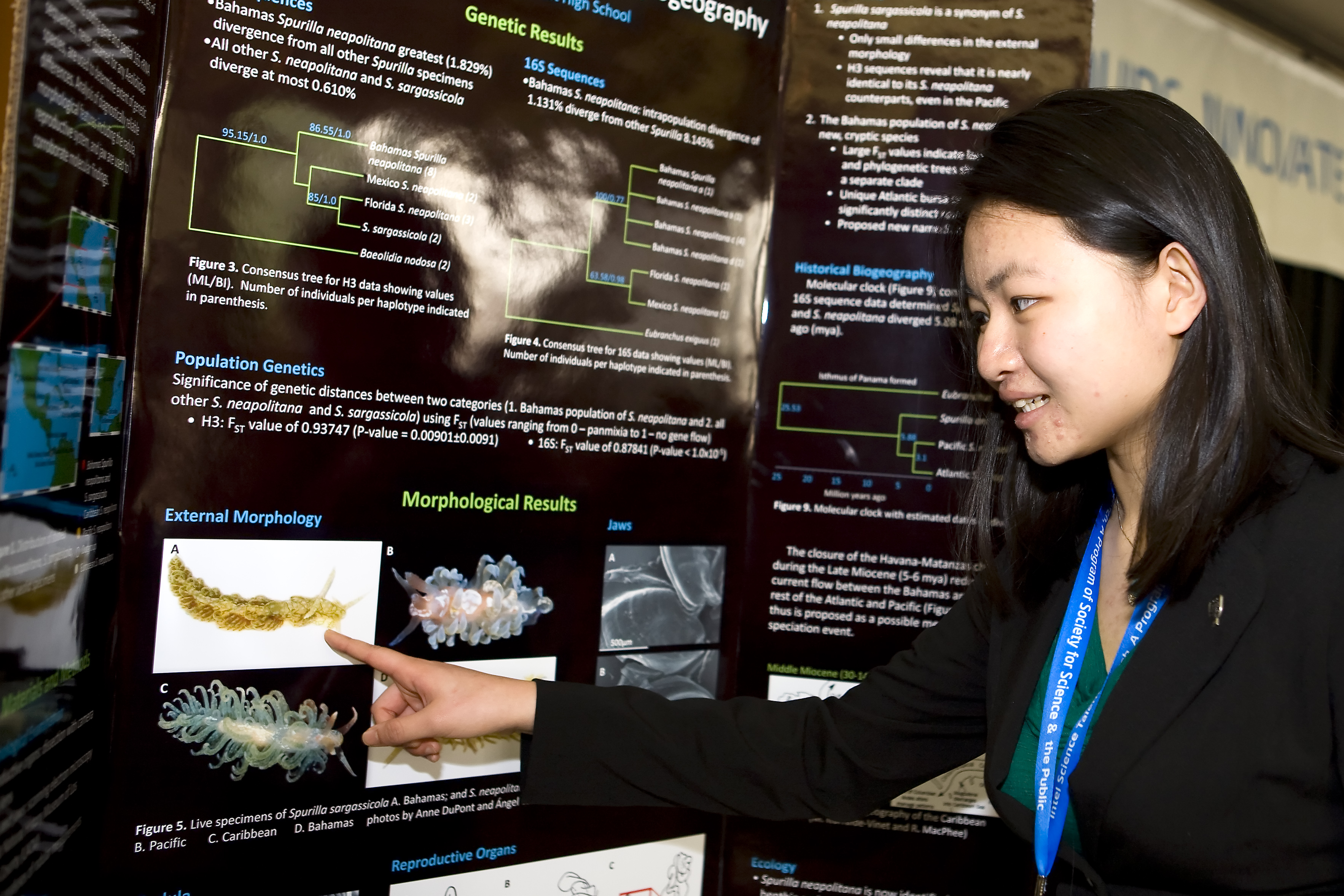 In 2011, Bonnie Lei from Walnut, California was both an Intel Science Talent Search (Intel STS) and Intel International Science and Engineering Fair (Intel ISEF) finalist. At Intel ISEF, she received a Second Award in Animal Sciences. Bonnie is currently a student at Harvard University and co-founder of The Food Lab for Kids.
---
What was your experience being an Intel Science Talent Search finalist like?
I never did quite believe the magical, "Congrats, you're a finalist!" phone call. It didn't fully sink in until I was in Washington, D.C., surrounded by 39 of the brightest, most interesting, and excited fellow students. From shaking hands with President Obama to all sorts of press interviews, we were treated like stars for a few days. But my favorite part is still the other finalists. I remember most the crazy scavenger hunt on the mall and the late night sing-along's. The other finalists really made the experience for me, and I'm lucky enough that I still get to see many of them, whether at school or during special meet-ups and reunions. In that way, the finalist week has never ended for me. And that's the single best thing!
Can you provide a short description of your research project and how you initially became interested in this topic/science in general?
The official Intel STS description reads: "Bonnie combined DNA and anatomical analysis of sea slugs for her Intel Science Talent Search animal sciences project. Bonnie studied two different tropical sea slug species and found that they were genetically indistinct. She also found that a Bahamas population of these sea slugs was genetically distinct enough to be a separate species, and has proposed a new taxonomic name for it. Her analysis indicated that the populations diverged some five million years ago, when a sea channel closed, partially isolating the Bahamas area from the Atlantic Ocean. Her work may provide crucial insight into the biodiversity of this genus."
In a shorter form, I conducted the first detailed anatomical and genetic study of a sea slug family, resulting in the discovery of a new sea slug species and some interesting implications for marine biodiversity and conservation.
I fell in love with the sea as I grew up next to the Pacific Ocean, and after taking a college oceanography course while in middle school, I was hooked! I was lucky enough to find a newly hired professor at the local university who was willing to take me under his wing. He happened to be one of the world's few sea slug experts, and while helping him set up his lab, I was soon conducting my own research projects.
How did doing original research and participating in events like the Intel STS affect your education and career plans?
Early exposure to original science research gave me the dream of being the next great environmental scientist. But while participating in events like Intel STS and other conferences, I realized that I really enjoyed communicating results from the lab or field and being involved in making a tangible change in the world, whether through policy, nonprofit work, or science journalism. I also have realized how lucky I was to have had the opportunities that I did in science research, and have also become deeply passionate about innovative approaches to STEM education. Ideally, I would love to combine all of my interests together into this great hybrid career as an environmental and health scientist, biodiversity conservation and food sustainability advocate, and STEM educator. That's still a bit of a work in progress for now!
What are you up to now?
I am currently studying Organismic and Evolutionary Biology and Global Health and Health Policy as a junior at Harvard. In addition to continuing my interest in science research (from living with and improving conservation plans for endangered African penguins in South Africa, to understanding the co-evolution of emerging infectious diseases in mammals), I am also fascinated by food sustainability and innovative STEM education around the globe. I work with an amazing nonprofit, The Kasiisi Project, on leading a team to develop innovative agriculture, environmental, and health curriculum for students in rural western Uganda.
You recently traveled to Washington, D.C. to meet one of the White House chefs as the co-founder and president of The Food Lab for Kids. Can you tell us about that program and any highlights of your trip?
This past year, I co-founded The Food Lab for Kids, an organization that aims to engage young students in the sciences through the lens of cooking, and to involve them in healthy, nutritious lifestyles. We design and implement hands-on, lab-based classes on concepts in food science and nutrition. At the end of the program, students are paired off into smaller groups and are mentored in developing their own research projects based on the concepts of science they have learned and their own curiosity. We have partnered with some of the world's best chefs and scientists, and are sponsored by Whole Foods. After running pilot programs, we have been getting national and even international interest in our work, which is incredibly exciting! We are now working on an expansion of our idea, from making science kits to creating an interactive online platform. We are always happy to involve interested people!
We were invited by White House executive pastry chef Bill Yosses to visit the White House kitchens and learn more about the educational programs they run around food and healthy eating with the garden and Let's Move program. While in the city, we also were able to talk about possible collaborations with the Smithsonian American History Museum's food history exhibit.  And of course, another highlight was a visit back to the Society!
Do you have any advice for young students interested in science?
Never be scared to do what you love. I spent four years of my life poking at the innards of sea slugs and loved every moment of it, despite the worry of wise counsel that I wasn't doing something impactful. Lucky for me, Intel and the Society saw some value in what I did, and colleges still found me worth accepting. Whew! I have learned that, however cheesy or trite it may sound, it really is true: follow your passions and great things will happen. It's so funny now to think that a humble sea slug, a backbone-less invertebrate, has formed the backbone for all I have done since!