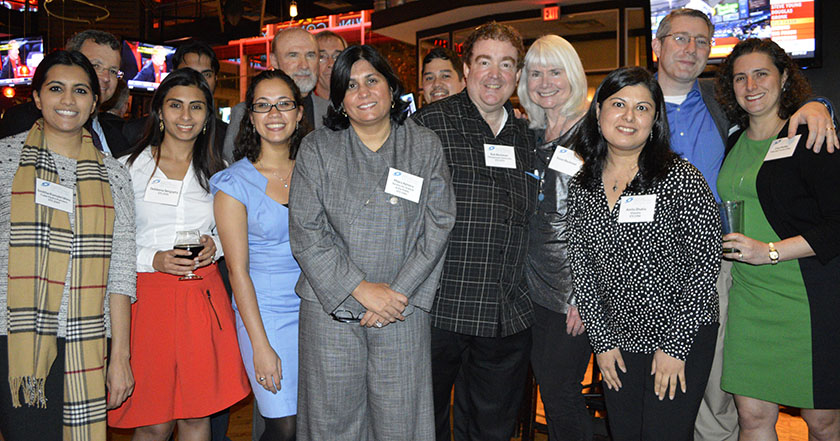 Amidst sparkling holiday lights, a dozen alumni of the Society gathered at Capitol City Brewing Company in Washington, D.C. on Wednesday, December 9 for the Society's first-ever D.C. Alumni Holiday Party.
Alumni reminisced about the projects they researched and completed for Society programs and discussed their current jobs. They work at various institutions, including Cube Hydro Partners, Georgetown University, Incyte, National Institute of Standards and Technology, QuestMark Partners, University of Maryland, the U.S. Department of State, the U.S. Senate, and Vitamita.
In above photo, from left: Smitha Ramakrishna (Intel STS 2009), Brian Castro (ISEF 1989), Debleena Sengupta (STS 1995), Subhayan Mookerjee, Nicole Casart (DCYSC 2005), Leslie Smith (STS 1958), Larry Washington (STS 1968), Maya Ajmera (STS 1985), Nick Superina (STS 1999), Bob Beckman (STS 1974), Susan Beckman, Amita Shukla (STS 1994), Kevin Heller (STS 1989), and Lisa Heller.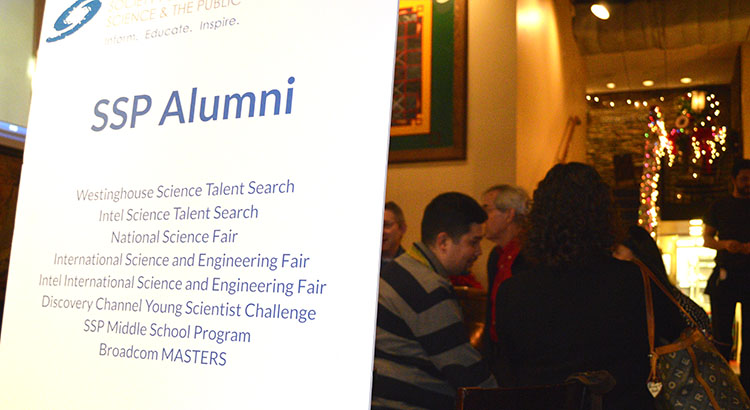 One group of alumni mentioned how almost every decade was present at the party. Several alumni had competed in two of the Society's programs.
Topics of conversation ranged from theoretical math to the importance of studying the humanities to round out scientific and mathematical knowledge. Some alumni mentioned how people often double major in college as a way to combine seemingly disparate subjects — such as philosophy and math.
Halfway through the night, alumni circled around Maya Ajmera, the president and CEO of Society for Science & the Public and publisher of Science News for a speech. Maya discussed the Science Talent Search sponsor search and other highlights from 2015
At the end of the night, in a random lottery, two spouses of Society alumni won a copy of STS 1967 alum Frank Wilczek's book "A Beautiful Question." Wilczek's book explores the beautiful ideas that embody the universe.