A month after Broadcom MASTERS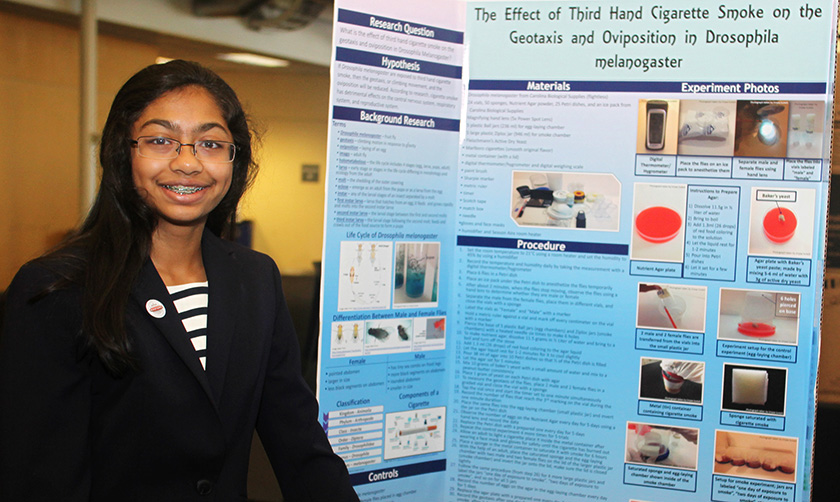 Sriyaa Suresh was a 2015 Broadcom MASTERS finalist. When she returned home from the competition, she found she had made the local news.
Sriyaa said Broadcom MASTERS will be one of many science competitions. She plans to participate in many other science fairs and eventually major in a STEM field.
The Society caught up with Sriyaa a month after Broadcom MASTERS.
You recently became a 2015 Broadcom MASTERS. What was it like to receive that recognition?
Receiving this recognition was probably the best experience I've ever had as a student so far. It is such an honor! The news of me being selected as a Broadcom MASTERS finalist reached local newspapers and I will receive a recognition at school from the Board of Directors. I was bombarded with calls, emails, and texts to congratulate me for this prestigious competition. A lot of my younger friends were inspired by my achievement. Broadcom MASTERS changed my life for the better and it was an extraordinary experience that I will never forget.
What was your most memorable experience at Broadcom MASTERS?
Pretty much the whole Broadcom MASTERS experience was unforgettable, but if I had to pick I would say that my most memorable experience at Broadcom MASTERS was meeting peers that have so much in common with me. I could truly connect with them and unlike my friends back at home, they didn't smirk when I talked about scientific advancements! I still keep in touch with my Broadcom buddies and I truly am grateful for that.