On pursuing passions and breaking through barriers with the 2023 Regeneron ISEF Women in STEM panel
From discussing ethics and technology, to touching on the importance of mentorship, finalists at the 2023 Regeneron International Science and Engineering Fair (Regeneron ISEF), heard from four alumna during the Women in STEM panel presented by Lyda Hill Philanthropies.
CEO of LH Capital, Inc. and Lyda Hill Philanthropies Nicole Small moderated the session with Anjali Chadha (BCM 2015, ISEF 2017-2018, STS 2019), Undergraduate, MIT Biological Engineering; Founder, Empowered, Inc., Kavya Kopparapu (BCM 2013, ISEF 2017, STS 2018), Founder & CEO, Girls Computing League; Research Engineer, Deep Mind, Magan Lewis, Ph.D. (DCYSC 1999, ISEF 2002) and Erin Smith (ISEF 2017-2018, STS 2018), Founder, FacePrint; Behavior Design Lab; Undergraduate, Stanford University.
Here are several essential inquiries and corresponding responses that emerged among the participants on the panel.
How do you balance the potential benefits of facial recognition technology with other concerns around privacy and consent?
Erin: I've always tried to have a very human centered approach and tried to really integrate looking at the larger ethical and societal questions. My company, FacePrint, is turning selfies essentially into a healthcare tool. I've been asking myself, and other leaders in the space, how do we make sure that we address the large ethical and privacy considerations? I think this highlights a larger shift occurring right now in science and technology where these innovations are so deeply connected with both ethics and policy and we're only going to see those fields becoming more and more connected. I would encourage each of you, as you're working on your science and technology innovations, to also think about the ethical, societal and policy ramifications.
In your career, what other paths did you consider and how did you land where you are today?
Anjali: There is a sense that we have to choose, and that choice isn't something we can ever go back from, but I don't think that's the case at all. One of my biggest scientific mentors at MIT tells me all the time, and this might be a bold statement to make, but you can have it all, you just can't do it all at the same time. I think it's important to remember that all of our passions and hobbies can be equally important. So, for me, the first thing I ever wanted to do was work for the CIA because I was a real neighborhood, Nancy Drew sleuth. But that spirit of inquiry, I think, is what has led me to become a scientist and an engineer.
Do you have stories of people who have really inspired you along the way? Because right now you're inspiring all of them.
Kavya: During my freshman year of high school, my computer science teacher was one of the greatest inspirations and reasons that I ended up in computer science because she had worked at so many incredible companies before. She brought all her expertise into the teaching she did in computer science and made sure it was relevant and interesting and applicable to the real world. When I look back, I think it was always normal for me to have a female mentor in computer science because that was my first experience learning computer science. Later in my career, I didn't get to work with or for another woman, but I had that kind of seminal experience of having an incredible woman role model. I think that was really important for me.
Have you ever felt like an imposter or felt imposter syndrome?
Magan: My journey hasn't been all rainbows, glitter and gumdrops. It's had detours, things that have been unmanageable. One thing that stands out is after I finished my Ph.D. I was Dr. Magan, I was going to take on the world. I was going to interact with amazing global scientists, and I was in a different head space. But I was also nervous like, "Whoa, what am I doing?" I got into my company vehicle and I paused because I started thinking, do I have what it takes to be a scientist? Am I going to be able to walk the walk and talk the talk? My leader at the time told me, "Degrees just get you in the door. It's what you do, your drive, your perseverance, how you interact and treat people, that's going to inspire and drive the rest of your career." So, I lean on my support network, really with imposter syndrome, it's about finding your champion and not your cheerleader.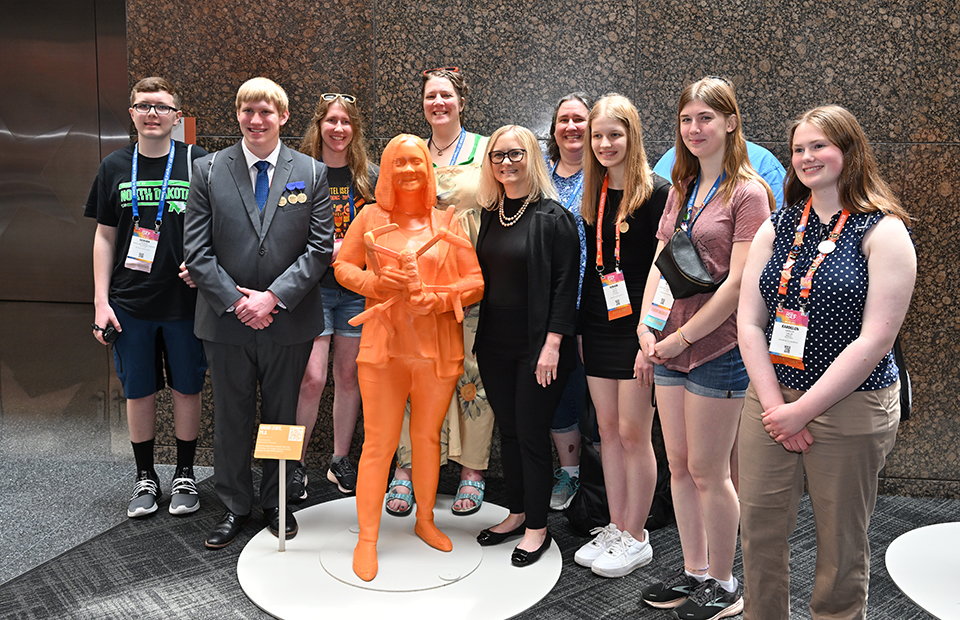 Following the session, panelists Magan Lewis and Anjali Chadha met with finalists in front of their Lyda Hill Philanthropies IF/THEN statues, sharing more stories and words of advice, and taking pictures with finalists.
In addition to the Women in STEM panel, finalists attended two other informative panels during Regeneron ISEF. The Innovation, Entrepreneurship and Impact Panel, sponsored by Rise, an initiative of Schmidt Futures and the Rhodes Trust, which focused on themes such as the intersection of science and industry. The finalists were presented with insights from STEM leaders whose organizations strive to enhance the field of science through public service. Maya Ajmera, President and CEO, Society for Science and Executive Publisher of Science News was joined by Catherine Havasi, Chief of Innovation and Technology Strategy, Babel Street; Jonah Kallenbach, Co-founder & CEO, Reverie Labs; Shannon Nangle, Ph.D., Co-founder & CEO, Circe; Nikhita Singh, Co-founder & CPO, Artificial, Inc.
The Excellence in Science and Technology Panel featured a phenomenal group of scientific leaders who have been recognized with some of the highest honors in their fields. Moderated by journalist Richard Harris, the panel featured Elissa Hallem, Ph.D., Professor and Vice Chair for Graduate Studies, Department of Microbiology, Immunology and Molecular Genetics, UCLA; Cato Laurencin, Ph.D., M.D., Professor, University of Connecticut; Chief Executive Officer, Cato T. Laurencin Institute for Regenerative Engineering; W.E. Moerner, Ph.D., Harry S. Mosher Professor of Chemistry and Professor, by courtesy, of Applied Physics, Stanford University; Kim Orth, Ph.D., Professor/Investigator, UT Southwestern Medical Center/HHMI.