Middle schooler devises tool to measure non-ionizing radiation from household appliances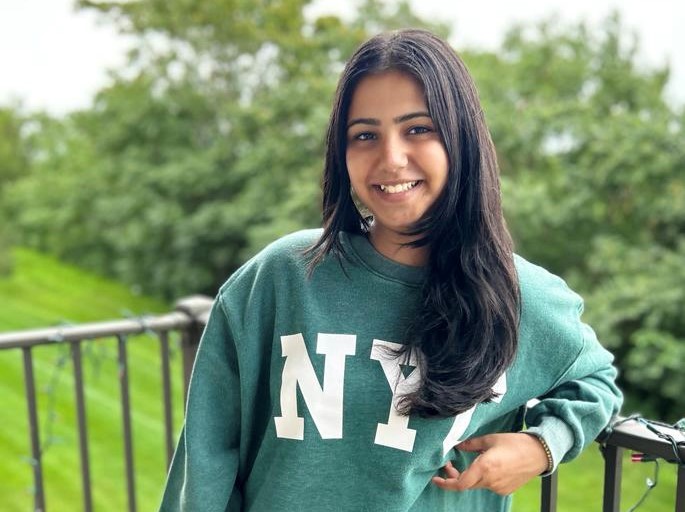 For the fifth year, The Lemelson Foundation is giving $100 awards to outstanding young inventors in Society Affiliate Fairs with middle school participants around the country. The Lemelson Foundation Early Inventor Prize was created to reward young inventors whose projects exemplify the ideals of inventive thinking by identifying challenges in their communities and creating solutions that will improve lives.
Shaily Pandya, an 8th grader from Sioux City, Iowa, realized that while the number of appliances and digital devices in our lives is increasing, most people are not aware that these devices emit non-ionizing radiation. Non-ionizing radiation is a series of energy waves composed of oscillating electric and magnetic fields traveling at the speed of light. Non-ionizing radiation includes ultraviolet (UV), visible light, infrared (IR), microwave (MW), radio frequency (RF) and extremely low frequency (ELF). Some scientists have speculated that non-ionizing radiation could lead to cancer.
In her research, Shaily measured and mapped hotspots around her house. "I originally started measuring radiation levels from different appliances from different angles and identified the position where they emit most radiation," she explained. "However, I was getting lot of background radiation as there are multiple appliances nearby." For fixed appliances, such as a cooking range, dishwasher and microwave, Shaily designed a new type of Faraday cage (a shield that blocks radiation) that isolates radiation coming from multiple directions. Through her project Shaily shared that she learned how to use electrical circuit breakers and isolated power supply to appliances.
Shaily reported that designing the Faraday cage was her favorite part of this research project. "I tried my best to isolate sources of radiation, but it was impossible to remove all background radiation and there was lot of noise in the results." Shaily tried different cage designs and ultimately created her own. "It was a relatively simple tool, but it was a major achievement for me."
Shaily collected more than 2,000 readings and then entered the data into a spreadsheet to analyze it and chart major observations. "After I mapped the radiation levels, I marked the floor in green, yellow and red zones. This helped increase our awareness of radiation levels. Our time spent in red zones has reduced by almost 80%."
For her next step, Shaily said she plans to build a database that indicates where radiation is coming from household appliances and hopes to publish online this fall. "That will give some reference point to everyone on deciding safe working distances," Shaily explained. "As a next phase of project, I am also planning to map radiation in my neighborhood, which will include radiation coming from high tension electric lines and mobile towers."
For her innovation, Shaily was awarded a Lemelson Early Inventor Prize while competing at the Western Iowa Science and Engineering Fair. She said that winning the award gave her encouragement to continue her learning journey. "This project provided insights on how to systematically perform scientific experiments and the Lemelson Early Inventor Prize is a recognition of my efforts and sincerity in this study."
---