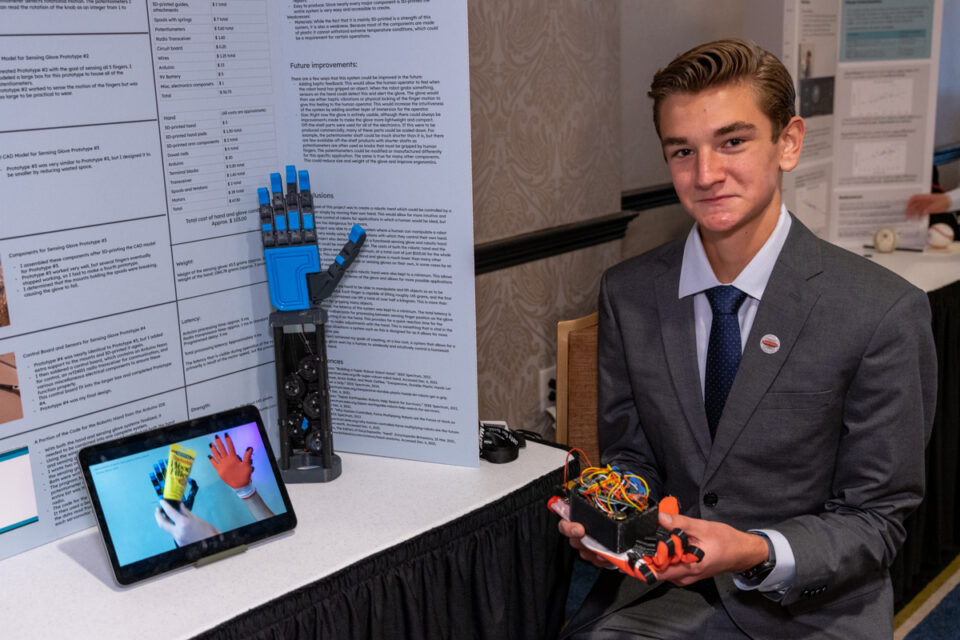 Meet Thomas Aldous, a brilliant 15-year-old from Pittsburgh, Pennsylvania, who has already made significant strides in the field of robotics. Currently a 9th-grade student, Thomas used his curiosity in design and engineering to build a remote-controlled robotic hand that can be used to assist in times of disaster. Thomas's impressive work earned him the first place Samueli Foundation Prize in the Society for Science's premier national middle school STEM competition, Broadcom MASTERS, now known as the Thermo Fisher Scientific Junior Innovators Challenge.
Thomas was inspired to create the hand after learning about the rescue robots that were used to clean up the damage caused by the 2011 earthquake and tsunami in Japan. The fingers on a glove are connected to a control board that uses data from the device to prepare and send instructions to the hand, which then mimics the glove-wearer's movements remotely. Through his design process, Thomas sought to ensure that the controls for his robotic hand would be simple and intuitive. In addition to his impressive achievements, Thomas is also passionate about encouraging the next generation of scientists. He believes that science is essential to improving our understanding of the natural world and enhancing our quality of life. He encourages anyone with a passion for science to join the conversation and contribute their unique perspectives, as diversity of thought is at the heart of scientific progress.
Let's hear more from Thomas below.
Which scientist – alive or deceased – would you want to solve scientific mysteries with and why?
There are several scientists that I would love to work with, but my answer right now would be Carlo Rovelli. He is a quantum physicist, which is fascinating to me, but he is also an amazing author and scientific communicator. I have read all his books and his most recent one in part details his interesting understanding of the connection and balance between science and the arts, as well as philosophy and politics. He would be a fascinating person to talk to and I think it would be amazing to work with him.
What would you invent if you had all the resources in the world?
I would want to create low-cost prescription drugs and other medical equipment. This would be a really effective way to help a lot of people and something that is in many respects possible with enough resources.
What would you like to be most renowned for?
I would like to be the most renowned for making a positive impact on the lives of as many people as possible. An impact that is diversified and not necessarily utilitarian, but that moves society to a better position as a whole.
What about your experience at Society for Science's middle school STEM competition surprised you the most?
I was surprised most by how truly welcoming and kind everyone was. I loved talking to everyone at the competition and had several really interesting discussions with everyone. I still keep in touch with several people from the competition.
What was your most favorite memorable experience from the competition?
It is hard to pinpoint one most memorable experience from the competition since the whole experience was so memorable. If I had to choose one though it would be the awards ceremony at the Kennedy Center. It was really cool to have the awards ceremony hosted there, and I enjoyed talking to the people at my table.
The application for the 2023 Thermo Fisher Scientific Junior Innovators Challenge (JIC) is now open! The deadline is June 14, 2023 at 8p.m. ET. Learn more here. The Thermo Fisher JIC (formerly known as the Broadcom MASTERS) is Society for Science's national STEM competition for middle school students, sponsored by Thermo Fisher Scientific. Nominees are chosen among the top 10% of the 6th, 7th, and 8th-grade competitors at Society-affiliated science and engineering fairs in the United States.